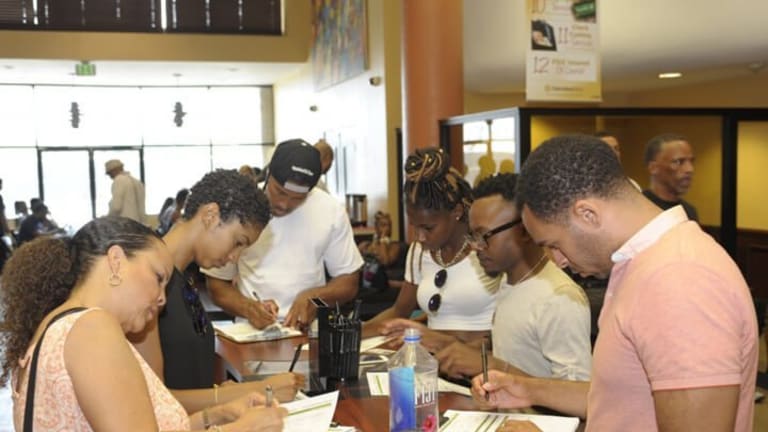 The #BankBlack Challenge: More Than Just A Hashtag
Jahsun Edmonds: Bank of America, J. P. Morgan Chase, Wachovia, Wells Fargo, Brown Brothers Harriman, The Royal Bank of Scotland, N. M. Rothschild & Sons Bank, and Lehman Brothers owned, sold, and purchased slaves.
On April 3, 1968, only one day before he was assassinated, Dr. Martin Luther King addressed a crowd of over 1,000 people. His message was centered around economic empowerment in the black community. He told everyone that they should take their money out of the big banks downtown and instead deposit it into a black-owned bank. Dr. King said, "We must always anchor our external direct action with the power of economic withdrawal." King described this action as "redistributing the pain."
Bank of America, J. P. Morgan Chase, Wachovia, Wells Fargo, Brown Brothers Harriman, The Royal Bank of Scotland, N. M. Rothschild & Sons Bank, and Lehman Brothers all owned, sold, and purchased slaves.
Some folks took Dr. Kings advice but many blacks did not. On December 14, 2014, an activist named Sha Dixon walked into Broadway Federal Bank (one of only two black-owned banks in Los Angeles) with one goal in mind; figuring out a way to partner with the bank to encourage the black community to bank black.
"I was talking to an elder one day and she mentioned that many banks participated in the Trans-Atlantic slave trade. At the time, I was banking with Bank of America so when my elder told me that they were in fact one of the guilty parties my heart dropped to my stomach," stated Dixon."Being a descendant of Africans who were enslaved in America, I immediately made the decision to divest my funds."
What many people are unaware of is the fact the Bank of America, J. P. Morgan Chase, Wachovia, Wells Fargo, Brown Brothers Harriman, The Royal Bank of Scotland, N. M. Rothschild & Sons Bank, and Lehman Brothers all owned, sold, and purchased slaves. They also allowed white slave owners to use these Africans that were enslaving as collateral.
"It makes no sense for descendants of enslaved Africans to financially support any corporation that acquired its wealth by enslaving our relatives. When we bank with these banks we are helping them gain more power and resources. They have always benefited off of our oppression," remarked Dixon when asked why blacks should switch to black-owned banks.
In December of 2014, after becoming one of the leaders in the Black Lives Matter movement in Los Angeles, Dixon decided to start a new challenge.
"At the time folks were hyped up about the ice bucket challenge. I thought it would be a good idea to ride that wave and challenge people in my community to bank black, hence the #BankBlackChallenge," said Dixon.
After meeting with the manager of Broadway Federal Bank Dixon took to Facebook to start her challenge.
"No one understood why I was asking them to bank black but most people thought it was a good idea," continued Dixon. "From that point on I have done everything I could think to do to encourage black folks to make the transition."
The #BankBlackChallenge is more than ahashtag. With the help of the NAACP in Atlanta and rapper Killer Mike also encouraging others to bank black, it has become a movement. Often times grassroots movements don't pick up steam until someone famous shares the message. In this case. that is exactly what happened. In an interview with the Breakfast Club, Killer Mike encouraged the audience to take the money they would normally buy Jordans with and put it in a savings account at a black owned bank. People listened.
Between the dates of July 5, 2016 and July 6, 2016 at least four unarmed African American men were murdered by police, of which two were filmed. These particularly egregious acts by police galvanized and traumatized the nation, and many longed to enact deeds that were more impactful than sit ins, marches, or protests. To many who once ignored the calls to bank black, that now became the right time to do so.
The #BankBlackChallenge is responsible for moving over $15,000,000 in a three-week period to black-owned banks in Atlanta, Chicago, Miami, Houston, and more recently, Nashville. "This is our definition of a Blaxit," stated Dixon, referring to the term Brexit about Great Britain voting to leave the European Union. "We are divesting our funds from banks that have sponsored black oppression and are building a solid economic foundation in our community."
When the community supports its local black-owned bank the bank in turn has more resources to invest back into the community. Racial discrimination is another challenge that black people won't have to face while banking black.
"It is my goal to reach as many communities as I can with the exact same message Dr. Martin Luther King had in 1968. If we can follow through with this action we can create our own economic system as well as keep our money in our communities much longer," said Dixon.

In times like these, it is important that we think outside of the box with our actions. You don't have to be black to accept the #BankBlackChallenge. You just have to be against the worst human rights violation of all time. You have to believe that the enslavement of Africans in America was wrong and you must also believe in equality.
Here is a link to the complete list of black-owned banks in the U.S. The charge is for you to open an account at any one of these banks and wash the blood of human enslavement off of your investments. With that being said, I challenge you to bank black! When you open your account, challenge a loved one to do the same!
Jahsun Ifakolade Edmonds
Blackout