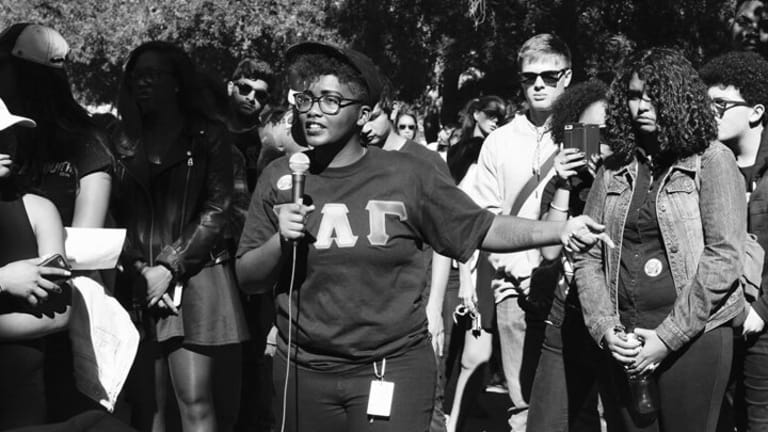 Students Are Saying: Black Lives Matter on Campus, Too
Olivia Davis: The Oxy students were sending a message that the events happening in Columbia, Missouri, are not unique, but rather a microcosm of the experiences of Black students at predominantly white institutions across the nation.
This past Thursday, a small group of student activists at Occidental College—where Barack Obama became a political activist during the anti-apartheid movement in the 1980s—organized a walkout and teach-in in solidarity with the students at the University of Missouri. This protest was the largest in the college history with over 600 students—almost one-third of the entire student body—participating.
The students were sending a message that the events happening in Columbia, Missouri, are not unique, but rather a microcosm of the experiences of Black students at predominantly white institutions across the nation. The protest at Occidental is one of hundreds on campuses across the country. Students at each campus have their own specific concerns, but there is also a common theme that unites them all: In our cities and on our college campuses, too, black lives matter.
Occidental College has a reputation as a liberal institution that was once on the cutting edge of promoting diversity among its students, faculty, and curriculum. Many students of color came to Oxy, as it is known, expecting to find a safe haven against racism, discrimination, and intolerance. But at Thursday's demonstration, many Black students spoke about their experiences with faculty and fellow students that belied the college's reputation. Stories ranged from professors assuming Black students to be athletes, whites students accusing Black students of following them in their own dorms, and administration not taking action when students desecrated a Trayvon Martin memorial.
These experiences are widespread on campus. Black students often discuss these issues among themselves, but rarely with others, even their white friends. Frustration and anger about these daily micro-aggressions have boiled below the surface for many years. But the emergence of the Black Lives Matter movement after the murder of Michael Brown, the subsequent spate of killings of unarmed black folks, and the recent protests at the University of Missouri inspired Black students at Oxy to take action.
The protest on Thursday was organized and led by black students, along with their allies among Latinx, Asian, and white students. We asked students, faculty, and staff to wear black clothing as a symbol of solidarity. When we finished planning the protest at 3 a.m. on Thursday morning, we had no idea how many students would show up.
But at 11 a.m., we saw an outpouring of students—most of them dressed in black—coming from their classes, the library, the dorms, and elsewhere, converging on Oxy's quad at the center of the campus. By 11:30, over 600 students—along with some faculty and staff—stood together in solidarity with the University of Missouri.
Students demonstrated by arranging themselves in concentric circles and leading a teach-in. White students were asked to compose the outermost circle, while Black students formed the innermost circle, with other students of color in between.
Students shared traumatic stories that left many in tears and emotionally exhausted. Black students explained that they constantly have to relive these psychologically damaging stories in order to get white peers to understand that we are struggling to sustain ourselves at an institution that caters to white students, who comprise two-thirds of the student population.
In preparation for the protest, we discussed our shared concerns and wrote a list of 15 demands that we presented at the demonstration. These demands are intended to make Oxy a safer place for marginalized students. Amongst these demands were the removal of Jonathan Veitch from his position as president, as well as the creation of a Black Studies major, a demand that was presented by the Black Student Caucus in 1968 and has since been unfulfilled.
We also called for the hiring of more faculty of color, an increase in funding for campus organizations run by students of color, and the creation of a diversity training for faculty and students. The few steps that the college has taken to address these issues have been inadequate. An example is the school's nationwide search for a Chief Diversity Officer, a position students have been demanding for several years, one that is intended to oversee Oxy's efforts to address issues of racism and diversity in every corner of the college.
We were pleased that the college administration agreed to hire a CDO, but frustrated that it so far has allocated a mere $100,000 budget for the position. This budget is expected to fund programs around equity, provide services for marginalized students, and provide a salary for the CDO. This is one of many instances where Occidental refuses to invest in the well-being of Black students and other students of color.
Following an incredibly powerful day of solidarity and resistance, students naturally sought rest and healing, but instead were faced with violence when notice arrived that a Black student organizer had received a death threat. Students' day of solidarity and support quickly transitioned into one of anxiety, unease, and terror.
Students of color shared many feelings of sadness, fear, and disgust, yet none of them were surprised. Black students and students of color face various forms of violence—physical, emotional, and language—every day at the hands of the institution. The more students attempt to mobilize, the more they are bureaucratically barred through closed doors, cancelled meetings, and general apathy from the administration.
Despite this trend of systematically oppressing these marginalized students, the administration has made few efforts to address and uphold its mission of diversity and equity on this campus.
Until the entirety of the student body, faculty, and staff alike understand that they are all complicit in the violence Black students face each day, Occidental will never be able to value Black students beyond the quota we fill.
Olivia Davis