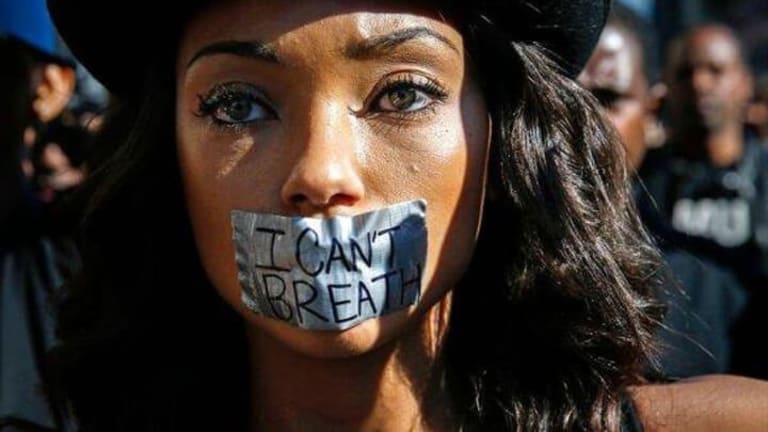 BLM-LA Implores Us to #Say Her Name
Angela James and Melina Abdullah: The brutal treatment of pregnant women, as well as the abusive treatment of gender nonconforming men and women, must all be giving the same value as we assert that in fact, ALL #BlackLivesMatter. #SayHerName
Wakiesha Wilson, Kisha Michael, Redel Jones, Meagan Hockaday, Mitrice Richardson.
To #SayHerName in Los Angeles is to act against the forces that would strip every citizen of their rights, and impose a total authoritarian system of social, political, and economic subjugation—in other words, a Police State.
Recently, several local activists were summarily arrested for merely 'saying' the name of Wakiesha Wilson, a 36-year-old Black mother who died while in Los Angeles Police Department custody on Easter Sunday, March 27, 2016, under circumstances eerily similar to Sandra Bland whose Texas-based in-custody death set off a national uproar last year.
The brutal treatment of pregnant women, as well as the abusive treatment of gender nonconforming men and women, must all be giving the same value as we assert that in fact, ALL #BlackLivesMatter.
Perhaps even more outrageous than the circumstances of Wilson's death and the ongoing cover up, is the absolute lack of humanity with which her mother and family have been treated, never being notified by authorities of Wakiesha's death and only learning that she had died after her mother searched for her for four days, including spending an entire day waiting for her daughter in a courtroom for a scheduled hearing.
This kind of treatment of Black women is enough to make one physically ill and simply cannot be passively accepted. Black Lives Matter uplifts the names of every Black woman in Los Angeles who has been victimized by police violence and demands justice in their names.
Although, sometimes left out of national conversations about the impact of police brutality and lethal force on Black communities, we believe that it is critical to include women's experiences. The brutal treatment of pregnant women, as well as the abusive treatment of gender nonconforming men and women, must all be giving the same value as we assert that in fact, ALL #BlackLivesMatter.
A shared history of police violence is one reason we must #SayHerName, another, is to remind ourselves of the gender-specific ways that racism encourages us to ignore or marginalize Black women's experiences. Simply put, neither Black women, nor Black men can fully flourish as human beings in a context that harms the other. To #SayHerName is to push back against the false idea that Black women's strengths exempts them from racist harm and that therefore our gender specific concerns can be marginalized. In fact, we affirm, the necessary strength and resilience of Black men, women and children, as the powerful base upon which we continue to build an inclusive resistance movement.
BLM encourages a more structurally rooted understanding of policing that recognizes the pivotal role of race in framing state sanctioned violence. We argue that by failing to hold police accountable, police are essentially given impunity to ignore basic human rights and subvert democratic values.
A perfect example of the social dangers of abetting police malfeasance can be found in Los Angeles Police Commission of arrests of activists for "resisting arrest". These arrests, essentially for lifting up the name of Wakeisha Wilson, and pushing for answers to the heartfelt questions poised by her family, represent an abuse of law.
Clearly the intent was to harass groups and intimidate individuals that challenge the status quo. The willingness of the L.A. Police Commission to punish those seeking public accountability, instead seeking an opportunity to ensure public concerns are taken into account, reveals the charade of independence. Those who challenge are portrayed as a threat to societal well being, while those who administer extra-legal punishment are given immunity from public scrutiny. Clearly this suggests that the maintenance of the existing social order has been given priority over changing police practices that undermine democracy.
We #SayHerName to fundamentally proclaim the lie of individualized 'blame' used to hide the systemic injustices that lie at the root of each case where police practices are not meaningfully scrutinized, and institutional accountability is blocked. The policies of over-policing and under-resourcing of Black communities are born by Black men, women and children of both genders.
Angela James, Ph.D.
Melina Abdullah, Ph.D.