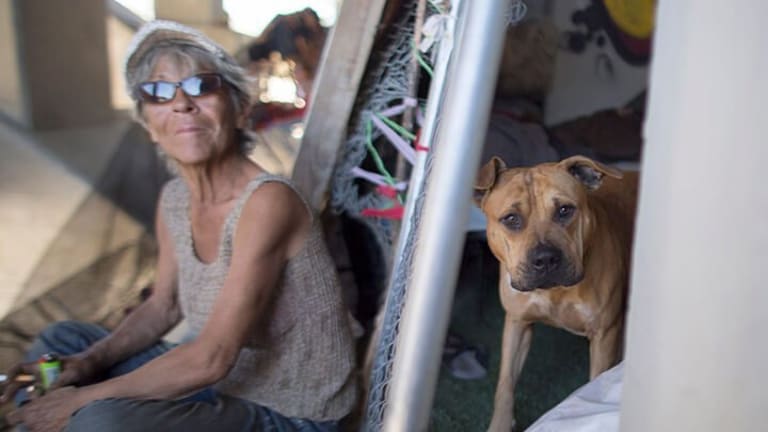 $2 Billion Homeless Bond: Great for LA, Not SF?
Randy Shaw: Far superior would be a formula that incentivizes local spending by requiring some form of a county matching funds.
At a January 4 press conference on Skid Row in Los Angeles, California State Senate leader Kevin de Leon unveiled bipartisan plans for a $2 billion state homeless bond "to construct permanent supportive housing for chronically homeless persons with mental illness."
The measure is a huge step forward.
It is particularly welcome after Governor Brown vetoed the legislature's chief measure in 2015 seeking to address the state's housing crisis (the Governor previously vetoed the legislature's top housing bill in 2013).
The proposed bond also follows over a decade of state government neglect of a housing crisis impacting millions of Californians. The state's abandonment of efforts to address its housing and homelessness crisis has caused the problem to get significantly worse.
Everyone should support this bond as it makes it way through the legislative process and to the Governor.
But those working to address San Francisco's homelessness crisis may be disappointed. That's because San Francisco will get proportionately little money from the bond. If you wondered why de Leon held the press event in Los Angeles with neither Mayor Ed Lee nor any San Francisco official present (despite Los Angeles Mayor Garcetti recently joining with Lee and other west coast mayors in creating an alliance to combat homelessness), it is because the bond's allocation formula is heavily weighted toward Los Angeles.
The Senate legislative package on homelessness "re-purposes" and uses the same allocation formula of Proposition 63, the landmark Mental Health Services Act passed by voters in 2004. That measure was co-authored by former state senate leader Darrel Steinberg, who was at the Los Angeles press event and has played a critical role in developing the new bond.
Under this formula, "the maximum provided to each county is determined by the number of people in the county with incomes below the federal poverty level and those with severe mental illnesses." Los Angeles County has over 10 million people compared to San Francisco's 800,000, and the percentage of poor people and those with mental illnesses is not much different.
Do the math. Whenever a state formula is based on raw numbers of poor people, San Francisco loses. Our numbers are way below the state's larger counties.
Is the Allocation Formula Fair?
Los Angeles has the nation's worst homeless problem, with 42,000 homeless residents. 22% of the nation's homeless live in California, and the bond is desperately needed even if all the money were spent outside San Francisco.
But should state allocations completely ignore what localities have done to address homelessness? The Prop 63 formula fails to reward counties like San Francisco that have committed local dollars and secured federal funds to reduce homelessness while Marin and other nearby counties have done little.
Far superior would be a formula that incentivizes local spending by requiring some form of a county matching funds. Instead, counties will get state homeless dollars without being required to dig deeper into their own coffers.
San Francisco will benefit from a provision in the package that increases SSI/SSP program grants which provide income support for the aged, blind, and disabled poor who cannot work. These grants have fallen further and further behind the rising cost of living, and were even cut during the state's down times.
San Francisco will also get some supportive housing money from the state, even if it is far less than it would get under a system that rewards counties for local spending on homelessness.
So to repeat: Everyone should support the $2 billion bond. It is desperately needed. But California legislators should be creating more strategic funding formulas that leverage counties existing efforts to reduce homelessness, rather than rewarding counties whose large number of poor people may reflect their ignoring the problem.
Randy Shaw
Beyond Chron