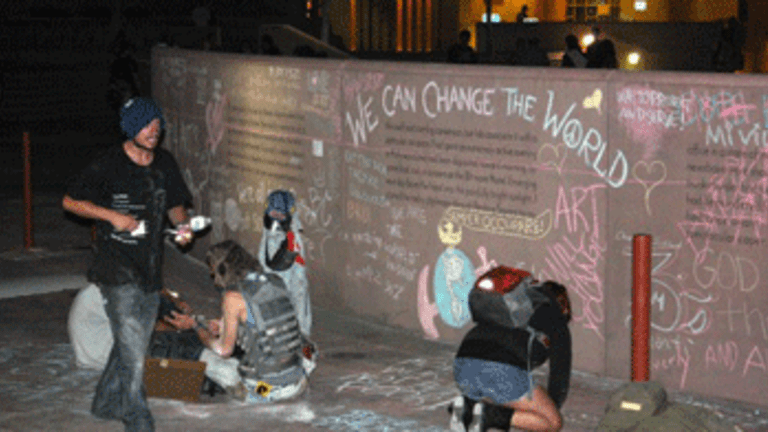 L.A. Police Leave Chalking Protesters Alone
Dan Bluebel: A month after the ArtWalk uprising, Occupy Los Angeles pulled off another act of civil disobedience to protest the arrests of several occupiers and non-occupiers for chalking sidewalks. This time around it was peaceful.
LAPD Chalking Protesters
One month after the ArtWalk uprising, Occupy Los Angeles pulled off another act of civil disobedience on the night of Thursday, August 9, to protest the arrests of several occupiers and non-occupiers for chalking sidewalks.
This time around it was peaceful.
Approximately 200 occupiers, along with a few from Occupy Oakland, gathered in Pershing Square to chalk, listen to music and spread their message. Though Occupy LA's stated goal of the event was to hold a "non-violent, peaceful family event" to "celebrate art and community, unobstructed," foremost on many people's minds were the Los Angeles Police Department and what actions, if any, they might take.
Police say chalking is vandalism and, according to the Los Angeles Times, Mayor Antonio Villaraigosa has called it "criminal behavior."
Last month, roughly 40 occupiers participated in an act of civil disobedience at the downtown ArtWalk, a festival-like event held every second Thursday to showcase art galleries, restaurants and bars. The event was intended to raise awareness of a spate of arrests and aggressive policing suffered by occupiers after they began protesting the Central City Association, a powerful downtown business lobby.
After several arrests for chalking at the ArtWalk, which involved mostly event attendees, along with a heavy-handed police response, an angry crowd began to gather at Fifth and Spring streets. Plastic and glass bottles were thrown at police, who were also repeatedly jeered by the crowd and told to leave. Riot-clad cops moved in to break up the gathering. Several people were shot with less-than-lethal projectiles and four officers suffered minor injuries.
This time around, on Thursday's event, there were numerous legal observers present from the National Lawyers Guild. Jim Lafferty, the organization's executive director who was present in Pershing Square, said police overreacted last month.
He said chalking is nearly ubiquitous, citing instances where businesses use sidewalk chalk to grab the attention of potential customers and children use it to play. When it came to protesters chalking political messages, Lafferty said it was an "exercise in First Amendment rights."
"In this setting here, I think, the idea of giving tickets out and bail of $5,000 is simply indicative of the fact that the LA city officials and the police still want to try and silence the occupy movement," he said. "That's what it is really about. It is not the chalk, it's the message. They don't like the message; the merchants don't like the message."
There are currently two federal court cases on the books that protect chalking in instances of political expression: MacKinney v. Nielsen (1995) and Osmar v. City of Orlando (2012).According to the LA Times, the city has not filed charges on the majority of chalking arrests.
Lafferty said if police continue to make arrests for chalking, legal action may have to be taken to gain a court injunction that would stop further arrests.
Occupy LA garnered much negative media attention and condemnation from local business and gallery owners as a result of the ArtWalk uprising. On August 2, a few occupiers set up a town hall meeting to engage the community over the event.
Reactions from those who attended the town hall have been mostly tepid. John Hays, an occupy supporter who was present at last month's ArtWalk, thought the meeting was a good idea, but felt critics of Occupy LA had made up their minds about the protesters and little, if anything, would change that. However, he remained hopeful.
"I hope we do it again though," he said. "It would be interesting to try it again, maybe a couple of times, … find out if there is any adjustment in how people feel about the movement."
Ed Rosenthal, who acts as an advisor to the Historical Business Improvement District, thought the meeting a success if occupiers would stay away from ArtWalk. He said artists and small business owners were hurt by, what he felt, was a poorly targeted protest.
"Those are not wealthy people," he said. "Some of the small restaurant owners and the small gallery owners may not make money except on the ArtWalk."
Russell Brown, a former executive director of the Historic BID and who is currently on the Pershing Square Park Advisory Board, was also critical of Occupy LA's protest. Brown, who was present at the ArtWalk uprising and the town hall meeting, felt the meeting was a good thing, but remains skeptical.
Brown said occupiers "purposely provoked" last month's incident, and that the sentiment of many at the town hall meeting was that it had been a "bunch of outsiders who came in and screwed up the ArtWalk."
"I'm a liberal Democrat and I'm as progressive as you can get," he said, "and I would really love the real message of Occupy LA to keep focused on jobs, the war, … but if the whole message is just to sort of disrupt a public event, or even this chalking, then I'm not sure that is accomplishing anything.
"The group [of occupiers] that we see here during the day is basically a homeless encampment that is fighting with everybody and fighting among themselves, who've got drugs, lice and rats, and that has very little to do with jobs and the banks. I think it's important that we figure out some form that actually starts changing things and I don't think this is going do it."
For others who were at last month's ArtWalk, Thursday's event drew no comparison. This time there were more news media trucks and legal observers than LAPD. Occupiers had applied for a permit for their event, but were turned down, though on previous occasions chalking had been allowed at city-sponsored events.
FOR THE RECORD:Occupy Los Angeles did not request a permit for their Aug. 9 event as was originally reported. Two former members of the Downtown Los Angeles ArtWalk non-profit inquired about obtaining a permit. Andrea Alarcon, the Public Works board president, stated in a letter to one of the former board members that no permit would be granted "because the use of chalk to deface public or private property is not lawful."]
Though three people were detained earlier in the day for chalking, no arrests were made in the evening when scores of people freely marked Pershing Square with chalk.
Carmelo Rodriquez, 12, who participated in last month's civil disobedience, was in Pershing Square on Thursday. He said he told his friends the next day about people getting arrested for chalking, telling them it was "bull crap."
"I didn't like the police reaction," he said. "I think they were over-exaggerating by bringing the helicopters around. It's not like people were carrying weapons or real guns or machetes on them. They were just walking around doing protesting. They weren't just doing it for kicks. They were doing it because it was what they believed in."
Like Rodriguez, Occupier Craig Toennies thought it was hypocritical of police to arrest people for chalking on whim. He said it raised a larger point about political repression.
"I don't understand how the city, or the police in particular, can make any arrests in the future for chalk when we explicitly said we were going to break that law and they didn't enforce it with any arrests," he said. "They stood down. So that would seem to me that all the previous arrests, and potential arrests in the future, are selective enforcement."
Dan Bluemel
L.A. Activist
Posted: Sunday, August 12, 2012