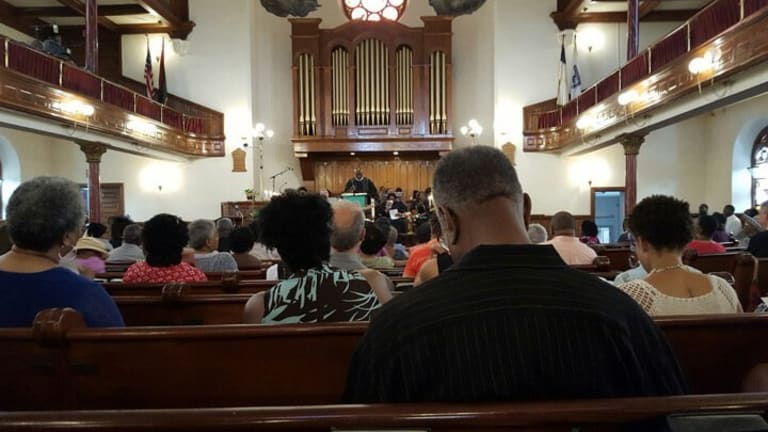 Remembering the Charleston Nine
Arica Coleman: On this first anniversary of the Emanuel A.M.E. tragedy, let us honor the victims and their loved ones by remembering their acts of kindness shown to one who proved himself to be so undeserving.`
I vividly remember where I was a year ago today when I first heard the news of the massacre at Emanuel African Methodist Episcopal Church in Charleston, South Carolina. It was about 2 a.m. and I had just finished an op-ed urging those who were angry about the Melissa Harris Perry-Rachel Dolezal interview to cut the former weekend anchor some slack. No sooner had I submitted the post, news of the church shooting appeared in my Face Book newsfeed. CNN was the only news outlet at that time reporting the horrific incident.
Breaking News: shooter on the run after fatally wounding nine church members during a prayer service.
Listening to the news reports was surreal. I wanted Dolezal's fifteen minutes of fame to be over, but not like this. As the saying goes, "Be careful what you pray for!"
The fallen
The following day, we learned the names of the fallen:
Cynthia Marie Graham Hurd (54) – Bible study member and manager for the Charleston Public Library system.
Susie Jackson (87) – a Bible study and church choir member.
Ethel Lee Lance (70) – the church's sexton.
Depayne Middleton-Doctor (49) – a pastor who was also employed as a school administrator and admissions coordinator at Southern Wesleyan University.
Clementa C. Pinckney (41) – the church's pastor and a South Carolina state senator.
Tywanza Sanders (26) – a Bible study member and grandnephew of Susie Jackson.
Daniel Simmons (74) – a pastor who also served at Greater Zion AME Church in Awendaw.
Sharonda Coleman-Singleton (45) – a pastor, speech therapist and track coach at Goose Creek High School.
Myra Thompson (59) – a Bible study teacher.
On that same day we learned the name of the murderer, Dylann Roof, a white supremacist who targeted the church on the anniversary of the failed slave insurrection organized by Denmark Vesey, a freed slave and founding member of the historic congregation. Roof confessed that he committed the act in the hope of igniting a race war. Roof made his motive clear to his victims when he stated, "I have to do this. You rape our women and you're taking over our country. And you have to go." Ironically, six of the nine victims were women. His words echoed the sentiments of post-Civil War white southern extremists. White womanhood must be protected by any means necessary, which often included the lynching of black men, while the protection of black womanhood was of no relevance to the southern cause.
On this first anniversary of the Emanuel A.M.E. tragedy, let us honor the victims and their loved ones by remembering their acts of kindness shown to one who proved himself to be so undeserving.
To show our solidarity, on the Sunday following the tragedy, my husband Tracy and I attended services at Mother Bethel African Methodist Episcopal Church, the original A.M.E. pioneered by Rev. Richard Allen in 1794 in Philadelphia. Allen started the denomination when black parishioners of St. George's United Methodist Church were no longer welcomed there to worship. It was an honor to attend this historic house of worship. The church's atmosphere, the singing, the reading of scripture, and the preaching were refreshing and cleared away the toxic energy which had engulfed us.
Roof's callous act of murder stirred much debate in the mainstream and social media about gun control, mental illness, racism, and domestic terrorism. But the salient debate sparked during the aftermath concerned the relatives of the victims who expressed sentiments of forgiveness during Roof's arraignment two days after the massacre. "I forgive you," stated Nadine Collier, the daughter of 70-year-old Ethel Lance. "You took something very precious from me. I will never talk to her again. I will never, ever hold her again. But I forgive you. And have mercy on your soul."
While their actions drew praise from some corners of black America, it enraged others as if according to Meeke Addison, "their grief isn't black enough." There were also some who shook their heads at those of the Christian faith who continued to pray and seek spiritual guidance and solace. "Weren't the nine victims praying when they were shot down?" some asked.
While I understood the anger, pain, and frustration many felt at the country, the world, and even "white Jesus", no one has the right to dictate to others their process for coping with tragedy. No one has a right to criticize people for peacefully practicing their religious faith, and no one certainly has the right to demand that they stop practicing that faith. This criticism was a violence perpetrated upon the loved one's already reeling from the unspeakable violence visited upon their family members.
Dr. Maya Angelou stated it best, "Hate. It has caused a lot of problems in this world but has not solved one yet." The victims' families understood this as they stood in the courtroom that day looking in the eyes of the man who had stolen from their loved ones the greatest gift of all: life.
On this first anniversary of the Emanuel A.M.E. tragedy, let us honor the victims and their loved ones by remembering their acts of kindness shown to one who proved himself to be so undeserving.`
Arica L. Coleman, Ph.D.