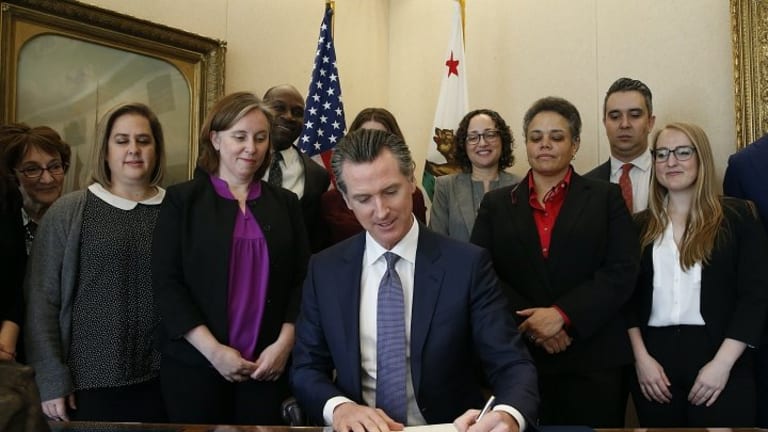 A Quiet Season for California's Child Welfare Bills
Jeremy Loudenback: Still, there are few lasting assurances for foster youth in an economy yet to show much in the way of bright spots.
With the close of an abbreviated and narrowly focused legislative session amid the pandemic, some of the least fortunate and vulnerable Californians – those involved in child welfare cases – will receive only modest help in the coming year in the form of new legislation.
With the state hobbled by a raging recession, Gov. Gavin Newsom (D) signed the last of the 2020 bills late Wednesday – new laws barring police chokeholds and requiring diversity on corporate boards, among other racial and criminal justice reforms. 
Absent from the lineup was ambitious legislation to reform California's child welfare system, the nation's largest. Earlier in the week, Newsom vetoed a bill that would have provided additional assistance to young adults in foster care during future states of emergency, which he described as not "prudent or effective."
At the onset of the pandemic, Newsom was among the first governors nationwide to extend temporary help to foster youth and their caregivers. He signed two executive orders, one that provided a $42 million lifeline to kids and families in the child welfare system and another that included a $40 million plan to prevent foster youth from aging out during the current public and economic health crisis. Months later in June, state lawmakers passed a budget that avoided deeper cuts to the foster care system that had been first anticipated as a result of plummeting state revenues. 
Still, there are few lasting assurances for foster youth in an economy yet to show much in the way of bright spots.
Still, there are few lasting assurances for foster youth in an economy yet to show much in the way of bright spots.
"While policymakers did not ultimately adopt devastating proposed budget cuts, children's advocates are deeply concerned about what might happen in the coming year," said Susanna Kniffen, senior director of child welfare for the Oakland-based nonprofit Children Now.
Nonetheless, Newsom signed three bills into law that will strengthen access to housing and education for foster youth transitioning to adulthood. 
Assembly Bill 1979 aims to prevent foster youth ages 18 to 21 from becoming homeless by making it easier to qualify for placements in county-managed supervised independent living programs. The bill also allows counties and providers to hold these housing slots for up to two weeks for some youth, in an effort to promote greater housing stability.
Under Senate Bill 860, beginning next year, county education agencies will be required to help foster youth complete financial aid applications to help them succeed in higher education. The legislation builds on a pilot project that has helped foster youth in California high schools complete the Free Application for Federal Student Aid over the past two years. The bill requires counties to regularly report data on how many students in foster care are completing the applications.
Newsom also signed Assembly Bill 2416 this week, which will make it harder for college students who are homeless to lose their financial aid. The new law directs colleges to take into account homelessness when evaluating appeals to prevent the loss of financial aid. AB 2416 follows a 2019 study by Temple University researchers that found 1 in 5 of the state's 2.1 million community college students experienced an episode of homelessness over the past year.
In addition to those new laws, legislation supported by the California Judges Association and the California chapter of the National Association of Social Workers will permit dependency court judges to hear more evidence to support the reunification of foster children with their parents. Assembly Bill 2805 allows judges to consider police reports and medical evidence, and not just testimony, as they consider whether parents of children under age 5 should receive court-ordered reunification services.
David Meyers, director of a firm that represents parents and children in child welfare cases in nine Northern California counties, said the bill would give courts additional tools to help families reunify. While there are many factors that affect the reunification process, "anything that increases the odds is a good thing," he said. 
The California governor also inked Senate Bill 820, a budget measure that will help students with disabilities receive speedier special education services by addressing a loophole that was created in the opening weeks of the pandemic when schools shut down. 
A bill hastily signed in March lifted deadlines for complying with special education assessments, creating frustrations for many foster youth and their caregivers who rely on extra services from their public schools.
But Newsom vetoed another bill that sought to address shortcomings of education funding for foster youth and other at-risk groups. 
After a critical November review by the California State Auditor found that money for low-income students, English language learners and foster youth was not being spent on those groups, Assembly Bill 1835 sought to compel school districts to better target their spending. 
Newsom disagreed, saying that the bill "would impose new and unnecessary procedural requirements" that would be difficult for schools to manage at a time when they are struggling to provide educational services during the COVID-19 pandemic. 
Jeremy Loudenback
The Imprint
This story originally appeared in The Imprint, a daily news publication dedicated to rigorous, in-depth journalism focused on families and the systems that impact their lives.