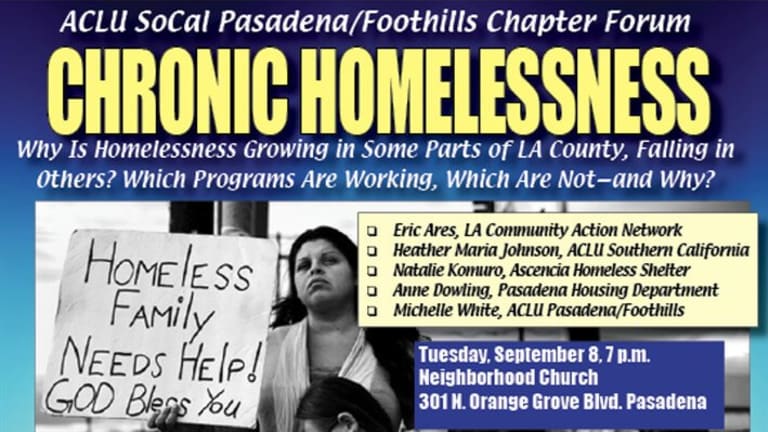 Chronic Homelessness Forum: Updated
Why Is Homelessness Growing in Some Parts of Los Angeles County, Falling in Others? Which Programs Are Working, Which Are Not—and Why?
Why Is Homelessness Growing in Some Parts of Los Angeles County, Falling in Others? Which Programs Are Working, Which Are Not—and Why?
What: ACLU SoCal Pasadena/Foothills Chapter Forum
Where: Neighborhood Unitarian Universalist Church, 301 N. Orange Grove Bvld., Pasadena
When: Tuesday, September 8, 7to 9 p.m.
Who:
Eric Ares, Los Angeles Community Action Network
Heather Maria Johnson, ACLU Southern California
Natalie Profant Komuro, Ascencia Homeless Shelter
Anne Lansing, Pasadena Housing Department
Michelle White, Moderator, ACLU Pasadena/Foothills
Los Angeles has been America's homelessness capital for decades. Yes, New York City boasts more homeless people in its five boroughs, but many of the Big Apple's homeless population live in shelters. With LA's balmy weather, our homeless live in much greater numbers outside, on the streets of Skid Row downtown, in evermore elaborate tent cities under highway bridges, and increasingly camped in parks and on open land, such as along the Arroyo Seco going into Pasadena.
And the problem is hardly going away. A report released this spring by the Los Angeles Homeless Services Authority shows that homelessness in LA County shot up 12%, to 44,359, since the last in-depth survey was taken in 2013—and is much higher in neighborhoods like East LA.
And yet, closer to home, Pasadena has seen its homeless population fall 43% from 2011 to 2014. And Salt Lake City has implemented a "housing first" solution that has cut its homeless population by 72 percent by offering housing with in-house mental health care and substance abuse treatment, rather than using the police to move the homeless from one neighborhood to the next, into jail, and back out on the streets.
"At this point it's no secret what the solution is: it's housing and services," said Eric Ares, an organizer with the LA Community Action Network in a recent Intercept article by Charles Davis. "But what we're seeing is—and this has been going on for at least 10 years, particularly in the gentrifying parts of Los Angeles—a blank check for policing."
Indeed, Los Angeles will spend as much as $87.3 million of its $100 million homeless budget on police, who use it to patrol homeless communities and put people in jail. In 2013, the Los Angeles Police Department arrested 15,000 homeless people, offering them "three hots and a cot" and little else before releasing them back onto the streets of Skid Row.
So, as Los Angeles contemplates bringing another Olympics to town and maybe swiping—who knows?—maybe three NFL football teams from other cites, we thought we'd ask some experts about other approaches the region might take to its persistent homelessness problems.
The event is free and open to the public. For more info, contact Dick Price & Sharon Kyle, ACLU SoCal Pasadena/Foothills Chapter, dick_and_sharon@laprogressive or 213.434.4643.