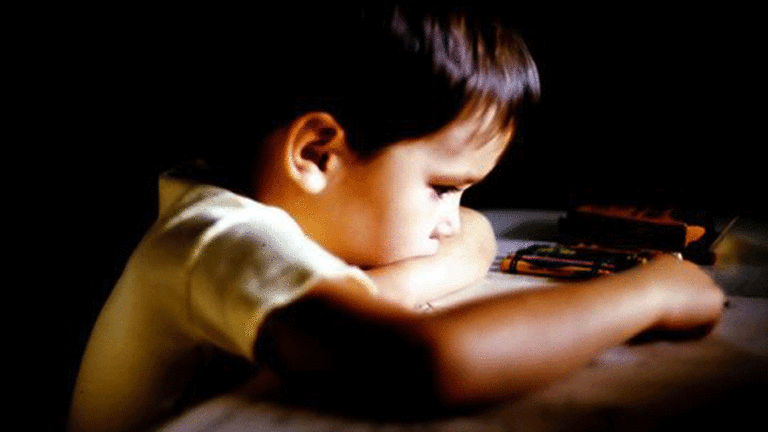 Distressed Children Need Our Help—Before It's Too Late
Rosemary Jenkins: It is important to understand that children, who seem completely "normal" while growing up, often do not manifest symptoms until that person is in his or her teens or early twenties (high school and college age). Thus, we must be continuously vigilant.
We hear so much about the mentally ill. How our jails (due to regulations which sometimes have unintended consequences) serve as mental institutions where the ill are neglected, abused, and too often die (did you see 60 Minutes recently?). How the homeless, usually suffering from illness themselves, wander our streets and try to find safety in an unsafe, often indifferent, forbidding, and frequently dispassionate and insensitive world. How too many of our children (who are often unhappy, fearful, sad, and wary as they try to navigate life in their homes, neighborhoods, and in their schools) have problems that are generally misidentified as behavioral when such young people are actually exhibiting mental and physical health symptoms that are not being recognized and addressed properly. Children suffer when both school staff and parents are in denial and don't want to or can't handle the problems that should be all too evident.
Children (and adults) often suffer in silence until they find themselves thrown out of the home or school or both and have to fend for themselves on the mean streets. The theme is common: most of these youth have suffered from homes in which one or both parents is an alcoholic or a drug addict; where incest has occurred; where physical, verbal and mental abuse are common; in which the very idea of LGBTQ is a forbidden topic; where gangs often become the only outlet that offer a type of sanctuary and protection and even a sense of family (especially when parents throw these children out, abnegating their own responsibilities for the children they have brought into the world) .
As a teacher, I was frequently disturbed over the many children who were falling through the cracks. I could readily see that they were suffering (often sharing with me in private what they might otherwise feel too fearful to share with others). Too many were victims of the crimes that I have described above. Yet, when I would report the conditions to their school counsellor, little or nothing was done. I knew that many of these children might wind up someday as suicide victims or thrown in jail or become drug addicts or alcoholics. Many would harbor so much rage and self-hatred or low self-esteem that they would not be able to function successfully in society upon leaving a school setting. They would be unprepared to care for themselves or engage in a successful relationship.
On the other hand, many children have issues that are in no way the fault of what transpires in their homes at the hands of parents or guardians as well as in their neighborhoods or schools. Parents and guardians need to learn the difference between normal growing pains and behaviors that are symptomatic of something more serious.
Below are some points to consider before seeking professional help. Does your loved one exhibit these symptoms?
sudden changes in school performance
changes in sleep or eating habits
mood changes
seemingly unexplainable angry outbursts and lasting depressions
hallucinations
self-harm
It is important to understand that children, who seem completely "normal" while growing up, often do not manifest symptoms until that person is in his or her teens or early twenties (high school and college age).
It is important to understand that children, who seem completely "normal" while growing up, often do not manifest symptoms until that person is in his or her teens or early twenties (high school and college age). Thus, we must be continuously vigilant.
So much needs to be done before the worst consequences occur. Thankfully, I have seen for myself that there are now an increasing number of organizations—city, county, and non-profit—whose goal is to change this picture.
When I was recently at a conference at a local high school, I ran into a person who was in charge of a booth whose organization offers help for the very people that are described above. At a subsequent time, I was able to speak to some of the staff members of her organization. I am eager to share what I discovered:
The referenced organization is called the Child and Family Guidance Center (CFGC) and serves the San Fernando, Santa Clarita, and Antelope Valley areas. It was founded more than 50 years ago and, most importantly, its doors are always open. There is an emphasis on early intervention (and encouraging parents and guardians to take the training necessary to help head off problems for their children that can increase geometrically if issues are left unaddressed):
prevention services which can produce mentally and physically healthier clients
early intervention that addresses quality of life and improved socio-economic status for the overall community
appropriate treatment that can reduce homelessness, incarceration, suicide, and psychiatric hospitalization
results can create more resilient, hopeful, successful, and confident individuals
When intervention is introduced and the earlier problems are addressed, the costs to the community is substantially less: If a family seeks help in the first year that distress is recognized, the cost is about $3000 but if delayed by 5 years, the cost to the taxpayer could rise to $90,000 (not including increased detrimental effects on the individuals within a family, the possibility of abuse taking place, and the damage that can be incurred if the distressed individual turns to crime as an outlet to the inner rage that that person feels).
Interestingly enough, but perhaps not that surprising, is a program sponsored by the CFGC called the Sonic Teens Program. It is a 12-week program combining song-writing with treatment that pertains to those filled with anxiety, depression, and/or trauma. Many who suffer find themselves incapable of expressing their true feelings. However, participation in this program has proven that these individuals can come out of their shells and learn how to deal with the causes and effects of their problems.
One facet of the Sonic Program is connecting a professional artist with a client. One such person is Dave Grohl, founder of the Foo Fighters (who is responsible for an Emmy Award-winning documentary entitled Sonic Highways). He brought these young people into his own studio and let them hang out with him. As a way of showing their gratitude toward their new "hero," they produced their own rendition of his song, "My Hero." They themselves were touched by Grohl's moving reaction to what they had done for him and that made all the difference. They realized that their lives could have not only meaning for themselves but for others as well. "It allowed them to feel proud of their accomplishment and reaffirmed their self-worth."
The CFGC offers a number of services (as do other similar organizations). Each listed program serves as an umbrella for a number of important sub-categories. These services are offered for free or on a sliding scale of affordability. Please note that privacy and confidentiality are strictly kept.
The intake process requires the following for the prospective client:
caregiver's photo ID
child's Social Security Card
Medi-Cal Card
Proof of income (the unemployed are not turned away)
Services and Referrals:
Individual, Family, and Group Therapy
Caregiver/Adult
School-Based Mental Health
Full-Service Partnership (FSP)
Parent and Teen Libraries
Psychiatric
Therapeutic Behavioral
California Work Opportunity and Responsibility to Kids (CalWorks Program)
Child Abuse Treatment and Evaluations
Children's Health: Outreach, Enrollment, Utilization, and Retentions (CHOEUR)
Community Family Center (CFC)
Community Resources: including referrals for food, clothing, housing; outpatient care
Crisis Program
Family Preservation
In-Home Behavioral Intervention Team (IBIT)
Intensive Home-Based Services for High Risk/High Need Probation Youth (HR/HN)
Multi-Disciplinary Assessment Team (MAY)
Northpoint School (a non-public school that serves children from 10-22) serving those with significant, immediate needs
Rancho San Antonio Residential Boys Program (for ages 12-18) in Chatsworth
North Hills Wellness Center (on Monroe High School campus) providing a wide range of services for individuals and families
Primary Healthcare Co-Location Program (on-site mental health screening and treatment)
Desert Pathways School (in Antelope Valley)
Healthy Families America (HFA)
Incredible Years (IY)—group treatment for those from 2 to 11 years of age
Specialized Foster Care
Wrap-around Services
Yellen Learning Center (in Antelope Valley) serving those K-8 with severe special education needs
This invaluable program guides "more than 10,000 children and their families annually from1,100 referring sources."
Finally, let me also draw your attention to a superlative event coming up in May:
Celebrate the TRANSFORMATIVE Power of Music
with Dave Grohl of the Foo Fighters
and Roy Marshall, President and CEO of CFGC
Thursday, May 12, 2016, at 6 p.m.
at the Skirball Cultural Center, Ahmanson Ballroom
2701 N. Sepulveda, Los Angeles
Cocktails, Hors d'Oeuvres
Dinner
Live Entertainment
Live Auction
Cocktail Attire
For more information and details, please contact the following:
Child and Family Guidance Center
Development Office
8550 Balboa Boulevard, Suite 216
Northridge, CA 91325
818-739-5155
www.childguidance.org
development@childguidance.org
Rosemary Jenkins