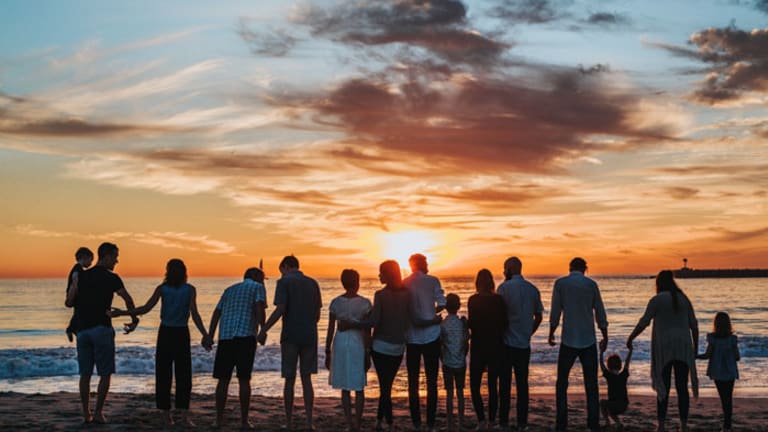 Are Family Support Programs a Failure?
Phil DiLorenzo: Many cultures thrive on the shared joy and support they draw from both family and community — the convergence of many angels.
To Support Families, We Must Look Beyond Regimented Solutions
A minister with whom I was recently speaking quoted a Biblical passage from Hebrews 13:2: "Do not forget to show hospitality to strangers, for some who have done this have entertained angels without realizing it."
The pastor's quote was in the context of our conversation about how we build accessible and inclusive supports for families living in his neighborhood. His specific point was that everyone passing through his doors has the potential to be a valuable partner in the task of strengthening families. I thought, amen pastor, let's welcome as many angels as possible — even those who have fallen and gracefully picked themselves up for an encore.
Though I'm not a literal believer in the idea of angels or the stories of the Bible, I do think that many of its passages and teachings reflect our innate desire to rise above our otherwise flawed and incomplete lives. The quote reminded me that we should look for partners in unexpected places and for people with a generous heart and a willingness to be part of something greater than themselves. These are the qualities that make community-based family support models so effective.
They flourish when a full array of people who can make a difference in the communities say, "whatever it takes." More specifically, it's whatever and whoever because there is a lot to be done. In this case, the angels include professional helpers, families, community stakeholders, volunteers and others.
Of course, not everyone who comes through the door is angelic or well meaning, and we share a responsibility to look out for each other's well-being. Still, we are not there to assess the good and evil in prospective partners.
Family support programs go beyond the practice of serving one family at a time. There are multiple moving parts. Our effectiveness lies in the broader engagement of our neighbors. The model's elegance is in collective action and connectivity of child, family and community.
Many cultures thrive on the shared joy and support they draw from both family and community — the convergence of many angels.
The families we value, and about whom we are most concerned, live in dynamic, unpredictable environments that require a great deal of daily adaptation. Parents expect that we are capable of understanding and adjusting to the wild swings in their lives. That is the testimony of most families who come through the doors of community-based family resource centers and other similar programs. They might plan for the best. Then out of nowhere, they get hit with the unexpected.
At that point they need all the angels that we are prepared to engage. High-quality family support programs respect that and factor in the unanticipated and consequential drama in people's lives.
Our challenge is to assemble all of the willing and able angels and identify approaches based on partnerships and shared judgments. When done right, we see real results. Many community researchers have been sitting on our shoulders for years, whispering in our ears to consider the combination of evidence research with family experiences and context.
Family support programs are in the hospitality business, enhancing opportunities for kids and parents and embracing the power and possibilities within a community. We open the door to everyone with the shared goals of keeping kids and their parents safe and stable and neighborhoods alive and supportive. It's consistent with our desire to create what developmental psychologist James Garbarino called compensating influences.
Family support programming is the combined orchestration of multiple positive assets standing against the threats that might exist within a family's home and community. As Garbarino indicates, without the compensating influences, the harm to children accumulates and opportunity for the child to thrive is diminished, thus putting them at risk.
It is common sense problem solving. The lives of kids and parents under the most pressure can benefit from the array of support, not singular academically certified interventions.
This is what makes a strict adherence to evidence based practices, or EBPs so tricky. I'm a little concerned that once again we are looking for the single solution to a decades-old problem.
EBPs seem like an all-or-nothing proposition set forth by those outside of community being served. If we assume that many families will still not respond, and we only achieve a fair rate of "success," will we consider family support programs a failure? I don't like the odds if we think the straightest path to redemption is a check list for model fidelity. It seems counterintuitive to an ecological approach with its neighborhood stakeholders.
In a recent blog for Evident Change, researcher Cynthia Burnson, PhD, cites similar concerns about limiting ourselves to EBPs given that it is not clear they are well suited for communities of color. In fact, many cultures thrive on the shared joy and support they draw from both family and community — the convergence of many angels.
The child-family-community connection has been the foundation of our work since the days of Jane Addams and the settlement houses. It's really quite simple: Be sure to organize a variety of resources for the most vulnerable families. Design the optimal circumstances for people to accept that help, in a setting most likely to be received. Engage families and stakeholders as partners. Finally, be sure to create a chorus of people who understand the connections between family safety, health and well-being and the vibrancy of a community.
Our 21st century addition to the settlement house model is the introduction of evidence-based programs intended to reduce the guesswork in family support. But since they are so prescriptive in nature, it's still not clear that they will get the results they promise within the context of complex family and community environments. They have value, but we should avoid magical thinking or an overestimation that could take us to the same frustrating place — still seeking better results, and still disconnected from the community.
We don't need savior frenzy around "approved models," but we might benefit from a convergence of angels.
Paul DiLorenzo
The Imprint