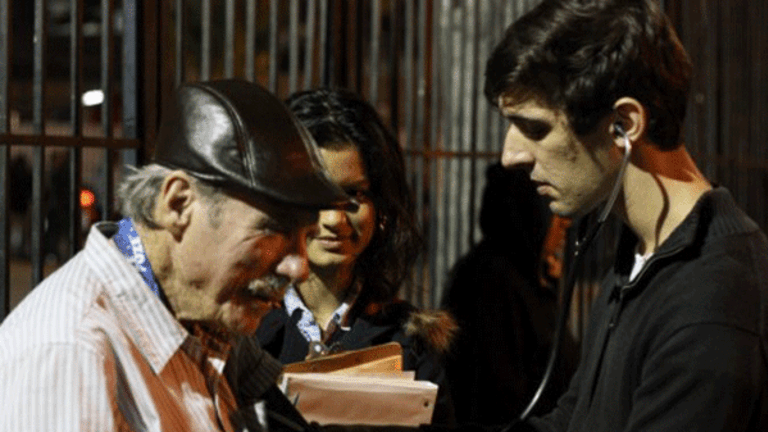 City Hall Gunning for LA's Food Charities Again?
Dan Bluemel: Food lines being under attack is nothing new in LA. Three years ago, a similar campaign, led by business interests and residents in the Skid Row area downtown, managed to shut one food line down and threaten several others.
Homeless advocates gathered to support a food line and mobile health clinic in Hollywood Wednesday, October 30, fearing the charity may be under threat of being shut down by city officials.
The Greater West Hollywood Food Coalition and the UCLA Mobile Clinic are experiencing increasing pressure from the city to move from the location they have been serving at Sycamore Avenue and Romaine Street for 23 years.
Los Angeles City Councilmember Tom LaBonge introduced a motion in September to the City Council asking city departments to look into the issue of feeding programs in the public right of way. He has asked, based on their findings, the city attorney to draft legislation accordingly. What that legislation may look like is anyone's guess, but advocates fear it may be the end of food lines in LA.
"At a time when they are cutting food stamps, why is the city trying to cut this kind of program that is going to be needed more?" said Frank Tamborello, director of Hunger Action Los Angeles. "The city should be putting resources into helping people. Instead, what is going to come out of this, they are going to be paying our taxpayer money to police to come and restrict people from helping other people."
In a statement, Councilmember LaBonge said he is hoping his measure will "ensure the safety of people eating on a public street." He would like to see how other cities, for instance, manage food lines and keep people safe.
"Many public health codes and regulations come into play around food service," he said. "I wanted to hear how other municipalities enforce health codes, provide traffic safety and manage the interface with area businesses and residents."
City Council will decide on LaBonge's motion in the coming weeks.
But the pressure on the food coalition is not only coming from LaBonge. The Bureau of Street Services informed the coalition two months ago they could no longer set up tables or tents on sidewalks. According to Dr. Walter Coppenrath, the UCLA Mobile Clinic's lead physician, the loss of tables and tents has restricted their ability to care for the poor.
Legal students and volunteer lawyers had provided legal advice to the homeless, but the absence of furniture has made it impossible to do so, said Coppenrath. The lack of a tent as well now means the clinic can no longer provide comfortable private screenings. If such screenings are necessary, doctors must resort to the back of the clinic's cramped van.
"We are able to provide the best services we can in the situation we find ourselves," he said. "Unfortunately, that situation has been made much harder due to some very short-sighted politics and anger from local businesses."
There is criticism from some highly vocal neighbors too, who link any blight or crimes in the area to the food line. According to CBS Los Angeles, the Public Works Committee has heard testimony from neighbors who complained of petty theft and discarded hypodermics.
Not all neighbors are antagonistic to the food line, though. For instance, across the street on Sycamore Avenue from a landlord, who has attempted to sue the food line numerous times, there is another landlord who is an ally.
"The fallacy is that those who deem the homeless a criminal element think they are here because of us," said Coppenrath. "That is just not the case. This is Los Angeles, which has more homeless on the street than any other state on any given night. The idea the homeless are here because we are serving food, or that people are here to commit criminal acts, is not true.
"Everyone can agree that homelessness is a problem, but when people start saying the individual homeless are a problem, that is when we are going to butt heads."
There has been a 16 percent increase in homelessness in LA since 2011, according to the Los Angeles Homeless Services Authority. There are now 58,423 homeless residents in the county. The situation is exacerbated by the fact that LA has one of the highest unemployment rates in the country, lacks affordable housing and has seen an increase in rental housing costs.
With the uptick in homelessness, it is likely that some middle-class residents are uncomfortable with being in close proximity with the city's economic reality. Homeless advocates interviewed sympathize with residents, acknowledging that only two blocks away from the food line are homes.
LaBonge has offered the food coalition a few indoor premises with funding for a year. Members of the food coalition like the idea of an indoor location, but have so far turned down LaBonge's offers as those solutions presented their own problems.
Sherry Bonanno, a volunteer with the food coalition, said the offered premises were too small. Nearing the end of the month, she said, the food coalition is often serving as many as 200 people, plus they want to expand UCLA's clinic. Another location that was turned down was even in closer proximity to a neighborhood. One primary obstacle for the food coalition is what to do once the funding runs dry. The food coalition, said Bonanno, is run by volunteers and receives an insignificant amount of funding on its own.
"For the most part, our donations are private donations that are sporadic throughout the year," she said. "We do not consistently raise $3,000 to $5,000 a month to pay for a spot."
Bonanno said the past few months, with its pressure from LaBonge, business groups and neighbors, has been particularly trying for the charity. The food coalition gets its food from restaurants, such as Chipotle. Several of these restaurants have received angry letters from neighbors, causing LaBrea Bakery, which supported the charity for over a decade, to back out and no longer share its bread with the needy.
"There's been so many nasty emails, so many accusations about us and the people we serve and who they are, just sort of bunching them all together as if they were a huge criminal organization," she said. "We've been scrambling to contact our donors, to make sure they understand we are trying to find a solution and that we still need to feed people every single night. We hope they will stand with us."
Food lines being under attack is nothing new in LA. Three years ago, a similar campaign, led by business interests and residents in the Skid Row area downtown, managed to shut one food line down and threaten several others. That campaign led to several "right to share food" protests. Homeless advocates argued the right to share food ought to be sacrosanct. They also feel it is protected under the First Amendment's freedom of assembly clause.
Michael Hubman, who runs Watercorps, a water distribution charity, helped organize the early "right to share food" protests in Skid Row. He said any attempt to shut down food lines would cause hunger city-wide as there are hundreds of small charities that the poor regularly count on for food.
"We're standing up for people's right to share food outside in public," he said. "We carry the moral high-ground on this issue. To abridge the sharing of food is absolutely mean-spirited."
Dan Bluemel
L.A. Activist
Photos: Dan Bluemel/LA Activist
Monday, 4 November 2013