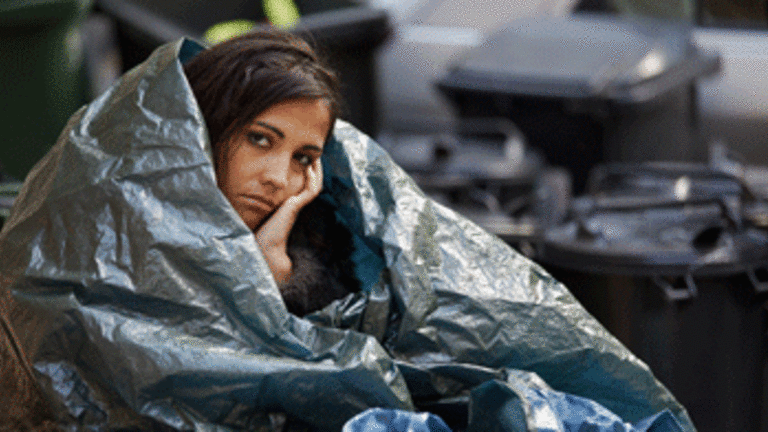 For Homeless Families, November Brings Worst Sort of Chill
Charley James: There are days when I waste hours assessing every bad decision I ever made, hoping that by understanding the route that got me out here might lead me back inside again.
T.S. Eliot had it wrong: April is not the cruelest month. Not if you are homeless. Then, it's likely to be November. Not only does the mere act of surviving become much more difficult as cold weather settles in across much of the nation, but the oncoming holidays are a constant reminder of how different your life is than the way most other people live.
November brings all kinds of cold and only some of it can be measured on thermometers.
The frostiest chill might be the one that runs down the spine when you realize how desperate your life is. It comes with the dull, aching, recognition of a stinging reality: The odds are stacked against things getting much better anytime soon. It is remarkably easy to tumble into poverty and homelessness but extremely difficult to struggle out of its iron grip.
This is more than simply fighting to stay alive one more day, although that's what winter is about for the nation's 10-to-12 million homeless individuals and families.
It is waking up with the knowledge that there is no one to share a Thanksgiving dinner with; at times you wonder what there is to be thankful for at all given the circumstances.
Sadness
It is spending the day walking past stores decked out with holiday displays, a sharp reminder that you have no one to give a gift to and, even if you did, there's no spare money to buy even wrapping paper let alone the present being wrapped. Chances are no one is going to have a gift waiting for you, either.
"Whatever gifts I give my girl this year will come from handouts at charity shops," Rita Klopstein said sadly. The 34-year old widow and mother of an 11 year old daughter has been homeless almost continuously since her condo was repossessed in 2010. An only child herself, Rita has no living family members. "Christmas has been pretty bleak the last few years
"I hate this time of the year," she says. "We eat Thanksgiving dinner in a church basement and have Christmas Eve in a motel room" which is where she and her child live.
November's frost also includes biting feelings of anger, much of it self-directed. There are days when I waste hours assessing every bad decision I ever made, hoping that by understanding the route that got me out here might lead me back inside again. But it's a futile exercise. I can't change the past and if I was able to switch every bad decision I ever made with all of the good ones, I suspect I would still be out here.
"What gets me are the idiots I used to work with who still have jobs, homes, places to go, friends to be with," snapped Tom Flanagan. Homeless for more than two years, Flanagan and his wife live with their four children in a tiny flat above his brother's garage.
I know what he means. Over the years, I was blessed to have worked with some very bright, hard-working men and women. But a lot of former co-workers who are still employed and paying their mortgage every month met the dictionary definition of colossal bores: They were mediocre, banal, insensitive and lackluster. What bound them together was support for each other boringness, and a level of greed that could only be called insatiable.
Flanagan sounded both angry and despondent as he concluded, "Maybe I was too smart for my own good. The dummies never got thrown out of their house by a sheriff."
Practicalities
Without minimizing the hardship wreaked by Sandy on the tens of thousands of people made homeless by wind and water, finding food, warm clothing and a dry place to sleep is part of the much-too-routine, daily struggle for people who were homeless even before a huge storm. November's winter weather makes the search more desperate.
Bill Wishart has been homeless for three years and dreads the onset of winter.
"Once November comes," he said by cell phone from Milwaukee, where he is looking for work, "every day is waiting in line somewhere else for winter clothes. One day it's at Sally Ann because they're giving away gloves or hats, another day at a church that's distributing parkas and hoodies.
"When I lined up two weeks ago for boots," Wishart lamented, "it was too late by the time my turn comes. I wear (size) 13 but they'd already handed out the two pairs of boots in my size and didn't have no more."
Wishart is 44 years old and his townhouse was foreclosed eight months after he lost his job as a crane operator in early 2009. He has two children that he had been raising as a single dad after his wife left a note saying good bye and disappeared one afternoon in 2008 when he was at work and the kids were at school. The family hasn't heard from her since. When they became homeless, he took the children to their grandparents in Iowa before heading to Milwaukee to look for work.
"I waited for a couple of hours only to hear they don't have nothing to keep my feet warm," Wishart noted. "They said they might have more in a few weeks."
Until then, he hopes the weather doesn't turn too cold.
Same Boat
I empathize entirely; I'm in the same boat. I'd missed by 24 hours the October day when a clothing bank distributed free winter boots and jackets, and now am hoping that the really cold weather doesn't arrive early. When I became homeless in late April, I never thought my situation would last this long and so didn't bring any winter clothes.
Now, I layer what I do have to stay warm when I walk Prince, my Golden Retriever, or have to go someplace to get food: A long sleeve T-shirt, the one spring sweater that I packed for some reason, two wind breakers with a hoodie in between, and a warmish jacket someone lent me. I found a pair of wool gloves on a park bench that someone either lost or forgot but only have a pair of runners for my feet. I should be alright until the next distribution day, unless there is snow or the temperature drops into single digits.
The next free handout night is next week and it is likely I will be in line for hours waiting my turn, hoping – like Bill Wishart – my sizes aren't gone by the time I am admitted. Otherwise, it is going to be a very tough winter – and not just because my hands and feet are cold.
Starting at noon (Eastern Time) on Saturday, Nov. 17, a fund raiser for Charley will be held at Daily Kos. 
Author and journalist Charley James' next book is about his experience becoming homeless. When published, Charley will donate a percentage of his advance and royalties to homeless organizations.
More articles by Charley James
Help keep Charley living indoors.
Follow Charley on Twitter @SuddenlyHomeles.
Posted: Thursday, 15 November 2012
Charley's next book is about his experience being homeless. When published, he will donate a percentage of his royalties to homeless organizations.