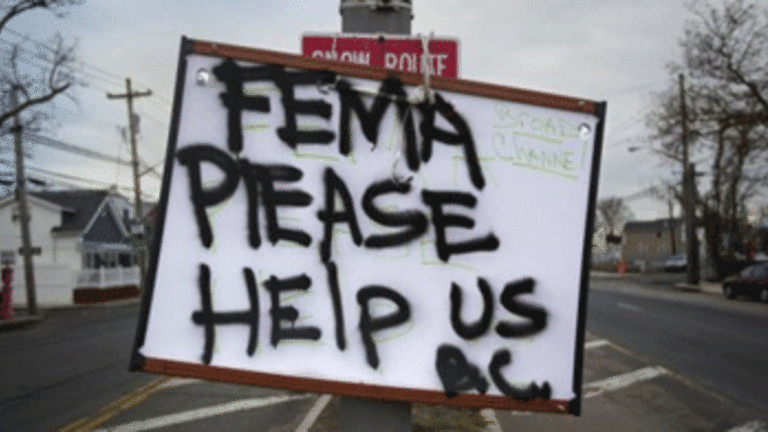 Homeless Family Population Soars By 10% After Sandy
Charley James: More than a week after Sandy ended tens of thousands of families and individuals remain without their own roof over their head. For many, it may be months before they have a place to live.
Homeless After Super Storm Sandy
Thanks to Sandy, November saw the ranks of the homeless surge all along the East Coast, from North Carolina to Massachusetts. And despite massive relief efforts by every level of government and countless aid agencies, more than a week after the storm ended tens of thousands of families and individuals remain without their own roof over their head. For many, it may be months before they have a place to live.
Norah Egan is one of them. Her house in a small, Long Island community was heavily damaged by the hurricane and three feet of water still filled the house at the beginning of the weekend. She lost everything.
"I had photos of my family and other stuff from the day I moved away (from her parent's home) and they are lost," Egan stated, pain evident in her voice. "My diary that I kept and updated every day is gone too."
Crisis Upon Crisis
In New York City alone, Mayor Michael Bloomberg estimated that 40,000 more people are homeless as a result of the storm, increasing the city's homelessness crisisby doubling the nearly 44,000 people – including some 18,250 children – living in city shelters before the storm hit. Gov. Andrew Cuomo says thousands more in the state now lack a habitable place to live. In New Jersey, unofficial estimates say the state's homeless population swelled by some five thousand but that estimate may be low, according to a variety of sources.
For instance, flooding in Hackensack increased the number of people needing help and the Bergen County Housing, Health and Human Services Center was quickly overwhelmed by requests for assistance. In New Brunswick, agencies like Elijah's Promise and Homefront, which works with homeless families, continued putting out calls for help more than a week after the storm ended.
As recently as Saturday morning, Elijah's Promise's website was still asking people to donate bagged lunches, non-perishable food and water bottles, winter clothing, blankets and gloves. Homefront is sheltering 40 additional families since the storm, severely straining its capacity.
"Power [still] out at both our facilities," Lisanne Finston, executive director of Elijah's Promise, said in a Friday e-mail. "Volunteers and staff cooking by candlelight, flashlight … like a MASH unit."
In a statement, Homefront said it is coping but just barely. "We lost freezer loads of food. We lost power. We gave shelter to 40 first-time homeless residents when they needed help. Our staff worked nonstop to make sure not only our families, but anyone living in a motel had food, water and blankets to stay warm."
Stuggling
Several agencies in New Jersey and Long Island say they still have only spotty power and are struggling to continue serving needy people and families. Community Foodbank of New Jerseysaid it has been providing 100,000 pounds of food daily to newly-homeless families and individuals despite having trouble with power, telephone and supplies.
Because devastation was so widespread, authorities are hard-pressed to put a precise number on the number of people left without a roof over their head. Said one long-time volunteer with a homeless organization, "Census numbers are always an issue, and that's when we can count everybody in one room. But now there is no real way of telling home many families are homeless."
Before the storm hit, there were an estimated 1-million homeless people every night. The figure is likely to have increased by 10% as a result, and it may be as long as six months before many of them are relocated back into their own place again.
Like Egan, many of these people are sheltering with relatives or friends so they don't get counted in official homeless estimates. Yet although they have a place to stay, it's not theirs and their future is uncertain.
Egan summed up the plight of most when she said, "I have nothing left. My friend called me a refugee."
Author and journalist Charley James' next book is about his experience becoming homeless. When published, Charley will donate a percentage of his advance and royalties to homeless organizations.
More articles by Charley James
Help keep Charley living indoors.
Follow Charley on Twitter @SuddenlyHomeles.
Posted: Saturday, 11 November 2012
Charley's next book is about his experience being homeless. When published, he will donate a percentage of his royalties to homeless organizations.