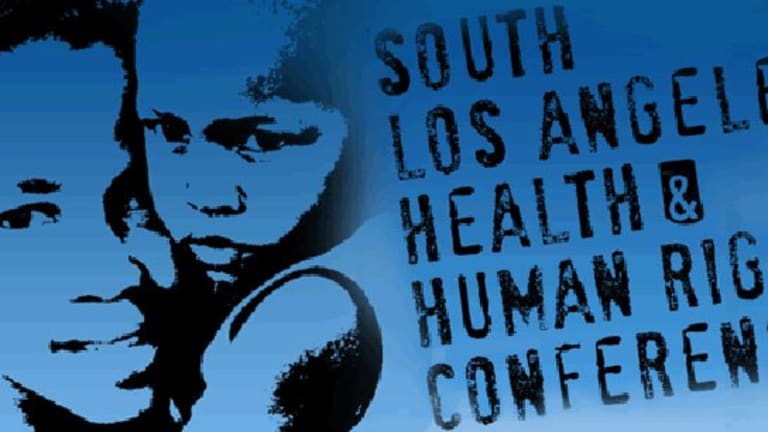 A New Year's Wish for Housing Now!
Diane Lefer: The slogan goes "Nothing About Us Without Us" and over the past several years I've watched as grassroots community leaders take the lead in initiatives championed by St. John's Well Child and Family Center and its CEO Jim Mangia.
We all know there's a crisis of homelessness and a lack of affordable housing here in Los Angeles and we know we need more than politicians' rhetoric. If you "own" a home, the mortgage payment is likely to claim 40% of your income. If you rent, an average 48% of your income goes to the landlord. But whatever your own financial situation, insufficient affordable housing has an impact on the LA economy as a whole: When Toyota announced plans to shut operations in Torrance and move to Texas, word got out that employees expressed willingness to relocate because in Texas they might actually be able to afford their own homes.
This year, when the South LA Health and Human Rights Conference called its sixth annual convening, instead of a day of meetings and dialogue, the grassroots partner organizations rallied on December 11 and marched around City Hall to advocate specific policy proposals aimed at preserving Los Angeles–all of Los Angeles, not just South LA–as a diverse and vibrant city. So wherever in the city you may live, take a look (and let your councilmember know you support) the program as detailed below.
Reduce Rents and Protect Housing
Reform and Expand the Rent Stabilization Ordinance: Eliminate the allowable 3% annual minimum rent increase and the additional 2% increase for those not paying utilities.
Prevent the Demolition and Conversion of Existing Rent Stabilized Housing: We cannot afford to lose any reasonably priced units and/or those with strong RSO protections.
Strengthen Local Enforcement of the Ellis Act: Limit the number of demolitions and conversions in the City and ensure that local regulations protect tenants and units to the fullest extent allowed by State law.
Renew Affordable Housing Covenants: Covenants for approximately 10,000 buildings in the City are set to expire and must be extended.
Preserve Public Housing: We must maintain the all of the public housing we have and not cede it to conversions or privatization.
Protect Tenant Rights
Ensure Quality Repairs: Quality repairs must be ensured by strengthened policy and in practice by City inspectors to protect tenants against detrimental health and safety impacts and being pushed out of their homes due to intentional lack of maintenance.
Strictly Enforce Rent Control and Other Tenant Protections: Increase the number and effectiveness of complaint investigators and implement an emergency response process for illegal displacement/eviction complaints and improve tracking systems to ensure quality and consistency.
Apply Renter Protections to Single Family Homes: As more and more single family homes become rentals, protections that apply to renters in apartments must be vigorously protected and extended where needed.
Build New Low Income Housing
Fund the City's Affordable Housing Trust Fund AND Permanent Supportive Housing Trust Fund: Both must be funded at a minimum of $100 million each, annually, from new and existing local sources.
Leverage Infrastructure Investments: The $40 billion expected to be invested in transportation in Los Angeles must also create equitable neighborhoods and low-income and supportive housing in transit corridors.
Use Land Use Authority to Produce Affordable Housing: Policies such as "value capture" from large developments, density bonus, inclusionary housing, and other zoning and land use tools must be created and maximized to produce housing at the lowest possible income levels.
Decriminalize Homelessness
Ensure the Right to Rest: When people lose their homes, they don't lose their rights. All punitive laws such as LAMC 56.11 and 41.18d must be repealed.
Spend money more wisely: Funds must be diverted from the criminalization of homelessness to permanent housing solutions. (The Conference conveners note that of the $100 million of General Fund money the City of Los Angeles currently spends addressing homelessness, $87 million is spent on arresting homeless residents.)
Ensure Democracy
Upholding human rights requires that people have a voice in decisions and those most impacted are consulted. City policies and processes must ensure that the community is consulted early in the process and that community needs are served.
These proposals were developed by St. John's Well Child and Family Center, LACAN Los Angeles Community Action Network, SAJE Strategic Action for a Just Economy, Esperanza Community Housing, CHC Community Health Councils, Los Angeles Metro Churches, SEIU-UHW, and Physicians for a National Health Program.
The slogan goes "Nothing About Us Without Us" and over the past several years I've watched as grassroots community leaders take the lead in initiatives championed by St. John's Well Child and Family Center and its CEO Jim Mangia. I'm a big fan of St. John's so this is my end-of-the-year shout-out to this nonprofit which provides more than 200,000 visits a year for medical, dental and behavioral health services to low (or no) income patients at 13 clinics plus two mobile clinics that serve the homeless while mobilizing the community around policy issues. St. John's accomplishes this not just through cultural competency but a commitment to inclusion in decision-making and management. Just one example: in 2013, Mangia created the first Transgender Health Center in South LA, now serving more than 500 patients–and made sure it would be run by transgender staff led by the remarkable program coordinator, Diana Feliz Oliva, MSW.
Throughout its existence, the South LA Health and Human Rights Conference has combined direct action activism with the provision of services and has been noteworthy for an expansive view of health. The first conference in June 2009 reframed access to health care, including behavioral health services, as a human right and recognized that access to housing, education, employment, fresh food, environmental and public safety are integral to good health. The second annual conference, attended by almost 1,000 participants, concluded with a protest at the site of the Orthopaedic Hospital, scheduled for demolition by a luxury housing developer. (Indeed the luxury housing was built and now caters to USC students, offering two gyms, two indoor basketball courts, four swimming pools including a Junior Olympic-size pool, a 46" high definition SAMSUNG LED flat screen DVR TV in every living room, among other amenities, a prime example of how the uptick in rental housing construction has benefitted those of upper incomes.)
Marchers at this year's rally were inspired by the declaration of the United Nations Office of the High Commissioner for Human Rights: "Housing is the basis of stability and security for an individual or family. The centre of our social, emotional and sometimes economic lives, a home should be a sanctuary; a place to live in peace, security and dignity…. Increasingly viewed as a commodity, housing is most importantly a human right."
Housing Now!
Diane Lefer