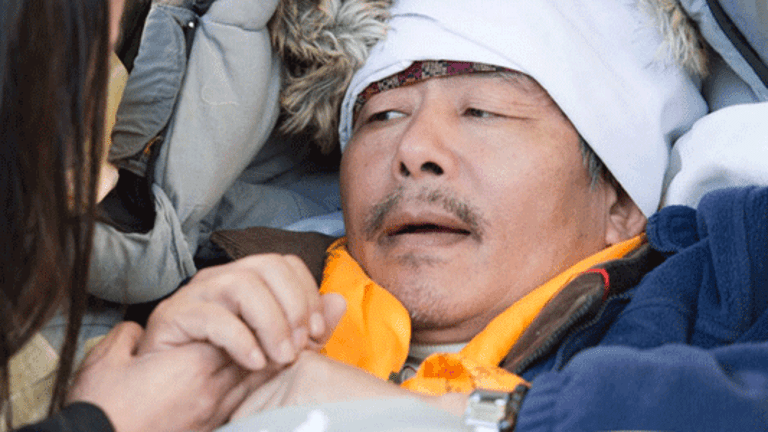 Thanks…Giving: 2013's Hunger Strike Round-Up
Tina Dupuy: This is the 160th anniversary of Lincoln's Thanksgiving proclamation. Somehow a day of "humble penitence" has evolved into candying already-too-sweet tubers and mauling your neighbors at the local Walmart for a $30 Furby Boom.
When Lincoln declared the last Thursday in November to be the federal holiday, Thanksgiving, he invited his fellow citizens to use it as a day of atonement; a day to pray for orphans, widows, mourners and sufferers of what he described as the "lamentable civil strife."
This is the 160th anniversary of that proclamation. Somehow a day of "humble penitence" has evolved into candying already-too-sweet tubers and mauling your neighbors at the local Walmart for a $30 Furby Boom.
So while we prepare to gorge ourselves on pie-crusted gourds—to celebrate all that we are grateful for with a feast of coma-inducing carbs—I offer my list of the notable hunger strikes of 2013: those people who have forgone food as a means of publicizing grievances.
While we all overdo it, here's a list of people this year who strategically went without:
1. California Prison Inmates
September ended the largest hunger strike in California prison history. Some 30,000 inmates refused meals for months to call for an end to indefinite solitary confinement. The practice of extreme and prolonged isolation has become a norm in America: 81,622 prisoners are in solitary confinement according to the most recent data the federal government released—California prisons alone house 11,730 of them. Long-term isolation has been deemed to be torture by the international community and human rights organizations.
Because of the prisoners' widespread hunger strike, they were promised legislative hearings on this issue.
2. Guantanamo Bay Prisoners
At its peak in July, of the 166 men being held indefinitely in Gitmo, 106 were refusing to eat. There are 86 men cleared for transfer and yet they sit in our infamous offshore gulag. Their only tool of protest is declining sustenance. To thwart this they're being force-fed through an anguishing process involving stomach tubes. Obama's first promise as president was to shut down Guantanamo Bay. Of the force-feeding Obamasaid, "I don't want these individuals to die." Some prisoners are continuing to go without food and thus continuing to be forcefullyfed.
3. Iranian Dissidents
On Sept. 1, 52 people opposing Iran's totalitarian regime were shot dead in the detention center referred to as Camp Ashraf in Iraq. All of the victims were unarmed; many had their hands tied behind their back when they were killed. These executions were carried out by Iraqi Special Forces which are also responsible for taking seven hostages (one man and six women) from the outpost. The fear is they'll be turned over to Iran to face torture and subsequently executed. Exiled Iranians, some estimate as many as several hundred, in more than five countries have gone on a hunger strike asking for the hostages to be freed.
A former soldier in the British Army, serving as a Gurkha in Hong Kong, Mr. Rai vowed not to eat until his fellow U.K.-based Nepali soldiers were treated and compensated the same as other British veterans. As of this writing he was on Day 14 of his protest telling the Daily Mirror, "I will die in the name of dignity and equality for all Gurkhas."
Home-care workers affiliated with Service Employees International Union staged a 24-hour fast in front of anti-illegal immigration hardliner Rep. Gary Miller's (R-CA) Rancho Cucamonga office. The vigil was to draw attention to the need for immigration reform in the wake of the stalemate in the GOP-controlled House.
6. Filipino Climate Chief Yeb Saño
While attending the U.N. climate summit in Warsaw, Poland, 4,000 of his countrymen died in a typhoon. He refuses to call it a hunger strike. Instead he's referring to it as a voluntary fast in solidarity with the typhoon victims who can't find food after the ravages of the storm. He's asking for governments to "ratchet up pollution controls."
"Saño's supporters hope that their civil disobedience would draw attention to the suffering of countries at the mercy of climate change," reports ABS-CBNnews.com.
Have a happy Day of Thanks!
Tina Dupuy
Taking Eternal Vigilance Too Far
Thursday, 21 November 2013