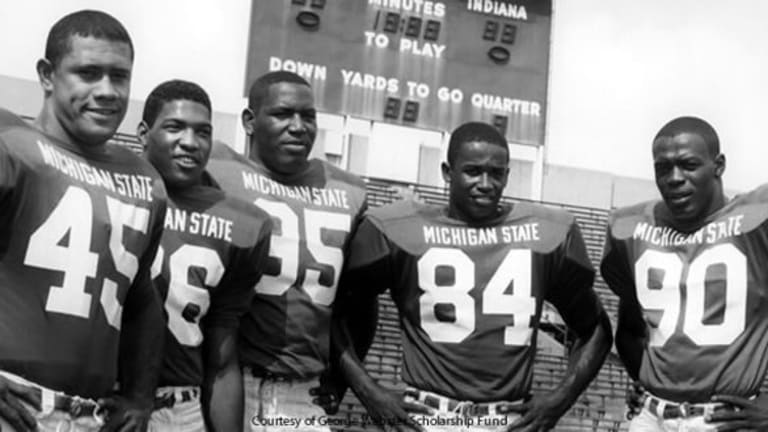 College Football in Black and White
Frank Fear: The integration of Major League Baseball—with incredible courage shown by the Dodgers' Jackie Robinson—is known across America. Not as familiar is the integration story in major college football.
The integration of Major League Baseball—with incredible courage shown by the Dodgers' Jackie Robinson—is known across America. Not as familiar is the integration story in major college football.
College teams were either black or white well into the 1960s and early '70s, rarely integrated, and almost never constituted as they are today – with nearly 50% African-American and a total of 60% diverse players in major college football. One of the few exceptions, Michigan State, is one of four teams in this year's College Football Playoff.
The Spartans' story, while uplifting, is depressing, too—given what was taking place in the community, just yards away from Spartan Stadium. To appreciate both sides of this story it's important to understand two dynamics: Michigan State's evolution as a university and America's historic struggle with exclusion.
Michigan State University and Spartan Football, a Co-Evolution
Founded in the 1850s as an agricultural college, Michigan State remained a college for about 100 years. John Hannah, who became Michigan State's president in 1941 and held that position for twenty-eight years, was the architect of MSU's rise to prominence. Hannah had strong political skills, a keen sense of strategy, and an unrelenting focus on achieving preferred institutional goals.
Michigan State's enrollment blossomed under Hannah—from about 6000 to nearly 40,000 in 1965—and the school made the transition from college to university, a status achieved in 1955. Along the way Hannah viewed athletics—football, specifically—as a tool to achieve MSU's transformation.
To secure widespread attention Hannah knew Michigan State had to schedule and beat nationally prominent teams. He got help from a friend, Rev. John Cavanaugh, of football juggernaut, Notre Dame. Cavanaugh agreed to have the Irish play Michigan State in football, a series that began in 1948. The strategy paid off in 1951 when the Spartans beat ND 35-0 in a nationally televised game. It was one of 28 straight wins for MSU, a string of victories from 1950-53, which included two undefeated seasons and a like number of national championships. The success put MSU (Michigan State College at the time) on the national map.
But Hannah also knew that to be the best you had to affiliate with the best. So he worked tirelessly to get Michigan State, an independent athletic program at the time, admitted to The Western Conference (The Big Ten)—America's premier athletic conference. MSU's opening came when the University of Chicago left the conference in 1939. Despite serious opposition to Michigan State's admission, Hannah kept at it. Persistence won: Michigan State was admitted to the conference by vote in 1949.
The stage set Hannah needed a skillful head football coach to lead the team. That man was Clarence "Biggie" Munn, a University of Minnesota alum, whom he hired in 1947. Although serving at the Spartan helm for a short time (through the 1953 season), Munn recorded a stellar record of 54-9-2. He topped off his career by winning the 1954 Rose Bowl—Michigan State's first—beating Pac-8 rival UCLA, 28-20, in the first Rose Bowl to be televised nationally in color.
With initial success achieved Hannah had to sustain gridiron excellence. When Munn became MSU's athletics director, in 1954 Hannah turned over the head coaching reins to the affable Hugh "Duffy" Daugherty, a Syracuse University alum who had assisted Munn at Syracuse and, later, at State. Daugherty maintained Michigan State's prominence. Success culminated in the mid-60s when Michigan State won national championships with the likes of behemoth defensive lineman, Bubba Smith. Most notable in that era was "The Game of the Century," the 10-10 tie with Notre Dame in 1966. Daugherty served as Spartan head man for 19 years compiling a record of 109-69-5. Hannah left the MSU presidency 3 years earlier.
American Society and the Struggle for Access to Higher Education
The link between MSU and football continued into the '60s. To understand why and how it's important to go back in time–to the period when MSU was founded in the mid-19th Century.
American higher education back then was reserved for the elite. People with social standing could go to college, but most "regular folks" did not. The circumstance troubled a number of social activists of the time. Voices of reform were heard across the country and John C. Holmes, a Detroit businessman, was in the vanguard of change.
Holmes believed that Michigan needed a populist approach to higher education—a practical focus with special attention given to educating children of farmers and rural people, "the common folk." The Michigan Constitution of 1850 included language for establishing a college of this type—either incorporating it into the University of Michigan or establishing it as a new institution. Holmes strongly preferred option two. With political savvy and networking skills Holmes' idea won out. In 1855 the Michigan Legislature allocated a small sum (less than $200,000) to create the Agricultural College of the State of Michigan—the school we know today as MSU. Michigan State was established with populist resolve—as a "school for the people."
Yet, as history clearly shows, sometimes the more things change, the more they stay the same. One hundred years later exclusionary circumstances hadn't changed much in America. Through Jim Crow policies and informalities African-Americans faced institutional restrictions–where they could and couldn't eat, lodge, etc.–and where they could and could not go to college.
Recognizing that situation, the Federal government intervened in the Southern states in the 1890s to establish "black public colleges," a network of "separate colleges for the colored race." So in North Carolina, for example, North Carolina State and North Carolina Agricultural and Technical (A&T) stood side by side–for whites and blacks, respectively.
But that Fed intervention, necessary as it was, didn't go far enough. The reason was steadfast commitment to segregation. The situation reached fever pitch in the 1960s at two schools: The University of Alabama (another school in this year's College Football Playoff) and the University of Mississippi. Gov. George Wallace of Alabama forbade the integration of the University of Alabama. In Oxford, MS the entrance of the first African-American student at the University of Mississippi made national news.
The Federal government intervened once again. It was "the state" vs. the Feds. The Feds won. (Note: To underscore the segregated legacy of university life, consider this: "Ole' Miss"—to this day a seemingly endearing appellation for the University of Mississippi—is a term that 19th Century slaves used to refer to plantation matriarchs.)
What were the implications for Black football players? Today Black athletes play for all Southern schools. But, back then, the best and most promising Black athletes in the South couldn't matriculate and play big-time football in their home states. Staying home to play meant attending schools like NC A&T and South Carolina State, playing "small college football" (as it was called at the time), competing exclusively with and against other Blacks.
College football, you see, was largely segregated, different from pro football, which had integrated much earlier, starting in the mid-1940s. And it wasn't athletic segregation "just in the South." Football and basketball rosters at most American colleges were either all- or mostly- white.
This storyline didn't apply to Michigan State, though. True to its heritage, borne as it was in the shadows of exclusion, MSU walked a different path. Access wasn't restricted by either gender or race. Women were admitted to MSU in the 1870s; the first African-American male matriculated in the Class of 1904; and the first African-American female matriculated soon thereafter, in the Class of 1907.
The 1960s in Spartan Football: Access and Opportunity for Black Players
Given its history of inclusion, it's not surprising that MSU Coach Duffy Daugherty invited African-American football players to be Spartans. Some of MSU's very best players of the '60s—Bubba Smith (TX), Gene Washington (TX), Jimmy Raye (NC), and George Webster (SC), to name just four—migrated from Southern states to play ball for the Spartans. Bob Apisa, who became a nationally recognized running back, was born in America Samoa and came to East Lansing by way of Hawaii—spurning Southern Cal along the way.
Michigan State stood as a beacon of hope. Black and other diverse players were given a chance at MSU. They came. They were welcomed. And, boy, did they perform. The '65 team won the national championship (Associate Press poll). The team went undefeated during the regular season, beating rivals Michigan, Ohio St. and Notre Dame by a combined score of 68-17. The '66 team went 9-0-1, held five teams to a touchdown or less, and finished 2nd nationally in the AP Poll. The players were stars. College fans everywhere knew the chant, "Kill, Bubba, Kill!" The team was revered. Duffy made the cover of Time.
Why did MSU reach out to African-Americans players? There's no doubt that MSU's institutional culture enabled it. But there's more to it. For one thing, having Black players on the squad gave MSU a competitive advantage over other schools. But some believe there's a third, less obvious, and highly personal reason: it pertains to an experience Duffy had in the 1930s as a player at Syracuse University.
It's a story that seems more fiction than fact.
During the 1937 season the University of Maryland refused to play SU in light of suspicions the school had about an Orange player, a QB named Wilmeth Sidat-Singh. SU claimed he was "a Hindu from India," but Maryland thought differently: the Terps thought he was Black. The Terrapins had exclusionary policies in place.
Well, Maryland was right about one thing: Sidat-Singh was no "Hindu from India." His birth name wasn't even Sidat-Singh: it was Webb. Wilmeth, of African-American lineage, was born in Washington DC. He took his stepfather's surname, Sidat-Singh, after his mother remarried.
"Negro to Play U. of Maryland" a headline read in The Washington Tribune at the time. Maryland threatened to cancel the game unless Webb was kept out of the game. SU complied. Sidat-Singh was benched.
The response troubled Daugherty significantly, so the story goes. He decided to walk a different path–and he did–as coach. He would not discriminate or exclude. He would welcome and include Black athletes instead.
Across the Street from Spartan Stadium
While Michigan State stood tall in its resolve to recruit and play Black athletes, it's important to remember this: what an institution does isn't necessarily what society is. "Society" was a stone's throw from Spartan Stadium … the City of East Lansing. Exclusion–the very thing that drove African-American from other American cities to Michigan State–lived there. In the '60s, you see, housing access was restricted in East Lansing.
It wasn't so much about East Lansing, per se. It was more a sign of the times in America, a way of "doing business," which extended Jim Crow-type restrictive and exclusionary behaviors north of the Mason-Dixon Line. Housing restrictions came in vogue in the North soon after the beginning of the Great Migration of Southern Blacks to the Northern States, a migration that totaled about 6 million people and lasted around 45 years (1915-1965). A 1917 court decision, Buchanan v. Warley, spurred exclusionary activity by ruling that legal statutes couldn't be put in place to restrict housing access.
So racist perpetrators used other means–devious, sub rosa practices. "Covenants" became popular. Covenants are contracts that specify certain conditions which, if not met, could lead to property forfeiture. Covenants were used by some home sellers, neighborhood associations, and realtors to keep things "a certain way." And they were used extensively in the Lansing area as a way around the law, to restrict housing access.
The use of covenants and other exclusionary practices continued for decades until Congress passed the Fair Housing Act of 1968. Before that, African-Americans home buyers and renters were often forced into residential congregations "in certain locations," but not others.
And it's not as though any of this was new. Bill Castanier, a local historian and social critic, cites a passage from Clarence Underwood's book, Greener Pastures. Underwood came to East Lansing from North Carolina in 1954 as a student. He later served as MSU's Athletics Director. "I had deceived myself," Underwood writes about his early experiences, "by believing that the numerous black athletes on Michigan State's football team…represented openness and acceptance in a university setting based on the character of the person rather than the skin color." He wasn't alone in feeling that way. Fellow Southern migrants had a saying for it, Castanier recounts, referring to Northern cities as "Up South."
Perhaps the most interesting–and thematic–aspect of this story is how victories on the field (with Black athletes) for MSU ran parallel to the fight for Open Housing in East Lansing. Both happened at the same time (mid-60s) and in the same geographic place. Castanier documents happenings on the housing side. Suffice it to say here that the debate involved the public sector (East Lansing city government), the area board of realtors, the press, and the university.
By the '60s many people had had enough. They spoke up. They organized. They demanded change. And just as we're seeing today–50 years later–students organized. Castanier writes: "On Monday, May 24, 1965, 75 students staged a sit-in on the steps of Cowles House, the on-campus home of President Hannah. Although Hannah refused to sign a petition signed by 119 faculty members supporting open housing, he did make a strong statement in favor of open housing."
While MSU stood tall, acting as social activist in athletics, that leadership didn't extend beyond campus borders. We can forget, sometimes too easily, that institutional leadership and leading for the broader civic good aren't always the same.
Take-Away Thoughts
The social climate in college football changed not long after the '65-66 seasons. The rest of college football caught up with Michigan State's inclusive practices. MSU's gridiron fortunes changed, too, and for many reasons. For one thing, Duffy's time in East Lansing was coming to an end. The Glory Years of '65 and '66 were followed by a string of teams with unremarkable results: 3-7 ('67), 5-5 ('68), 4-6 ('69), 4-6 ('70), 6-5 ('71), and 5-5-1 ('72), Daugherty's last.
But one thing has remained the same through time: what happens on the field often stays there. In America then, and America today, social and economic opportunities aren't shared broadly by people of color. Many reside in wall-less isolation, often within blocks of other folks living "the good life." The flat-out reality is that many African-Americans do not enjoy the kind of economic successes and advantages that many other Americans take for granted.
African-Americans, widely hailed on the field, struggle elsewhere. It's a blatant socio-cultural disconnect.
Why, over these many decades, has the situation remained the same? Shouldn't we as a society expect more? Demand more?
Yes and Yes.
What happens on the field should happen in our communities. It typically doesn't. And that's an American tragedy.
Frank Fear
Note: An earlier version of this essay was published in The Sports Column, To read another account of MSU football in the 1960s see: Raye of Light: Jimmy Raye, Duffy Daugherty, The Integration of College Football, and the 1965-66 Michigan State Spartans.