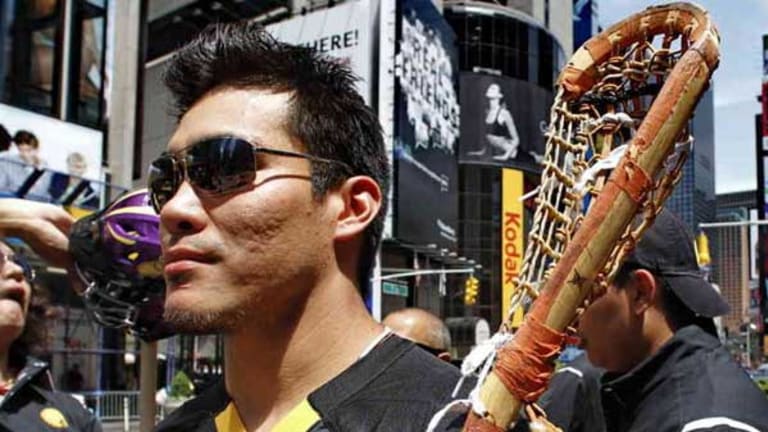 The Gift: Iroquois Nationals at the World Lacrosse Championships
Winona LaDuke: They seem seamless on the field. That I notice. As if they are communicating with a long history. This is fortunate, because there are very few players from which to pick
"Lacrosse is our gift to the world…. The game is a microcosm of the big game of life. We are in that arena right now." -- Chief Oren Lyons
He has never given up faith. Oren Lyons is a statesman, and a 48-year member of the Iroquois Council of Chiefs. He is also a lacrosse player, of world renown. I found him with the Iroquois National Team in the World Championship Lacrosse games in Denver, the 12th of such world championships. Here, the Iroquois would end up with a Bronze Medal, after the US and Canada. The sport has grown exponentially, and this year 38 teams came, with new countries Uganda, Belgium. China, Colombia, Costa Rica, Israel, Russia, Thailand, and Turkey -- just to name a few.
I have driven 1200 miles with two 14-year-old boys for these games, something that puzzles many. But this is not just a game, this is an epic journey over centuries.
It is told that the first game of lacrosse was played between the animals and the birds. This game was won by the animals since it has been called the "Creator's game. Because the bat, that creature who spans two worlds -- mammal and bird, won the game for the mammals. Because of this the birds now fly south in the winter and the mammals do not travel. The game was gifted to the two-legged from Creator for enjoyment and as a medicine game for the healing of the people.
It is a preeminent Indigenous sport, most known for the Iroquois continuity and commitment, and now it's resurgence nationally and internationally. In June, for instance, two inter-tribal teams composed of players from four reservations Ihanktonwan/Yankton, Lower Sioux/Cansa'yapi; Sicangu/Rosebud and Winnebago defeated the Rapid City Shock in a three-game series. There is a growing force; it is young and increasingly gifted.
Relations
They seem seamless on the field. That I notice. As if they are communicating with a long history. This is fortunate, because there are very few players from which to pick, and the team itself has only practiced five times together before the beginning of the tournament. Oren Lyons tells me exactly how select the Iroquois team is.
"I asked the US coach, 'What was your player pool?' He said '380,000 what's yours?' I said 100, and that's where I think we were this year," He pauses, "With Indians the odds have always been out there."
Iroquois Nationals goalie Marty Ward (Onondaga) tells me, " …like most of the guys, I have actually played Six Nations box lacrosse… For some of these guys, you don't even have to look over there, you just put it there."
And there are families. There are, a lot of cousins on the field, and a lot of family in the stands. My new friend is Brian Miller, who is the grandfather of Zach Miller, a 19-year-old freshman at Denver University, who is in his second major international game for the Iroquois Nationals, his last one was at 17 at the U-19 World Games in Finland. "Even when I'm having a bad game, I just continue to play hard and keep in mind that I'm playing for the Creator….I love to play the game."
At my first lacrosse game, I came to watch Zach play at Denver University, finding Brian in the stands almost immediately. Brian Miller has done something pretty remarkable. This past year, he traversed the country more than a dozen times in his F150 Ford pickup to see his grandson play home games in Denver. That's more than a 1700 mile trek, from the Allegheny Seneca reservation in upstate New York, to Denver. "Nobody's counted it up, but if you look at the teams schedule and take out a map, you could probably figure out how many miles I've driven."
"It's crazy to think about. It shows how proud he is. It shows how much family matters," Zach Miller says. "My grandfather tells me he prefers driving over flying. But all the way across the country and back! Now that's crazy."
Then there are the Thompsons, five of them on the field for the Iroquois National Team -- Lyle, Jeremy, Miles and Ty , Jerome, cousins and brothers… and a father, Jerome Thompson Sr. " I was always taught to play for the Creator. The game is meant to entertain the Creator," Lyle Thompson tells a reporter. " I know the game back then was a lot different and played for kind of a different purpose. But I think me and my brothers still carry that sacredness for…the new game that's being played now."
Their father, Jerome Thompson, Sr., is on the field, too, an assistant coach to the Iroquois Nationals. The Thompson brothers this spring won the coveted Teewaraton Trophy, recognizing the best college lacrosse players. It is the first time the award was given to Native people and the first time in history the esteemed award was given jointly, in this case to brothers.
Lacrosse was and is the preeminent indigenous sport of North America, played from the plains to the Atlantic. Tewaaraton (little brother of war) is the Mohawk word. The Ojibwe word for lacrosse is Baga'adowewag (bump hips) and in Eastern Cherokee it is da-nah-wah'uwsdi (little war).
I am not a sports writer, yet I remain avidly fascinated with the game and the story. "Lacrosse was traditionally used as a means of healing between parties when hurtful conflicts were eminent. History tells of a Yankton Chief, Waanatan who oversaw a game that lasted several days, eventually leading to the settling of a conflict between camps. Many of our communities plagued by violence would benefit from this ancient way of resolving conflicts and pursuing healing.," Faith Spotted Eagle, of Yankton, explains.
"In the sports earliest days, players would only step on the field if the clan mothers deemed they were pure in spirit enough to earn the honor," Sid Jamieson (Mohawk), the former Bucknell University lacrosse coach, explained. "The game was played, I don't want to say ferociously, but it was in the old days…there wasn't any ill feeling about that because the game was meant to be played rigorously with fairness and all out effort…"
The Game Grows
Oren Lyons thinks that the game is representative of life, at least in Iroquois history. Two centuries after treaties were made between the Iroquois and the English, the game had spread voraciously. The Iroquois remained strong players in the Northeast, so much so that Canada tried to keep the Iroquois out of the competition.
"We taught them…played them in the 1890s and all, and when it was gaining strength, Canada said we were professionals and refused to let us enter the world games. That was in 1890. That was because our guys in order to raise funds were doing exhibition matches -- sort of like the Jim Thorpe thing. At that time it was all the field game and of course it was our game. Our leagues went right on, and we tangled with them now and then."
It is a parallel path, in many ways to the political path of the Iroquois Nation. While the Iroquois represent the longest standing democracy in North America, they were denied participation in their own game, and denied political participation at the UN. But they remained present, using their own Haudenasaunee passports for international travel, and in 1977, joined the first formal meetings at the United Nations of Indigenous nations of the western hemisphere, led by many chiefs, including the Iroquois chiefs.
Oren tells me, "we took the team to Baltimore in 1983 -- took the team to the grand council and asked if they would sanction the team." Thus was born the Iroquois Nationals. Then we decided that we should go to LA for the Olympics. Well, we called "the LA Indians, and at that time Dennis Banks was at Onondaga, we were giving him some quiet time… ( this was also known as a time of political sanctuary offered by the Onondaga because of the multiple charges arising from Banks AIM political work.)
"We said, ' Why don't we run out there to the games? Let's go get Jim Thorpe's medals…' That's what we did. We ran the whole way, it was called the Longest Run. From Onondaga to LA. They ended up with six teams to play: England, Australia, the US, Canada and a local team from Orange County. At the end of the tournament England comes up and says, 'how would you like to tour England?'"
"Sure we said, if we can take our passports. So the next year (1985) we toured England with our Iroquois passports. They accepted the passports and all. We won every game except for one. We took 40 guys…"
"That year we got a call that we were invited into the International Federation of Lacrosse, as a nation, none of this affiliate stuff. Those are my terms. Played in Perth Australia in 1990 but from that time to now it's just been a progression. Played in London, Manchester, Baltimore, played in 2002 in Australia, games in 2006 were in London, Ontario; 2010 and 2012 were in London UK -- and that's when they wouldn't accept our passports…"
That was the last big controversy. In 2012, England did not allow the Iroquois to travel to the international lacrosse games. It was heartbreaking for many, particularly since the Iroquois had already traveled numerous times, using their passports, to these games.
Denise Waterman, board member, and mother of General Manager for Iroquois Nationals, Gewas Schindler, takes a long view, not unlike that of Chief Lyons. "There's always different milestones," she says. "When we were in New York City planning to take our trip to the England games, and we didn't give up….I remember thinking as soon as we got to the point, where we have forfeited two games, and we would never make the championship round. And I remember having a moment, thinking...What will the little children who are holding sticks, what will they think of us now. For sovereignty for identity, .. I wonder if kids will still believe in us. Maybe they will think this is a group or a tribe but they didn't make it. As soon as I went home, it was the total opposite. It was like they were heroes. You saw little kids who were like, I want to be a Iroquois National…." (This is where Denise and I both get sort of teary).
Back in the Stands
I am hollering more than I've ever hollered at a game. I am working on joining in group cheers, and stomping, all socially awkward for me. Let's be honest. But it is a moment in time. In a set of edge-of -seat games, we watched the Iroquois. Their first loss, suffered against Canada, on day three, was a very hard fought game. The US team, as well, was a powerhouse, those two countries handing the Iroquois their only losses. The first match against Australia was handily won by the Iroquois, despite the scrappiness of the Aussies. What became absolutely clear was the dominance of the North American teams in the world sport. There was never any doubt. In the final ranking, the Iroquois took a Bronze medal, after Canada and the US, their first Bronze in a sport that originated in their territory centuries before, but has now spread worldwide.
So there it is. An epic story, which represents far more than a game for Indian country. It is a sport that disciplines you while nourishing traditions, and in many cases, education and leadership. It is inspiring our youth.
About the academics part, Lyle Thompson, explains. "When I talk to the kids, that's the first thing I ask when I go back to the rez. How are your grades? I try and tell them to get your grades up no matter how hard it is. Second, keep loving the game. If you love the game and it's fun, it's easy to put in the work."
More and more Native lacrosse players are getting recruited for colleges with scholarships. "It's a big deal for the community back home. Because there have been plenty of guys who had the potential talent to do something but got caught up in drugs and all that stuff," Zach Miller tells a reporter who is watching him at Denver University. "Being the first one coming out of my reservation, all little kids and even adults, look up to me for that. They are all wearing Denver shirts and are really supportive."
Goalie Marty Ward talks about doing a lacrosse workshop at Tuba City on the Navajo reservation, "This kid had a holey shirt, and no shoes, another one had holey shoes. I said where are your good shoes. And the kid said, 'I have no good shoes.' Those kids deserve to play."
The workshop was humbling for Marty. "Our guys are getting recruited by top universities around the country now," Oren tells me.
"It's almost a spiritual happening, these games today", Thomas Vennum tells me. He is the author of Indian Lacrosse and a highly regarded historian. " It's important that they are so recognized as having put together what was originally their sport, and they've gotten good people with them. Oren Lyons as a coach -- he's first class. Until now the game was restricted mostly to the white bread. It's expanding very rapidly now -- particularly in the West and Midwest."
Community Medicine Game Continues
With the growth of college and high school lacrosse worldwide, the original game still remains with the Iroquois, including the traditional wooden sticks. Kevin Bucktooth, a middle fielder, tells us, "We do a community medicine game. Word is spread throughout the community for a medicine game. It's usually before the rest of the games are played, maybe early April. Onondaga does it. They say there's gonna be a medicine game. By noon we go, he pauses, "That game is only wooden sticks. And it's usually divided up into men and boys. "
Kevin is in his late 20s, by the looks of him, "Well, you are considered a man if you have kids, and the others are the boys. And so I'm still considered a boy, I think I'm one of the oldest."
"There is the reemergence of the game," says Oren Lyons. "Everyone has this game. That was the way we celebrated, that's the way we do our reverence, we make our commitments. We used to settle wars that way, with a game. Never been seven billion people in the world. And if you do not have discipline among the most intelligent creatures in the world, you are dangerous. You've got to have leaders, principles and faith.
[dc]"W[/dc]hat happens in this generation and the next generation will determine if there is going to be a seventh generation," Lyons concludes. "Those principles, equity and peace, keep the good mind. The game is a place to represent that. The ball is a medicine; it will go where it will go. Somebody always loses and we've lost a lot of games but we won't be defeated. We won't ever be.
Like Oren, I have faith.
Winona LaDuke