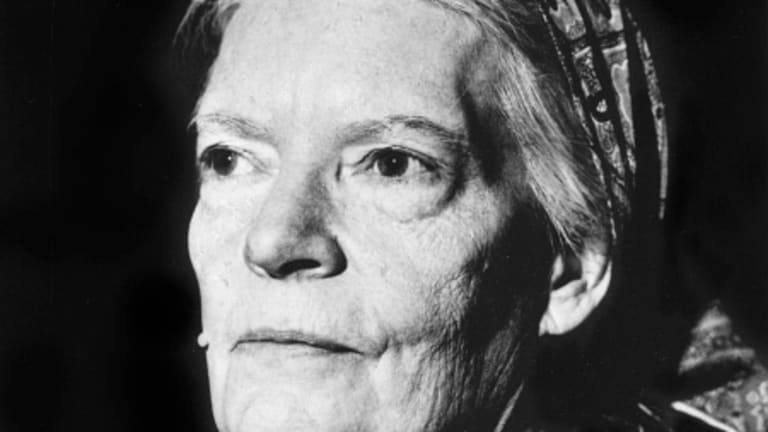 An Important Life Lesson from Dorothy Day
Walter G. Moss: In addition to the beauty of everyday urban life, she loved the beauty she found in nature, literature,  and music.  Nature for her was truly the"handiwork of God."
In 2013, in an essay about Pope Francis and Dorothy Day (1897-1980), I asked about her, "What other person of the [last] century spoke out and acted so forcefully and so long for peace and the poor?" Her establishment of Hospitality Houses where the poor and homeless received food, clothing, shelter, and other help, as well as her tireless other efforts, have led both Pope Francis and former President Barack Obama to speak of her as one of America's "great reformers."
The other night, in the midst of anxiety and concern for the health of Nancy, my wife of almost sixty years, I had trouble going to sleep, but finally did and had a dream that called to mind an important life lesson from Dorothy Day. The dream is a bit hazy, but it was set in a splendid house in an Italian villa amid a garden shining in the sun. In one light-filled room a big picture hung and it was of a smiling former friend of mine who spent most of his final decade as a car-accident-caused quadriplegic. But, despite his dreadful condition, his love of the classical music of Bach, Mozart, and others lifted him to heights far above his injured body.
My dream reminded me of Day's emphasis on the importance of beauty in our everyday life. A biographer once wrote about her: "She was profoundly attentive to beauty and managed to find it in places where it was often overlooked — in nature, in a piece of bread, in the smell of garlic drifting out a tenement window, in flowers blooming in a slum neighborhood, in the battered faces of people who had been thrown away by society. Dorothy saw news of the resurrection in grass battling upward toward the sky between blocks of concrete."
In addition to the beauty of everyday urban life, she loved the beauty she found in nature, literature, and music. Nature for her was truly the"handiwork of God."
In 1974 she wrote, "'The world will be saved by beauty,' Dostoevsky wrote. . . . I [Day] look back on my childhood and remember beauty. The smell of sweet clover in a vacant lot, a hopeful clump of grass growing up through the cracks of a city pavement. A feather dropped from some pigeon. A stalking cat. Ruskin wrote of 'the duty of delight,' and told us to lift up our heads and see the cloud formations in the sky. I have seen sunrises at the foot of a New York street, coming up over the East River. I have always found a strange beauty in the suffering faces which surround us in the city. Black, brown and grey heads bent over those bowls of food."
In addition to the beauty of everyday urban life, she loved the beauty she found in nature, literature, and music. Nature for her was truly the"handiwork of God." She admired the poetry of Gerard Manly Hopkins and was undoubtedly familiar with his poem "God's Grandeur," which begins with "The World is charged with the grandeur of God," and goes on to say that despite all our desecrating of earth, "nature is never spent; / There lives the dearest freshness deep down things." That was also her belief.
Since I have already written on Day's love of beauty in literature and cited such sentiments as her appreciation of the "incomparable beauty" she found in the poetry of the Russian Boris Pasternak (author of Doctor Zhivago), we'll bypass that topic and move to her love of music.
At age 12 when attending Episcopalian services (at age 30, she converted to Catholicism) she thought that the choir singing the Te Deum or the Benedicite "melted" her heart and "expressed pure truth and beauty" to her. [For sources of quotes regarding music, see here.] In a 1976 column she wrote, "All nature itself sings or has the equivalent of singing. To me the purring of a cat is a form of singing. Even in winter we have bird-song. . . . The beauty of nature which includes the sound waves, the sound of insects, the cicadas in the trees — all were part of my joy in nature that brought me to the [Catholic] Church."
Like my quadriplegic friend, she was also a great lover of classical music, especially operas. When first living by herself in New York during World War I, one of her prize possessions was a phonograph on which she played Fritz Kreisler violin records. On Saturday afternoons in the mid 1930s she usually listened to Metropolitan Opera broadcasts on the radio, and her diary entries in 1980 indicate that she still listened to many operas in this last year of her life. Among those she listened to (sometimes now also seeing them on her television) from February through May were Salome, The Ring, Elektra, Cavalleria Rusticana, Pagliacci, Romeo and Juliet, Parsifal, and Tristan and Isolde.
She especially loved Wagner's operas and recalled that she "used to go to standing room for all the Wagner operas in the top balcony of the Metropolitan Opera House—fascinating to look down." She occasionally made comments on what she listened to, for example in 1980, on February 25th, she wrote, "Jesus, Joy of Man's Desiring"—Bach—lovely title for lovely music," and "watched Leonard Bernstein conducting Romeo and Juliet on TV—beautiful music, though not as beautiful as Wagner's Tristan and Isolde." On March 6 she jotted down, "Wonderful music on radio—Brahms, Wagner, Bruckner."
After "guitar masses" were introduced in the 1960s, she wrote, "I do love the guitar Masses, and the Masses where the recorder and the flute are played, and sometimes the glorious and triumphant trumpet. . . . The guitar Masses I have heard from one end of the country to the other are all different and have a special beauty of their own." She also loved the playing and "heavenly voice" of her friend and fellow war protester the folk guitarist Joan Baez.
One of her favorite Catholic mystics was the 16th century Spanish priest St John of Cross, who wrote the poetic "Dark Night of Soul." He realized that we may experience times of "darkness, aridity, affliction and emptiness," but that it can be followed by "a Divine light of the highest kind, which transcends all natural light."
Whether we are religious believers or not, we must not slog through life oppressed by our cares and anxieties, be they personal, political, or whatever--even if they be occasioned by love and caring--but must transcend such worries by attentiveness to the beauty, joy, delight, and love in this world. By such transcendence we will not only raise our own spirits but also those of others with whom we encounter. Moreover, such transcendence does not imply forgetting our cares--and the love that may underlie them--but merely placing them in the proper perspective. This is just one of the important lessons that the life of Dorothy Day teaches us.