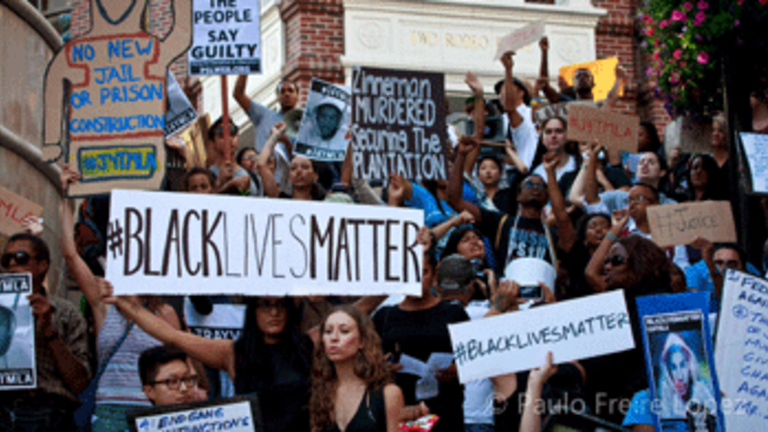 Mama Brigade: We Believe That We Will Win
Melina Abdullah: As the darting eyes of this growing, interlocking body of young people begin to settle on the prize – on the toppling of the racist, classist, oppressive regime -- I am renewed, relieved and resolved to take my rightful place as a part of the Mama Brigade, pushing the young ones forward.
I was birthed on a demo line…Okay, not quite, but close. Born in Oakland to a carpenter/union organizer turned full-time socialist and a teacher/community other-mother, at the tail end of the Black Power era, protesting was my birthright.
And while I resisted for a moment, succumbing the materialism of the late 80s and early 90s, I never strayed too far from my activist roots, recommitting myself to the struggle as a radical student organizer at Howard. I claimed my place as a freedom fighter with causes ranging from exposing the CIA-crack cocaine conspiracy, to ending the war in Iraq; one thing remained constant…I was among the youngest of the activists.
Even now, as the mother of three, fine lines and silver strands forcing me to admit that I am not actually 29, I have been seen by most as the future, a young organizer…that is, until George Zimmerman, the "creepy ass cracka" vigilante, ruthlessly murdered sweet-faced, 17-year-old, scholar-athlete Trayvon Martin and got away with it. And when I say got away with it, I mean [Governor] Scott-free, murderous weapon returned to him, all smiles and handshakes, even glorified by some factions of the unenlightened.
Somehow, on July 13th when the verdict came down, organizing was transformed. As we shook ourselves from our paralysis and poured out of our homes, flooding Leimert Park, overflowing down Crenshaw, searching desperately for answers and solutions, the shape of the movement shifted. For the first time, I was no longer a youngster, although the elders were present.
As I linked arms with my sister comrades, we took our place as the Mama Brigade, and the 15 and 20 year-olds stepped forward loudly protesting "I am…TRAY-VON!" Some wild-eyed, hands shaking with nervous tension coupled with anticipation, their energy engulfed us as we marched, ran and floated down the 'shaw like a scene in a Spike Lee flick. Our beings merged into an indivisible mass, confronting police armed with batons, pepper spray, rubber bullets and vitriol.
And a 24-year-old, raspy-voiced, curly-headed, cinnamon-colored Sister, emerged as our general, summoning the spirit of Yaa Asantewaa and commandeering the bullhorn that the wrinkle-faced, White communists brought with them as a part of their toolkit to save Black folks from capitalism. Instantly, we knew that she…and the 15 or so young comrades who encircled her…were the ones who would lead us. No more somber singing of "We Shall Overcome" or wary 1960s chants. No, this was going to be different.
In the weeks that followed, the raspy-voiced girl would melt into a collective of 50 or more teens and twenty-somethings. They got their own bullhorn, formalized partnerships – even sitting down with the aging White communists – and developed an organizing plan, consulting regularly with the Mamas. More actions, thoughtful strategic ones…the takeover of the 10 freeway, the march from South LA to the epicenter of tourism at Hollywood and Highland, the demonstration in Beverly Hills and occupation of the plaza at Wilshire and Rodeo – the international symbol of White wealth and opulence, and the "Read In" at Leimert Park would follow.
No formal group name, instead organizers centered the cause and exploited social media under the banners of #j4tmla and #blacklivesmatter. The burgeoning collective assessed their talents and resources, thoughtfully utilizing the gifts that each member brings: spoken word, music, networks, political analysis, art, and oratory. Together, they built a list of 5 solid demands, accompanying strategies and a long-term plan that contextualizes Trayvon's murder as an extension of a racist, capitalist, oppressive system that views Black life as disposable
As the darting eyes of this growing, interlocking body of young people begin to settle on the prize – on the toppling of the racist, classist, oppressive regime -- I am renewed, relieved and resolved to take my rightful place as a part of the Mama Brigade, pushing the young ones forward. And as their chants set to Hip Hop beats play out on empty buckets, one echoes, assuring us that this is so much more than a moment, this is a shift, it is the building of a movement and "We believe….we believe that…we believe that we will win!"
Melina Abdullah
2Movethecrowd
Photos: Paulo Freire Lopez
Saturday, 28 July 2013