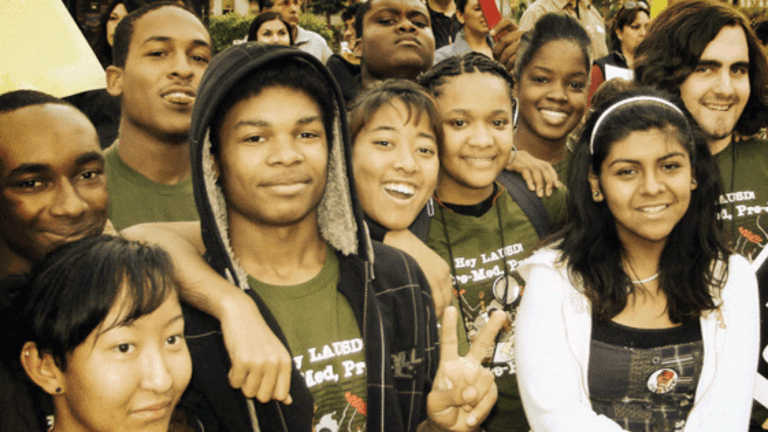 President Obama Acknowledges Crisis of Men of Color
Manuel Criollo: It is our job as a racial and social justice movement to provide the most radical, structural, and concrete answers and policies that will be required if we have any real hope of liberating Black and Latino communities suffering the most systematic forms of economic, social, and racial oppression.
On February 27, 2014 President Barack Hussein Obama launched a new national public/private initiative called My Brother's Keeper (MBK).
MBK calls for a national taskforce to explore causes and propose solutions to the dire quality of life indicators for young men and boys of color across the country - high rates of illiteracy, dropping out and being pushed out of school; astronomical unemployment and incarceration rates, and poor health and life expectancy outcomes from the cradle to the grave.
The initiative has generated $200 million in new foundation funding for organizing and policy on behalf of young men of color. He raised the moral challenge to the entire society and for those of us who believe our work was critical in his political decision-making, this opportunity puts even more responsibility on us to push for the most radical structural reforms to end mass poverty, racism, and the mass incarceration of Black and Latino communities-a revolution based on the concepts of the social justice and environmental justice state not the police and warfare state.
The President's bold breakthrough is not an isolated event but a response to decades of intrepid, audacious, relentless, and vibrant organizing carried out by hundreds of groups - Citizens for a Better Greenville , Friends and Families of Louisiana's Incarcerated Children, Advancement Project, Southern Echo, Power U, Youth Justice Coalition, CADRE, Padres y Jovenes Unidos, DRUM, Make the Road - New York, Sistas and Brothas United, Critical Resistance, All of Us or None, Philadelphia Student Union, Youth United for Change, the Dream Defenders, Black Organizing Project, Ella Baker Center, Voices of Youth for Chicago Education (VOYCE), Kenwood Oakland Community Organization, Block Together Chicago, Dignity in School Campaign, Gay Straight Alliance Network, Alliance for Educational Justice, ACLU, Southern Law Poverty, Drug Policy Alliance, Gathering for Justice, Barrios Unidos, Homies Unidos, Becoming a Man, Brothers Sons Selves Coalition, Men of Color Alliance, and the Labor/Community Strategy Center's Community Rights Campaign.
This powerful movement has worked to frontally challenge the complex ideology of racial subjugation-including but not limited to the film Fruitvale Station, Michelle Alexander's, The New Jim Crow, and our recent report, Black, Brown, and Over-Policed in the Los Angeles Schools: Structural Proposals to End the School-to-Prison Pipeline in the Los Angeles Unified School District-and to Build a National Movement to Stop the Mass Incarceration of Black and Latino Communities.
A Great Opening
President Obama spoke eloquently about the problems facing Black and Latino boys and men, naming public, structural and systematic neglect. He was joined by scores of young Black men, many from the Chicago based organization Becoming a Man, who have sustained a dialogue over the past year with the President, foundation leaders, celebrities, CEOs, law makers and the parents of Trayvon Martin and Jordan Davis. The President made some very powerful statements that can help our movement and the society we want to build by expanding the dialogue in our communities and in the country.
President Obama explained the profound structural challenges facing young men and boys of color:
"...we know that Latino kids are almost twice as likely as white kids to be suspended from school. Black kids are nearly four times as likely. And if a student has been suspended even once by the time they're in 9th grade they are twice as likely to drop out....That's why my administration has been working with schools on alternatives to the so-called "zero tolerance" guidelines..."
"...we know that students of color are far more likely than their white classmates to find themselves in trouble with the law. If a student gets arrested, he's almost twice as likely to drop out of school. By making sure our criminal justice
system doesn't just function as a pipeline from underfunded schools to overcrowded jails, we can help young men of color stay out of prison, stay out of jail..."
"...As a black student, you are far less likely than a white student to be able to read proficiently by the time you are in 4th grade. By the time you reach high school, you're far more likely to have been suspended or expelled. There's a higher chance you end up in the criminal justice system, and a far higher chance that you are the victim of a violent crime. Fewer young black and Latino men participate in the labor force compared to young white men. And all of this translates into higher unemployment rates and poverty rates as adults..."
"...And the worst part is we've become numb to these statistics. We're not surprised by them. We take them as the norm. We just assume this is an inevitable part of American life, instead of the outrage that it is. That's how we think about it. It's like a cultural backdrop for us -- in movies and television. We just assume, of course, it's going to be like that. But these statistics should break our hearts. And they should compel us to act..."
On substance and action steps, the President reiterated his administration's commitment to hold the school district accountable to zero tolerance in schools and protect the civil rights of Black, Latino, Asian, Indigenous and LGBTQ youth; and in the same echoes of Attorney General Holder's work to address the disparity and impacts of mandatory sentencing and work toward what the President called "...making sure our criminal justice system doesn't just function as a pipeline from underfunded schools to overcrowded jails, we can help young men of color stay out of prison, stay out of jail."
Again these are important markers of influence that our overall movement has entered the public debate and is moving the needle.
Where Do We Go from Here?
Situating the crisis of Black and Latino youth in the historical context of the great counter-revolution and white backlash against the Black leadership of a broad social justice movement.
How do we explain the fact that at the height of the 1960s there were 200,000 people in U.S. prisons and today, an astronomical 2.4 million are behind bars. Of these, more than 1 million are Black and 500,000 are Latino? It is critical for the president to call for a national dialogue to address the "outcomes" of young men of color. Yet, I understand this tempered response needs to be put within the context of the counter-revolutionary assault on the Black-led civil rights revolution over the past 40 years. In the 1960s, this conversation about "poverty, racism, and militarism" as Dr. King formulated it, addressed the structural problems of U.S. society and its racist historical formation. It was organizations led by the Student Non-Violent Coordinating Committee, Southern Christian Leadership Conference, Congress of Racial Equality and dynamic public figures-Malcolm X, Fannie Lou Hamer, Muhammad Ali, Corky Gonzalez, Dr. Harry Edwards, Richie Perez, John Lewis, Howard Zinn, and Betita Martinez, who integrated the fight for civil rights with the fight against the war in Vietnam-and who were seen by J. Edgar Hoover and many in the establishment as a great threat to U.S. society that Dr. King had called "the greatest purveyor of violence in the world."
The attacks on Dr. King, on the entire civil rights movement, the attacks on Black Power, Black people, Black character, Nixon and Moynihan's proposal for "benign neglect," that led to Nixon's Southern Strategy to assure the white south he would not enforce federal civil rights laws, the academic attacks on "the dysfunction of the Black family," the theory of "reverse discrimination" in the Bakke Case, the attacks on social programs under the hostile concept of "the culture of dependency" and attacks on "welfare as we know it" by President Clinton, and the COINTELPRO program initiated by the FBI to infiltrate, discredit, and destroy Black liberation organizations and their leaders were a systematic counter-revolution against the organizations and leaders of the social movement. But even that was not enough. The system decided that only the mass incarceration and permanent occupation of Black and Latino communities could suppress the potential for civil unrest. Thus, the systematic counter-insurgency policies of war on drugs, war on crime, war on gangs and yes, war on terrorism that were coordinated and conscious efforts to punish and suppress the history of the great intellectual and mass rebellions led by the Black community that made the greatest challenge to the system in the first place.
We have to situate today's struggle against the school to prison pipeline and the mass incarceration of Black and Latino communities in the historical context of the outrageous attacks on the institutions, ideas, people, and organizations that once fought to defend those communities-and to re-assert the historical contributions that can shape our work today.
Defending and celebrating the most impressive agency and resiliency of Black and Latino families. It is truly a miracle that Black and Latino boys are surviving at the levels they are given the level of ideological and cultural attacks, massive government cutbacks, the virtual elimination of the safety net, the structural unemployment and low-wage labor, and the dawn to dusk policing of their lives by police, homeland security, and ICE.
We have to take responsibility that powerful forces in our society, including openly white racist movements, ideological attacks on "Black and Black crime" attacks on the integrity of Black families, communities, and children, have created the mass sense of demonization and bigotry that led to Oscar Grant, Trayvon Martin, Jordon Davis, Andy Lopez, and sadly an entire generation of more than 1 million Black men and women and 500,000 Latino people in prison.
While there are many specific programmatic proposals necessary to reverse and end structural racism, the individual and collective agency of the people most directly impacted by racist public policy must be at the center of any real hope for social movements and social change. When we began our campaign to challenge the mass ticketing of Black and Latino youth for the non-existent "crime" of truancy to school we had to begin by defending the ethical integrity of the students-who were being accused of being late for school as an act of defiance, then defending their parents. But when students testified they said they were, in fact, late because their mother was working 2 or 3 jobs, they had to help their siblings get ready to go to school, they did not have effective public transportation-and as our movement gained strength public officials began to shift the rhetoric from blaming to appreciating the hard working parents and dedicated students. From the vilification of the slave to the attack on undocumented workers we have to fight any stereotypes of Black and Brown communities that are used to justify racist and brutal public policies. Moreover, we have to celebrate the herculean successes of low-income Black, Brown, and immigrant communities whose families have survived this system with virtually no help, only to be caricatured as a social pathology when rather it is the pathology of the system that is to be blamed.
I am a living example of this system--fatherless, raised by a single mother, raised in Pico-Union and South LA in the 80s and early 90s, didn't graduate with my class in high school, found the movement which saved my life and ended up at UC Santa Barbara. Had I not gotten a political education, I might have bought into the terrible illusion that I succeeded "in spite of my people" and was the model of self-reliance and bootstrapping-a model of the "no excuses" ideology. But fortunately, when I got to college I received not just a formal education but a political education that placed my own experience in historical context, a history the system is now working to suppress. I read theOpen Veins of Latin America by Eduardo Galeano, Occupied America: a history of Chicanos by Rodolfo Acuna, The Wretched of the Earth by Franz Fanon, andIn Struggle: SNCC and Black Awakening by Clayborn Carson to understand my own family's exploitation, oppression, resiliency, and heroism and the need to change the system. At a time when our people need to understand their own experience in historical and social perspective, the system is systematically working to disband and destroy Black and Chicano/Raza/Latino studies department-for that is not the "education" they want us to receive.
We call on the president to fund massive social programs and restorative justice programs and to defund the prison/police state. In his initial assessment of My Brother's Keeper, the president said that he would "direct the federal government not to spend more money. "
We urge the president to initiate a massive program for public schools, hospitals, mental health clinics, social service jobs and income supports for the tens of millions of people permanently excluded from the declining market economy and to spend money from the $750 billion military budget and by radically reducing the police/prison apparatus.
It is bizarre and indefensible that our society spends close to $88,000 annually to lock-up a youth in a juvenile detention centers and only spend a bit over $10,000 annually for K-12 spending per student. Or that California spends more on corrections than higher education. We rank 48th place in k-12 per pupil spending, and live in a city the spends close to half of its budget on maintaining the Los Angeles Police Department. Not to mention the significant cuts to critical school staff at Los Angeles Unified School District over the past five years, yet whose school police budget was excluded from belt-tightening and saw a significant increase last year. In Los Angeles today, more than 30 percent of Black youth are permanently unemployed and in a span of four years (2009-2013) the Los Angeles School Police Department has ticketed or arrested up to 41,000 LAUSD students.
Mass incarceration and the creation of fictitious "crimes" to justify criminalizing every aspect of daily life is a public policy. Thus, it makes no sense to put the blame on the individual youth, or mothers, or absent fathers when locking up Black and Brown youth, regardless of their behavior, is a conscious, willful act of public policy.
We commend the Department of Justice and the Department of Education in the Obama administration who are using federal pressure, and at times lawsuits and consent decrees, to pressure school districts to uphold the civil rights of Black, Latino, Native, Asians students, including the dual impact if you are a disabled and/or a LGBTQ students. We truly applaud that they are urging districts to move away from zero tolerance and also urging the school district to address the criminalization of youth through school policing.
And yet, last fall, the President approved more than $150 million for police in schools. We call on the president to reverse that policy as one concrete change under the Brothers Keepers Initiative and to eliminate all national funding for more police in the schools, and move that entire line item so that it can only be used for counselor, restorative justice coordinators, and positive school climate programs in which police are removed from all discipline roles in the schools.
We call on the president to utilize his enormous power under the 1964 Civil Rights Act to protect the civil rights of boys and men of color and all people suffering racial discrimination. Title VI of the 1964 Civil Rights Act gives the president and the justice department the power to withdraw federal funds from any government or private agencies or contractors who utilize federal funds in a racially discriminatory manner. We have been calling on the president, in our President Obama: Enforce, Restore, and Expand our Civil Rights Campaign to suspend funding from the Los Angeles MTA because of its racist policies against 500,000 bus riders and for the justice department to indict both George Zimmerman and the Sanford, Florida police department for violating the civil rights of Trayvon Martin. As a movement, we call upon the president to cut off federal funding to schools, police departments, and any other government agencies that practice and perpetuate racial discrimination against Black, Latino, and all oppressed nationality peoples and invest those funds in social service and restorative justice programs-which he is legally allowed to do.
Expanding the conversation to women's oppression and creating an inclusive vision of the oppressed. The crisis of young men of color is structural, overwhelming, and needs to be given great attention as a clearly defined category of need and oppression. Additionally, as other leaders have critically pointed out, a sole focus on boys and men of color, can inadvertently drive wedges of neglect toward young women of color who face similar and at times more severe gendered challenges and inequalities. For those of us working in high schools and in other venues where young people suffer such great racial and national oppression we see the rise of young LBGTQ leaders who are challenging a hetero-normal status of boys and men and are fighting for and giving space to the reality of the hard circumstances that they face. Painfully they suffer discrimination, caricature, and dehumanizing disdain not just from the system, but must confront the rejection and biases in our own communities. The fight to highlight the special oppression of queer youth is a critical component of the overall fight for gender and social justice that must inform the fight to defend Black and Latino communities.
In this larger battle over the future of our society and the world, My Brother's Keeper is an important opening for the racial and social justice movement. It asks many of the right questions and addresses many of the symptoms of the broader disease. It is our job as a racial and social justice movement to provide the most radical, structural, and concrete answers and policies that will be required if we have any real hope of liberating Black and Latino communities suffering the most systematic forms of economic, social, and racial oppression.
We need to push demands that our movements have carried over the last generation -- books not bars; counselors not cops; build an environmental, social justice state, not a prison, police, warfare state. We need to put state violence, police brutality and police misconduct on the agenda; likewise move to the abolishment of the laws that legalized the murders of Trayvon Martin and Jordan Davis under "Stand Your Ground" laws. We must address the racist nature of the criminal justice system through cutting its budgets by 90 percent; dismantle the so-called "wars" on drugs, gangs and crime that are in reality a war on our communities. Expand deferred action for all immigrants, "end all deportations" as 30 members of Congress have urged the president to do, and demand amnesty and open borders for all immigrants-to reverse the 410,000 deportations in just 2012 alone. Disrupt the school-to-prison pipeline, expand the social outcomes and indicators to embrace young women, LGBTQ youth, parents and entire communities. Put our educational policies and school discipline policies back in the hands of educator, students and parents. Move toward freeing the U.S. 2.4 million prisoners and begin to shrink our federal and state prisons and local jails and end the criminalization of our communities. Move all those funds maintaining these violent apparatuses toward pre-school, K-12 schools, higher education, mental health, substance abuse, and more employment opportunities.
We cannot escape the reality that this initiative has our imprint and as movement builders, we cannot stay just as social critics or background cheerleaders. It's our duty to put forward bold demands, build more leaders, win real changes in our communities, build movements on a state and national level and yes, I would say attempt to influence the direction of My Brother's Keeper. Our role is not just to criticize or be dour sceptics, but to build critical consciousness, take every opening that the system is forced to make as an outcome of our work and be prepared to struggle, dare to win and understand that power lays in the power of the people not just in the limits of public/private partnerships and limitations of the presidency.
Manuel Criollo
The Strategy Center
Subscribe to LA Progressive's daily newsletter
* indicates required
Email Address *


First Name

Last Name

Email Format
Powered by MailChimp