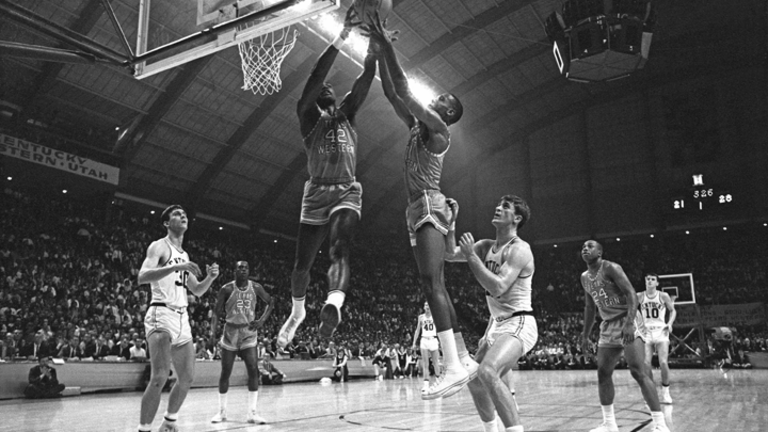 Major College Basketball is America's 21st Century Plantation System
Frank Fear: The reality is that college attendance hasn't translated into high levels of academic attainment for Blacks who play revenue-generating sports at major US universities. NCAA Discrimination
Millions of Americans have filled out their brackets. It's March. It's Madness. It's the National Collegiate Athletic Association's (NCAA) basketball tournament, a three-week sports festival that rivals the Super Bowl in fan interest and media attention.
But beyond the flash lives a stark, stubborn, and onerous reality: major college basketball is America's new plantation system. Walter Byers, former executive director of the NCAA, put it this way: "The coaches own the athletes' feet, the colleges own the athletes' bodies, and the supervisors retain the large rewards. That reflects a neo-plantation mentality on campuses" (said to Steve Wulf and quoted by Dave Zirin in The Nation). Chris Taylor calls phenomena of this type a form of "plantation neoliberalism," people participating as willing slaves of capitalism.
Evidence?
The NCAA tournament will generate just short of a billion dollars in revenue—just for this year. That windfall enriches the NCAA, which pockets 60% of the money, and participating institutions and conferences, which earn nearly a quarter of a billion.
The reality is that college attendance hasn't translated into high levels of academic attainment for Blacks who play revenue-generating sports at major US universities.
Those issues are especially relevant this week—the 50th anniversary of the game that broke the color barrier. On March 19, 1966 Texas Western University (now the University of Texas, El Paso) beat Kentucky to win the NCAA Basketball Championship. TWU played with a starting five of Black players. UK's starters were all White.
College basketball wasn't completely segregated back then. A number of outstanding Black players played the college game—Wilt Chamberlain (Kansas) and Oscar Robertson (Cincinnati), to name two. But most major teams were nearly or completely White with White players, like Bob Cousy (Holy Cross) and Tom Gola (LaSalle), as stars.
But things were about to change. A no-name school, Black-dominated Texas Western, faced All-White Kentucky— the winningest team in NCAA major college basketball history. Adolph Rupp, Kentucky head coach and reputed racist, didn't recruit Black players.
For some, the '66 game was a showdown—White v. Black. A UK win would solidify the racial status quo and sustain it—at least for a time. A TWU win could change the landscape of the sport.
And it did, especially in the segregation-sealed South. Integration came quickly, as early as the following season. College basketball rosters, which had been predominantly White (Black players constituted about 5% of rosters before the '66 game), began to include more and more black players—even at Kentucky.
The irony today—50 years after that historic game—is how dramatically the demographic profile has flipped. Watch any NCAA Tournament game this week. It's not unusual for starting five's to be just like TWU was in 1966—mostly Black. And it's rare to see more than two or three White players on the floor, for both teams, at any point in a game.
But, then, take a look at the benches. Most head coaches are White, just as they were in 1966.
It's a shameful record, especially for an institution (higher education) that prides itself on being socially responsible. But higher education's record is hardly that: it smacks of using Black players for instrumental ends—winning, publicity, and making money.
The reality is that college attendance hasn't translated into high levels of academic attainment for Blacks who play revenue-generating sports at major US universities. Consider conclusions drawn in a just-released report, authored by the University of Pennsylvania's Center for the Study of Race and Equity in Education.
At schools in the so-called "Power 5" conferences (with America's top athletic institutions) about 50% of black male athletes in revenue-generating sports (football and basketball) graduate within six years, compared to 68% of athletes overall and 75% of undergraduates overall.
Schools at the bottom of the list—schools at which only a third or less of Black male athletes graduate after 6 years—include several of America's top universities. The graduation rate is 34% at Cal-Berkeley, indisputably one of America's best public universities. Lowest ranked is Kansas State University at 26%.
Data show an astounding differential at many schools between the proportion of Black male athletes playing revenue-generating sports vis-à-vis Black male students in the general student population. The differential is as high as 75% at Auburn University, and it's 60%+ at nearly 25 of these 65 major sports-playing universities.
Shawn Harper, center director, believes "it's time that black athletes and their families to start demanding that colleges take more seriously the academic pursuits of black male athletes."
The problem is compounded by the profile of who's administering America's athletic programs. The leadership record is poor, says Richard Lapchick and colleagues, who follow the numbers at The Institute for Diversity and Sports at the University of Central Florida. In the Institute's most recent report study authors conclude that collegiate sports "lag behind professional sports in providing opportunities for women and people of color."
Here's what the authors found among 126 universities in NCAA's Football Bowl Subdivision:
88% of university presidents are White (75% White men).
83% of athletic directors are White (78% White men).
100% of conference commissioners are White men. and.
Over 90% of faculty representatives on university athletic councils are White.
The racial composition in coaching is similarly distressing:
The status quo is indefensible and intolerable. It smacks of use and abuse, and drips of hegemony. If it isn't an example of plantation economics, then what is it?
The sad thing is that the NCAA or member conferences haven't acted. The situation just described is hardly new: it's persistent, historic. And most sports fans don't seem to care. Winning is their concern.
So pressure for change needs to come from Progressive Americans who care about social justice—even if they aren't sports fans—to organize, protest, and demand change.
This isn't 1966 when the challenge was opening up the college game to Black players. Today we need to treat African American fairly and with justice:
Increase graduation rates for Black players.
Increase the number of African Americans in athletic oversight.
Colleges teach by what they do. What they are teaching in this case fails the public good test.
Frank Fear
An earlier version of this article was published at The Sports Column.