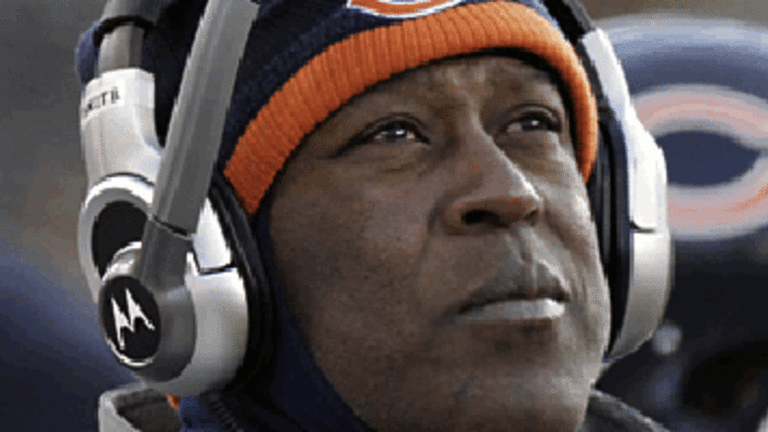 The Super Bowl "Blackout" Nobody Is Talking About
Anthony Samad: Since the end of the 2012 NFL season, there have been 15 senior management position openings, eight head coaching positions and seven general manager positions. All have been filled. Not a single African American coach or general manager prospect was hired.
Much ado is being made about a 34 minute blackout during what was, at the time, a blowout, in the nation's most viewed annual sporting event, the Super Bowl. They are still trying to figure out what caused it. The most obvious suspect was, of course, Beyonce. Seems like she can't catch a break, after putting on a high-powered, high-energy, Destiny Child reunion halftime show that fried our ends—to no end. You can't blame her for everything…she probably had a little incentive after the Inauguration thing. So she probably cracked the voltage up a few notches. She's a baaaaad girl, and probably blew out a few of her halftime viewers' circuit, but she didn't cause the Super Bowl blackout. So who did? They still trying to find out.
Conspiracy theorists place the blackout at the bookies who wanted a closer spread. Whoever, and however, it was caused, it gave new life to a Super Bowl that was on its way to becoming one of the all-time dogs in Super Bowl history. Instead, it turned out to be one of the all-time thrillers. The Ravens won a three-point squeeker and all the attention was given to the Harbaugh brothers and Ray Lewis, but a more obvious blackout took place that night.
Very few people expected to see the Ravens in the Super Bowl this year. Not ahead of the New England Patriots or the Denver Broncos, both of whom have future Hall of Fame quarterbacks with points to prove. The Ravens didn't have that kind of quarterback in Joe Flacco. The Ravens had a passionate defense and a flat offense. So flat that Raven coach John Harbaugh knew they weren't going to get through the playoffs with this offense. So he pulled the plug on offensive coordinator Cam Cameron in Week 14 of the season, with four games left in the season, and hired former Indianapolis Colts head coach, Jim Caldwell. Caldwell woke up a dead Ravens offense with his attention to detail and reinstalling a running game that had literally been shelved under Cameron. And he got Flacco to stop throwing the ball out of the stadium. The results? More rushing yards per game. No interceptions. Higher scoring average. Trip to the Super Bowl. The unexpected happened. A Super Bowl win. Flacco was even Super Bowl MVP. That was really unexpected. Now let's talk about something else that was unexpected.
Since the end of the 2012 NFL season, there have been 15 senior management position openings, eight head coaching positions and seven general manager positions. All have been filled. Not a single African American coach or general manager prospect was hired.
Not one.
The NFL has what is called "the Rooney Rule," which says teams have to interview at least one minority candidate to ensure that diversity is, at least, a consideration in teams hiring schemes. Some teams are complying and some teams are not, but one thing has become obvious. The Rooney rule may not be working. Black coaching and general manager prospects are being "blackouted" in the NFL. Their numbers are shrinking and the system to insure their inclusion maybe broken. Why do I say that? Over the past three, 21 coaching changes have been made. No black hires. Only those in organizations that promote from within have been given opportunities. The last coach to be an external hire through the open interview process, where the Rooney rule applied, was Pittsburg Steelers head coach, Mike Tomlin, in 2007. In the meantime, a whole lot of black coaches remain on the sidelines, waiting for the call. They get fewer opportunities to succeed, or to fail, as such was the case with fired Philadelphia Eagles, Andy Reid.
Reid was fired after a 4-12 season on "black Monday" (ironic name, huh?), the first Monday after the end of the regular NFL season, which this year was December 31st. By the end of the week (January 4th), Andy Reid was announced as the new head coach of the Kansas City Chiefs. Andy Reid did not have to wait—not even a week—to get another opportunity.
In fact, it was common knowledge that Reid would be fired and, with relative surety, would be on the sideline next season with some team. Reid was being pursued by other teams in the midst of a failing season. Reid has never won a Super Bowl as a head coach. The Philadelphia Eagles were a pre-season Super Bowl pick, so they definitely underachieved.
Conversely, Super Bowl winning head coach, Lovie Smith, was also fired on "black Monday." Smith didn't have a losing season. The Bears finished 10-6, but he was fired because his team missed the playoffs for the fifth time in six seasons. They also had quarterback injuries the last three seasons. The Bears, with the injuries they had, over-achieved. It didn't matter. Lovie Smith lost his job and is still waiting for that next call. And Lovie Smith is a great coach.
The problem is that the NFL has always been an "inside game." If you don't have benefactors to push your opportunities, you get no opportunities.
That's why the Rooney Rule isn't working.
This Super Bowl only highlighted what black head coaches can do. Usually offensive coordinators of the winning Super Bowls get job offers for the next season almost immediately.
Let's see how many job offers Jim Caldwell will get. Let's see if he even gets seriously interviewed, beyond the Rooney Rule obligated perfunctory "stage show" of an interview.
Or will the blackout of black head coaches, the blackout nobody wants to talk about continue…
Anthony Samad
Dr. Anthony Samad
Wednesday, 13 February 2013