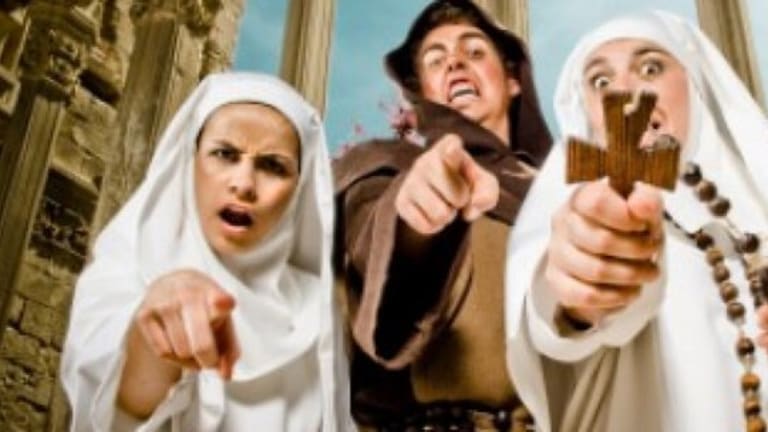 Soul Religious: Why Is the Religious Right Is Sooooo Damn Wrong?
Hasira Ashemu: Come with us O' brothers and sisters as we embark upon this journey of America's religious righteousness, let us in unison and with open hearts and minds explore the world of westernized religion and some of its accompanying foibles.
In this edition of Soul Progressive we've decided to baptize ourselves in the miraculous murky waters of the religious right. Come with us O' brothers and sisters as we embark upon this journey of America's religious righteousness, let us in unison and with open hearts and minds explore the world of westernized religion and some of its accompanying foibles. O Ye of little faith come with us and bare witness to the power of the Lords of Lunacy. Now please let the church say..... Allmen!
Soul Shot #1: St. Louis Archbishop Didn't Know Sex With Children Was a Crime?!?!
Yes, you read that right. You can go ahead and file this one under 'shit that Soul couldn't make up if he tried!'
The archbishop of St. Louis is now embroiled in a sexual abuse scandal and testified last month that he didn't know in the 1980s whether it was illegal for priests to have sex with children, according to a court deposition released this week. Yes, you read that correctly and yes I'll say it one mo' again- he didn't know it was illegal for priest to have sex with children in the 80's!!!
Archbishop Robert Carlson, who was chancellor of the Archdiocese of Minneapolis and St. Paul at the time, was deposed as part of a lawsuit against the Twin Cities archdiocese and the Diocese of Winona, Minnesota.
I know, I know! You're probably thinking that I'm making this up due to my undying disdain for western organized religion, however in a video released by the St. Paul law firm Jeff Anderson & Associates, the Catholic archbishop is asked whether he had known it was a crime for an adult to engage in sex with a child.
This was his answer to that question. So please sit back and listen to this divine man give us the quintessential 'how to guide' on "How to go straight to hell in a catholic hand-basket".
Soul Shot #2: Republican 'Abstinence-Only' Crusader's 17-Year-Old Daughter Is Pregnant
Ahhhhh. There are few things that warm my progressive heart like that of watching the 'chicken come home to roost' on some of the most judgmental narcissistic pious patriarchs in creation- America's religious right.
A Republican lawmaker who promoted legislation to teach "abstinence-only" sex education in schools announced that his own unmarried high school-aged daughter has gotten pregnant.
That's right - Bill Cassidy, a state Senator from Louisiana released a statement to NOLA.com announcing that he was to be a grandfather and expressing his support for his daughter during this "challenging" time. Cassidy has made a name for himself as somewhat of a "abstinence-only" crusader. Last year, he co-sponsored the Abstinence-Only Reallocation Act, which would award grants and special funding to public and private schools which stuck to teaching only abstinence instead of a more comprehensive lesson plan on sexual behavior. The bill, authored by perennial bad ideas machine Sen. Lindsay Graham (R-SC), has been tabled in Congress,
How many times have we seen this? If Jesus himself removed a sin from all of creation each time someone on the religious right fell on their self-righteous sword we would all be at the pearly gates right this minute!
The truth of that matter is that this would be so much funnier if not for the fact that we know that they're are thousands more just like him that would still be willing to double down on their judgement day rhetoric while still seeking to pass laws that they themselves can't, won't and don't live up to. How can you spot a religious right winger? They're the ones holding a bible in one hand and their pregnant teenage daughters hand in the other (yet are more interested in what you're doing in your bedroom!).
Soul Shot #3: Pastor Fails Hard In His Demonstration Of Why Male Leadership Is So Superior
Admittedly, I haven't been within the hollowed walls of a church in a few years. However, if this is what is passing for preaching and "leadership" in 2015 then I'm not missing a damn thing. And when I say "damn thing" I'm actually referring to Pastor Bill Lytell.
Pastor Bill Lytell, who leads the Gospel Baptist Church congregation in Bonita Springs, Florida, is on a mission from Jesus (and for other white people) and he's here to deliver the good word to us that ONLY males should be in leadership positions. That's right ladies, in his March 29 ehem... "sermon" he delivers the "word of God" in only the way a white, male, southern, patriarchal and paternalistic preacher can do. 
Let us all take a moment and listen to this man of G.....yes the G stands for garbage!!!
and just to show you that white male southerners in no way have a monopoly on religious patriarchal piousness, let me set this next video down right here for your viewing and soulful pleasure:
Hasira Ashemu
Soul Progressive