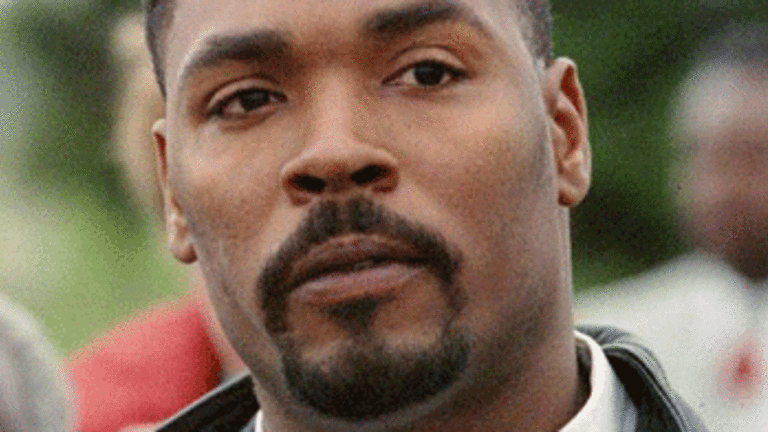 The Accidental Hero---Remembering Rodney King
Jasmyne Cannick: For every Black man and woman in Los Angeles who has ever been pulled over for driving while Black since March 3, 1991, a debt of gratitude is owed to Rodney King for the beating they didn't get.
Rodney King's sudden death on Sunday caught us all by surprise. After embarking on a media tour to promote his new autobiography The Riot Within that was released to coincide with the 20th anniversary of the 1992 Civil Unrest, King had once again become a part of our lives as we all reflected back on where we were on April 29, 1992.
While we know that King wasn't the first Black man to be beaten at the hands of the Los Angeles Police Department, the fact that it was caught on videotape—at a time when cellphones didn't come equipped with cameras and video capability—forced America to deal with something that Black people for generations were facing everyday.
A struggling alcoholic who had numerous brushes with the law before and after the March 3, 1991 beating, King, like many others involved in the incidents that led up to Florence and Normandie, became an accidental "hood" hero.
And just like the L.A. Four+ involved in the beating of white trucker Reginald Denny that lit the fuse for 1992's rebellion, King wasn't looking for the spotlight. In fact, on more than one occasion, he said that he didn't want it and didn't deserve it.
But there was nothing he could do. That train had long left the tracks the moment that George Holliday sold that video to KTLA for $500 and they aired it.
For everyday people who aren't looking for their next opportunity to be on television or in the news media, the amount of pressure that being suddenly thrown into the limelight brings can be intense. It means never being alone, and being recognized everywhere you go.
For those who make a living chasing TV news trucks in the way that some lawyers chase ambulances, it's almost a dream come true. But for people like King, it was a nightmare having to relive what was probably the worst day of his life over and over again everytime some recognized him.
It's for that reason that I thank Rodney King. He didn't have to make his life an open book. He could have easily followed in the footsteps of people like Reginald Denny, George Holliday, and the four cops who beat him almost lifeless and just disappeared off of the face of the Earth. But he didn't.
King allowed his private life to be fodder for conservative radio jocks—but more importantly, even after the money was long gone, he continued honorably serve as the face of police brutality for a community of people who needed him to do so—whether they realized it or not.
While Rodney King's beating wasn't the cause of the 1992 rebellion, it certainly played its role just like then L.A.P.D. police chief Daryl Gates, the killing of Latasha Harlin by Korean-American store owner Soon Ja Du, the acquittals of the officers involved in beating King, Reginald Denny and the L.A. Four+—Anthony Brown, Lance Parker, Antoine Miller, Gary Williams, Henry Watson, and Damian Williams. All people who had no idea that their lives would crash and intertwine in the way they did, forever becoming an indelible part of Black Los Angeles' history.
And while some would have you believe that George Holliday and Reginald Denny are the real hero and victims of 1992—they are wrong. The real heroes were the people like King because the reality is had he not been beaten senseless that night, George Holliday wouldn't have had a video to sell for $500, and add to that the L.A. Four -- who, like thousands of other people in South Los Angeles at the time, expressed the rage and frustration of being Black under tyranny and just happened to be caught.
For me King's legacy wasn't "Can we all get along?" Because for me, the short answer to that question is "no." It was "no" in 1992 and it is still the same in 2012 and will remain so until we as Blacks are no longer suffering from the effects of slavery and centuries of institutional racism.
At 34, reflecting back to 1991 and 1992, I would offer that King's legacy is a simple one. For every Black man and woman in Los Angeles who has ever been pulled over for driving while Black since March 3, 1991, a debt of gratitude is owed to Rodney King for the beating they didn't get.
Whether he knew it or not, King helped to shape the changes made in the L.A.P.D. as it relates to police brutality. While the LAPD isn't perfect today it's definitely not Parker's L.A.P.D. or Gates' and for that we can thank Rodney King. Thank you.
Jasmyne Cannick
Jasmyne Cannick.com 
Posted: Tuesday, 19 June 2012