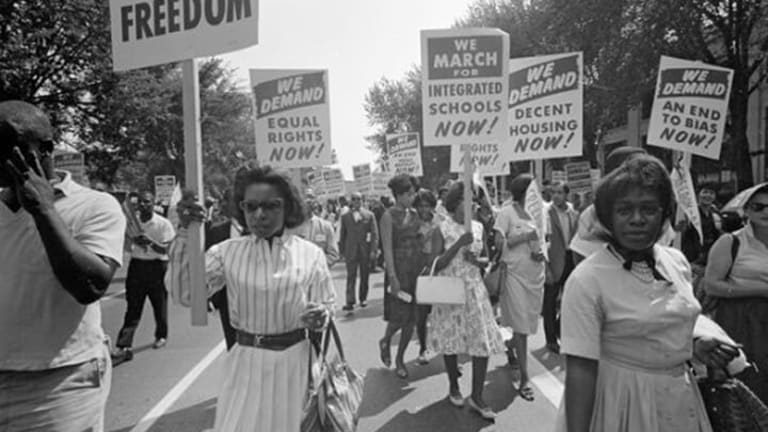 Standing Against Stand Your Ground
Arlene R.H. Pincus: We who abhor and fear these laws should examine other social justice efforts that have changed public opinion and informed actual legislation.
Ever since George Zimmerman made Stand Your Ground laws infamous, it has become increasingly clear that although these laws create risk for everyone, people of color are at greater risk than whites. Zimmerman recently auctioned off the gun he used to kill Trayvon Martin for $120,000, calling it "a piece of American history." The time has come to stop Stand Your Ground from becoming an accepted part of America's future.
We who abhor and fear these laws should examine other social justice efforts that have changed public opinion and informed actual legislation. Taking a lesson from efforts to head off or repeal laws that people perceive as unjust might help us curtail or end Stand Your Ground.
Petitions certainly give voice to these concerns. For example, a Color of Change petition encouraged Missouri governor Jay Nixon's (D) veto of a Stand Your Ground bill that would remove the duty to retreat and allow even non-residents who had been denied permits due to a criminal history to carry guns. The Missouri legislature promptly promised a September override. If it succeeds, the next logical step in this and other such instances could be to craft effective boycotts.
Although boycotts can be powerful tools, individual participants have little power if the boycotted entity can absorb the loss.
Although boycotts can be powerful tools, individual participants have little power if the boycotted entity can absorb the loss. Even that most famous of American boycotts, the Montgomery Bus Boycott, is incorrectly remembered as ending bus segregation in that Alabama city. This planned action, sparked by Rosa Parks, actually lasted over a year. The city transit system today proclaims, "Our goal is to provide the most pleasant travel experience for every passenger," but Montgomery had no such welcoming intentions in 1955, when African Americans — 44% percent of the city's population--stopped riding municipal buses, thus depriving the city of 75% of its riders, a loss Montgomery decided to withstand. It took the Supreme Court to right this wrong.
Similarly, five years elapsed before the United Farm Workers achieved its 1965 settlement with California grape growers. Even many individual actions might not lead to swift agreements.
Nevertheless, economic pressure is a powerful tool. In a time of job scarcity and uncertain revenue, states and municipalities compete to lure business and industry and to attract conventions and trade shows. They rightly view these as key to maintaining vibrant, successful, and employed communities. Understanding this competition and faced with pending or enacted legislation it views as discriminatory, the LGBT community has successfully flexed its economic muscle.
For example, this community sought to influence legislation intended to marginalize it in ways similar to the segregation of the Jim Crow South. Although Arizona Governor Jan Brewer (R) did not acknowledge that threats to deprive her state of business inspired her 2014 veto of legislation permitting refusal of service to gay and lesbian customers, Arizona business groups, civil liberties organizations such as the ACLU, corporations including Apple, American Airlines, AT&T, Delta Air Lines, the Super Bowl host committee, and Major League Baseball voiced opposition.
Other governors have taken similar positions. For example, on March 28, Georgia Governor Nathan Deal (R) rejected a "religious liberty" bill that would have allowed refusal of service to LGBT individuals, calling it unnecessary and contrary to Georgia's character as a "welcoming and loving state." And on July 9, Massachusetts Governor Charlie Baker (R) signed transgender protection legislation.
Attempts to head off laws that treat LGBT people differently than everyone else sometimes fail. A standout example is North Carolina's new requirement that people use public restrooms matching gender as recorded on birth certificates. North Carolina ignored opposition from over 90 business leaders, including chief executive Brian Moynihan of Charlotte-based Bank of America Corp., Apple's Tim Cook, Facebook's Mark Zuckerberg, Cisco Systems' Chuck Robbins, and Salesforce.com's chief executive Marc Benioff. These protests were joined by bans on travel to the state by Boston and Portland Oregon city council employees. And the NBA will not play its upcoming All-Star game in Charlotte because of this law.
Although dueling lawsuits are in the preliminary stage, the business community has reached a definitive position. Aware that this evolving nation largely profits from egalitarian practices that parallel current and emerging legal realities, many CEOs have extolled the positive effects of diversity on their businesses. Salesforce's Benioff said, "Because our governmental leaders tend to be a little weaker than they were, CEOs need to step up and be a little stronger." Benioff regards being on the side of his employees as necessary to having a great company. This includes not only responding to restrictive LGBT legislation, but ensuring that pay is not influenced by gender.
This is a sea change. America once had few laws recognizing workers' rights to fair compensation, equal treatment, and safe working conditions, and public opinion was not always on the side of those exploited, but today, much of business and industry does not see an advantage to locating to or patronizing states that legalize discrimination. Consequently, when 2016 Republican Vice-Presidential candidate and current Indiana governor Mike Pence signed the 2015 Indiana Religious Freedom Restoration Act, an Indystar editorial demanded that Pence "Fix this," and more than 70 technology leaders publically opposed the law. The subsequent "fix," while not fully satisfying the law's opponents, nonetheless demonstrated that a strong stand can move even the most conservative of state legislatures.
The success of the LGBT community and its allies should instruct us with respect to Stand Your Ground. Throughout the country, there are business, civic, educational, political, professional, religious, and union organizations that are considering where they should be headquartered or where they might open facilities. Additionally, these organizations routinely send members to conventions and conferences. States where permanent employees and occasional attendees might not be as safe as elsewhere, and might even be differentially unsafe as a function of race, do not deserve the financial boost such economic activity provides.
If we only consider convention center events, it is evident that Stand Your Ground states attract even businesses and organizations that should, by virtue of their values, oppose these laws. Examples include:
the American Alliance of Museums, planning conventions in St. Louis in 2017, Phoenix in 2018, and New Orleans in 2019;
the National Association of Early Childhood Educators (NAEYC), scheduled in Atlanta in 2017 and in Orlando in 2021;
the American Council on the Teaching of Foreign Languages (ACTFL) which identifies Nashville for 2017 and New Orleans for 2018;
the American Federation of State, County and Municipal Employees (AFSCME) planning to be in Las Vegas 2018;
and
the General Convention of the Episcopal Church, scheduled for Austin in 2018.
Venues in non-Stand Your Ground States attract such meetings in similar numbers. When making future decisions, the time has come to choose the safest venues for participants and to make our reasoning public. Similarly, organizations that represent people who oppose such laws can mirror the stand of business leaders who have stood with the LGBT community.
Taking a lesson from Aaron Belkin's book, we can expose the myth that Stand Your Ground makes for a safer society and resolve that negative economic consequences will accrue to states that create unnecessary danger. Since government leaders have become weaker, it is time for people of conscience and the organizations that represent them to speak with a full-throated, collective voice.
Arlene R.H. Pincus