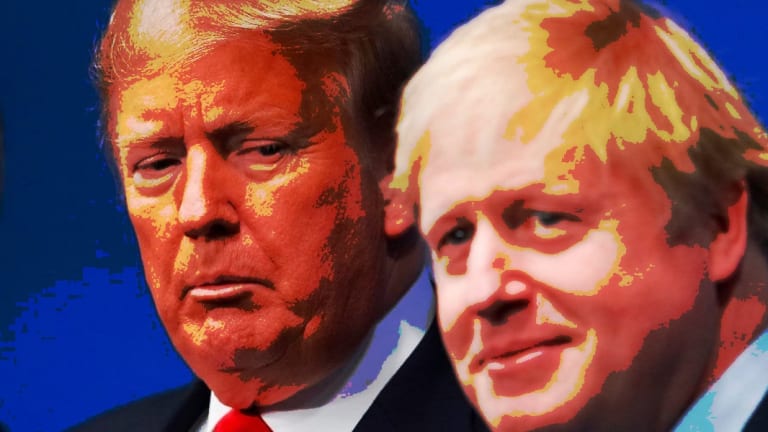 Is UK Using 'Trump Tactics' with 'Devastating' Slashing of Family Planning Aid?
Kerry Cullinan: Millions of the world's poorest women and girls will 'pay the price' of the UK government reneging on its commitments, say aid workers
The UK government has been accused of "using tactics reminiscent of the Trump era" after cutting millions in aid for family planning.
Boris Johnson's government is set to slash its commitment to the United Nations Population Fund (UNFPA) by 85% – from an expected contribution of £154m to just £23m – in an enormous blow for women and girls in the poorest countries where health services have already been decimated by COVID-19.
News of the cuts, which were announced earlier this week, has left aid leaders seething. "By breaking its manifesto commitments with tactics reminiscent of the Trump era, the UK government will undo years of progress and investment," Alvaro Bermejo, the director general of the International Planned Parenthood Federation (IPPF).
Millions of the world's poorest women and girls will 'pay the price' of the UK government reneging on its commitments, say aid workers
The IPPF said the loss of funding represents "one of the most significant funding losses for IPPF since 2017 when former US President Donald Trump reinstated and expanded the Mexico City Policy, also known as the Global Gag Rule", a policy that blocked US federal funding for non-governmental organisations providing abortion advice, counselling or referrals.
The IPPF, the UNPFA's lead partner in providing family planning services, is set to lose out on £72m ($100m) as a result of the UK's actions. Bermejo added this was "just another example of the UK government stepping back when it is needed most".
Without additional funding, IPPF says it will be forced to close services in Afghanistan, Bangladesh, Zambia, Mozambique, Zimbabwe, Côte D'Ivoire, Cameroon, Uganda, Mozambique, Nepal and Lebanon, while services in an additional nine countries are under threat.
An internal memorandum sent to UNFPA staff, which openDemocracy has seen, says that no staff cuts are expected yet – but insiders say this will be hard to avoid.
However, agency partners contracted to deliver services will be less fortunate. IPPF will have to cut at least 480 staff over the next 90 days.
Manuelle Hurwitz, IPPF's director of programme delivery and capacity, warned that "millions of the world's most vulnerable women and girls in some of the poorest and most marginalized communities will pay the price" for the UK government's decision.
This will force many girls out of school and contribute to rises in unintended pregnancies, maternal deaths and unsafe abortions.
"The fallout will force many girls out of school before they are even 16 and further contribute to an increase in unintended pregnancies, a rise in maternal deaths and an increase in unsafe abortions," said Hurwitz.
The UK's contribution would have prevented "around 250,000 maternal and child deaths, 14.6 million unintended pregnancies and 4.3 million unsafe abortions," according to UNFPA director Natalia Kanem.
Kanem described the UK's "retreat from agreed commitments" as "devastating for women and girls and their families across the world".
Unnecessary deaths
Rose Caldwell, CEO of Plan International UK, the global children's charity described the decision as "shameful", and would "result in the unnecessary deaths of tens of thousands more women and girls during pregnancy and childbirth".
"For decades, the UK has fought for the fundamental rights of women and girls to have control over their own bodies, and now is not the time to renege on our commitments," said Caldwell.
"COVID-19 is fuelling a hidden pandemic of gender-based violence and we are likely to see a steep rise in early and unwanted pregnancies. This is already a leading cause of death for adolescent girls around the world, as well as one of the main reasons why girls drop out of school early."
Urging the UK government to "come to its senses and reinstate funding for these vital services", Caldwell added that "this is not the 'Global Britain' we want the world to see".
Another programme set to lose out is WISH (Women's Integrated Sexual Health), which delivers life-saving contraception and sexual and reproductive health services for women and girls in some of the world's poorest and most marginalized communities.
Since its launch in October 2018, WISH has prevented an estimated 11.7 million unintended pregnancies, 4.3 million unsafe abortions and 34,000 maternal deaths, according to IPPF.
Luka Nkhoma, WISH programme project director in Zambia, said she is "scared for the futures" of the girls and women in the country who will no longer have access to contraception. By the age of 19, almost 60% of Zambian girls have fallen pregnant – mostly because of lack of health services in rural communities.
"When WISH came along, we helped expand much-needed contraception and sexual health services in [rural] areas, including services for youth with integrated HIV support, treatment for sexually transmitted infections and cervical cancer screening," said Nkhoma.
Just because there is a global pandemic, women's needs don't suddenly stop.
"For many women, it was their first time using contraception and the first time they've ever had complete control over their bodies and fertility. WISH also helps girls stay in school to finish their education, giving them control over their futures."
When WISH closes, the community outreach in rural areas will end and the only way women will get contraception is by making long, costly trips to clinics.
"I don't know what these women and girls will do. Just because there is a global pandemic, women's needs don't suddenly stop, and if they can't access safe services, an unsafe abortion might be the only option," said Nkhoma.
The UK is reportedly also cutting its contribution to UNAIDS, the UN's HIV/AIDS programme by 80%, from £15m to £2.5m this year.
"These cuts couldn't have come at a worse time for the HIV pandemic. AIDS remains the number one killer of women of reproductive age and 1.7 million people acquired HIV in 2019," said STOPAIDS, a UK network of agencies working to end HIV globally.
A Foreign, Commonwealth & Development Office spokesperson told openDemocracy: "The seismic impact of the pandemic on the UK economy has forced us to take tough but necessary decisions, including temporarily reducing the overall amount we spend on aid.
"We will still spend more than £10bn this year to fight poverty, tackle climate change and improve global health. We are working with suppliers and partners on what this means for individual programmes."
Kerry Cullinan
Common Dreams