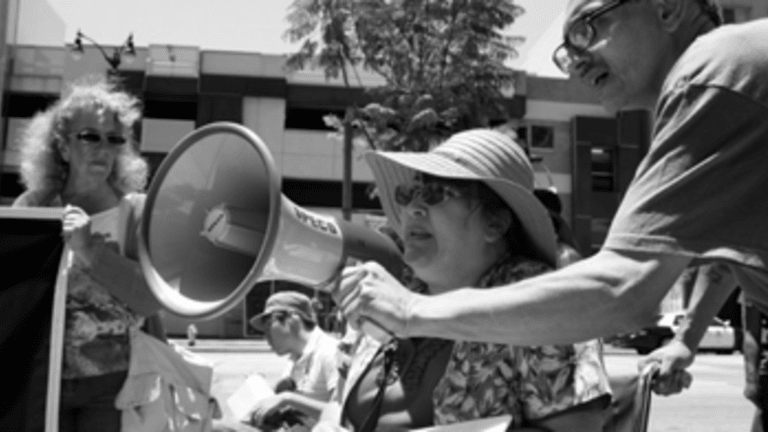 The Dubious Seizure of Laurel Greenstein's Home
Dan Bluemel: Now, at nearly 60 years of age, she is broke, beset with medical issues, unemployed and homeless. She currently stays at various homes of friends, but has had to spend a few nights in her car.
When Laurel Greenstein filed for bankruptcy in May of last year, the filing should have stopped Wells Fargo & Co. from foreclosing on her Woodland Hills home.
That is until attorneys working for Wells Fargo put Greenstein through, what she describes as, an "excruciating journey filled with horrifying discoveries."
Now, at nearly 60 years of age, she is broke, beset with medical issues, unemployed and homeless. She currently stays at various homes of friends, but has had to spend a few nights in her car.
"The idea that somebody could circumvent due process and sell the house in violation of my bankruptcy protection was unthinkable," said Greenstein. "It didn't seem like there was anyway to do that."
But, there was, and it had everything to do with a mysterious, fraudulent deed.
***
On February 10, 2012, attorneys acting on behalf of Wells Fargo presented a fake deed in its case against Greenstein, who was suing the bank over the circumstances that led to its foreclosure proceedings.
The deed said Greenstein transferred ownership of her house to a man named Roger Lipkis. But, Greenstein never met Lipkis, and though the signature on the deed was hers, she never signed it.
Wells Fargo's attorney used the fake deed to limit the scope of her lawsuit against the bank, arguing that the home was no longer hers and could not be part of any legal action.
"The hard part is, it's absolutely clear cut," said Greenstein. "All you have to do is look at the county recorder's record that my house was never transferred to him. You can see he never owned any part of it."
According to Wells Fargo, the fake deed was anonymously faxed to their legal department in late November of 2011. Because the arrival of the deed coincided with the planned trustee sale of Greenstein's home, the bank suspects Greenstein sent it to them as a ploy to put off the sale.
"There's nobody else that has anything to gain from the delay in the trustee sale," said Gary Kishner, a spokesperson for Wells Fargo.
But, he said, "the fact that it comes to us by fax on the morning of the trustee sale is suspicious."
Fake deeds coming over the fax wasn't the only thing happening that November morning.
Greenstein was in court that day concerning her lawsuit. Although Wells Fargo was in possession of the fake deed at the time, its attorneys didn't mention it to the court, nor to Greenstein. Even while the judge issued a temporary restraining order that protected Greenstein's home from being sold, Wells Fargo's attorneys made no issue of it.
It wasn't until two and a half months later that Wells Fargo first presented the deed in court to Greenstein's detriment. After the hearing, Greenstein got an opportunity to view the deed. What she saw, she said, made her shake with anger.
"As soon as I saw it, I said, 'This is absolutely fake,'" she said.
Greenstein wasted no time in investigating. It soon became clear that Wells Fargo never vetted the deed that was mysteriously faxed to them.
She called Roger Lipkis' bankruptcy attorney. He said her property was not part of Lipkis' case. When Greenstein called the notary public whose stamp appears on the fraudulent deed, the plot thickened.
"I found out that her stamp had been stolen once before and she reported it to the police," she said. "She said I'm not in her book and that she did not notarize that deed."
Five days later, Greenstein emailed Wells Fargo's attorney, alerting him to what she discovered. Within a month, Greenstein's attorney at the time provided sworn testimonies that demonstrated the deed was fraudulent and requested her lawsuit be allowed to include a higher dollar amount in claims.
Wells Fargo did not challenge the veracity of the deed and the judge granted Greenstein's request.
At this point, having convinced a judge that the deed was fake, Greenstein should have been free of the matter and free to pursue her case against Wells Fargo. What she didn't know, however, was that Wells Fargo had one more trick up its sleeve.
***
With fake deed in hand, Wells Fargo's attorneys went into Lipkis' bankruptcy court to remove his bankruptcy protection from Greenstein's property, even though Lipkis never owned Greenstein's home.
Despite the oddity of the event, Lipkis' judge granted Wells Fargo relief from the courts bankruptcy protection, also called an "automatic stay."
Greenstein was unaware of her bank's maneuver in Lipkis' court. Around this time, however, she began sensing that her options were running out and declared bankruptcy.
Technically, Greenstein had bankruptcy protection, but that didn't stop Wells Fargo. With the order from Lipkis' judge, Wells Fargo went ahead and sold Greenstein's home.
"If they had gone to my bankruptcy court and produced the fake deed, then I would have been able to challenge it," she said. "I wasn't notified. They did all of that behind my back and used it to sell my house."
Kishner said Wells Fargo was only protecting their interests in Greenstein's property. Although Lipkis made no claim on Greenstein's home, the bank feared, said Kishner, there may be some validity to the transference of ownership. Such an oversight could cost them to lose their rights to Greenstein's property.
"We have to follow through on any leads possible," he said.
Kishner points out that Greenstein never contested the judge's order. Greenstein said she never challenged it because, she thought, it didn't apply to her.
"It stated clearly on the first page that it was regarding Lipkis' bankruptcy," she said.
Lenore Albert, a consumer advocacy attorney who has represented victims of fraudulent foreclosures, agrees. She said the order from the Lipkis court was a "very limited ruling" and essentially "meaningless" because it is strictly between Wells Fargo and Roger Lipkis.
"It's just saying this stay, in this court, in this case, does not affect Wells Fargo," she said. "That's all it is saying."
That means, said Albert, Wells Fargo violated Greenstein's bankruptcy protection when it sold her home.
"The fact that they ran with [the fake deed] and took an extra step by running with it in the court system is very suspicious," she said.
***
Her home, said Greenstein, was to be her "forever-home." Bankruptcy was to be her "plan B" after all else failed.
Now, with her savings gone and no longer any money for an attorney, Greenstein is representing herself in court.
Searching for help, she has been attending meetings held by Occupy Fights Foreclosures, an offshoot of Occupy Los Angeles that has been leading a campaign against bank foreclosures. In June, she participated in a demonstration against Wells Fargo that urged people to invest their money elsewhere.
Greenstein also has a lawsuit pending against Wells Fargo for emotional distress and to correct her title on the property. In the meantime, she is looking for employment.
She vacillates, she said, between optimism and pessimism. But, despite the battle ahead of her, her faith in a better tomorrow seems unabated.
"I suppose hope truly is the default for the human condition," she said. "I do have hope."
Dan Bluemel
L.A. Activist
Tuesday, 6 August 2013