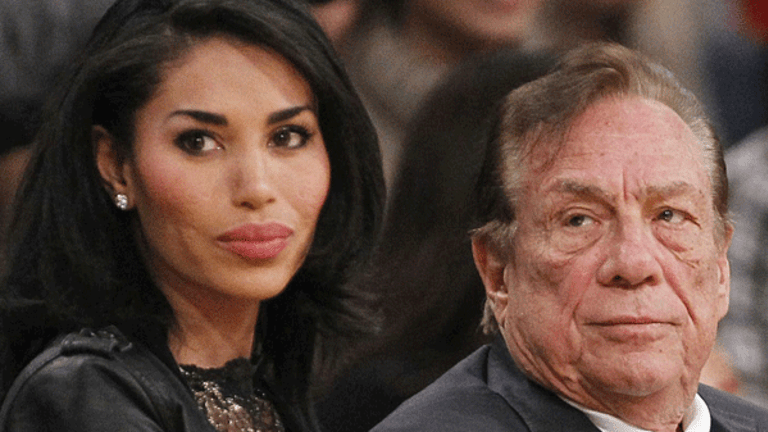 The Sterling Shuffle: Unpacking White Jewish Racism
Sikivu Hutchinson: Sterling's racist references to shiftless black untouchables are simply yet another snapshot of how caste, ethnicity and the bootstraps mythology play out in "post-racial" America.
For years the mug of real estate mogul and L.A. Clippers owner Donald Sterling commanded prime ad space in the Los Angeles Times. Touting Sterling's philanthropy, these ads often feature grinning photos of prominent African American politicians, religious leaders, and other glad-handing public figures who've received hefty donations from his financial empire. After TMZ revealed a recording of Sterling's racist comments about black people to girlfriend V. Stiviano, President Obama and other dignitaries were swift to condemn him. On Monday it was "shockingly" revealed that Sterling, who is Jewish, went the extra mile with his racism in the recording, contending that "the blacks are treated like dogs" in Israel to Stiviano. Responding to her criticism of this claim, Sterling reiterated that "the black Jews" are "less than" white Jews and that that is the way it should be.
Anti-black racism among white Jewish people is a seldom discussed aspect of the complicated arc of black-Jewish relations in the U.S. Yet Sterling's comments are noteworthy because they not only highlight the white supremacist bent of Israeli anti-African sentiment but the social construction of Jewish whiteness. Echoing rancher Cliven Bundy's recent references to blacks thriving under slavery, Sterling expressed the paternalistic view that he "supports" blacks on the team by giving them clothes, houses, and cars. He then blasts Stiviano for comparing anti-black racism and discrimination to the Jewish Holocaust. Implicit in this shutdown is the notion that Jewish suffering under the Holocaust precludes consideration of how white Jews have benefited from institutional and systemic racism.
The illusion of lockstep black-Jewish solidarity on liberal political coalition-building has long masked the reality of white Jewish privilege and investment in white supremacy. This is especially relevant to Sterling (who tellingly changed his name from Tokowitz to the more Anglicized Sterling) because he is a multi-millionaire developer who has also been the subject of two federal racial discrimination lawsuits involving tenants of color.
In her book How Jews Became White Folks and What That Says About Race in America, Karen Brodkin notes that Jews contrasted themselves with the specter of a "mythic blackness". Deeply ingrained racial stereotypes of shiftless, lazy, culturally pathological and mentally enslaved blacks—versus "hard working" immigrants streaming through Ellis Island in search of opportunity—have always been a subtext of the American dream. Hence, "mythic blackness" implicitly signified social dysfunction and downward mobility—i.e., the antithesis of American notions of rugged individualism and bootstraps uplift.
This divide allowed Jewish, Irish and other reviled, provisionally white ethnic immigrants to highlight and capitalize on their (relative) whiteness. As Salomon Gruenwald notes in a review of Brodkin's book, "Jews did not become white because they succeeded in spite of racism, rather, they succeeded because of white racism. Economic and social shifts following WWII reconfigured whiteness in such a way as to allow them—particularly Jewish men—the entitlements that being white brought (like the G.I. Bill and access to the suburbs)."
The long-term economic legacy of these entitlements has been amplified in the post-civil rights era. African Americans of all income levels are hyper-segregated in urban communities heavily impacted by foreclosure, joblessness, predatory lending, subpar schools, racist policing and mass incarceration. And, relative to white working class homeowners, even the most wealthy African Americans are segregated into neighborhoods that have high poverty rates.
As the most segregated racial group in Los Angeles, the socioeconomic divide between blacks and white Jews couldn't be more profound. Like other European Americans in the post-World War II era, Jews took advantage of New Deal FHA, VA and GI Bill loans (which were denied African Americans) to flee South L.A. and East L.A. neighborhoods and move to wealthier enclaves in West L.A. and the Valley.
Once upon a time, predominantly Mexican-American Boyle Heights was a thriving Jewish enclave. New Deal era affirmative action policies for white people, coupled with the Great Migration of African Americans from the South, facilitated white Jewish upward mobility and assimilation. As Ryan Reft writes on the transformation of Boyle Heights, "the Great Migration led others to rewrite the rules that kept whites separated from non-whites. As a result, definitions of whiteness shifted. Jews now found themselves increasingly included as part of the metropolitan area's…conception of whiteness, and many took advantage of new housing opportunities."
Sterling's racist references to shiftless black untouchables are simply yet another snapshot of how caste, ethnicity and the bootstraps mythology play out in "post-racial" America. And in a country in which the racial wealth gap is most powerfully reflected in corporate real estate and apartheid-level access to private space people of color in particular shouldn't be shocked or surprised.
Sikivu Hutchinson
BlackFemLens
To hear the audio taped conversation between Donald Sterling and V. Stiviano, click HERE
Subscribe to LA Progressive's daily newsletter
* indicates required
Email Address *


First Name

Last Name

Email Format
Powered by MailChimp