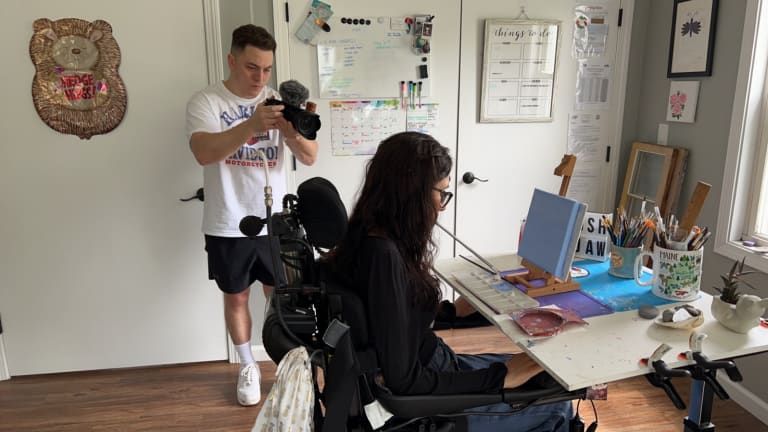 An Exclusive Interview with Filmmaker Christian Massa
Christian has started working on a new documentary covering the tragic events that happened to a girl named Gabriella "Gabby" Murillo.
Christian Massa is an actor, filmmaker, entrepreneur, and so much more. In the past, Massa has worked on a variety of projects covering a plethora of topics. Now, Christian has started working on a new documentary covering the tragic events that happened to a girl named Gabriella "Gabby" Murillo.
A few years ago, Gabby was a fresh-faced college student working her dream job at Disney World. Roughly a month after settling into her new job, Gabby was hit by a drunk driver. As a result of this accident, Gabby is now paralyzed from the neck down.
For his part, the driver who hit Gabby was issued a basic reckless driving citation; the equivalent of a slap on the wrist.
Christian found an immediate and personal connection to this story, and he has dedicated the new few months or years to completing a documentary seeking justice for Gabby.
I was able to sit down and chat with Massa about this project. What follows is the interview I completed with the filmmaker just a few days ago.
What Made You Want to Create This Documentary?
When I first heard Gabby's story, I was struck by the sheer injustice of the whole situation. The fact that she is now almost completely incapacitated while the person who hit her enjoys complete freedom and perfect health…I just knew that I needed to do something to help.
What Are Your Plans for Releasing This Documentary?
Essentially, I want to expose as many people as possible to Gabby's story. Ideally, I'd love to get it featured on Hulu, Netflix, or a similar streaming service.
Who are You Shooting the Documentary With?
I'm working with a few members of my family, such as my brother Joe and my Aunt Michele. However, we've also enlisted the help of Gabby's sister Cassie to make sure we get all of the finer details right.
What Goals Do You Hope to Accomplish at the End of the Process?
First and foremost, I want to see justice for Gabby. Her life was turned upside down and the person who injured her walked free without any consequences whatsoever.
What Do You Plan to Name the Documentary?
We haven't settled on a name yet. Once we complete filming and get closer to announcing a release date, we'll narrow down our shortlist of titles.
What Type of Advice Would You Give to Aspiring Filmmakers?
I always tell people working in this industry that they need to keep laser-focused on the task at hand. There are so many interesting stories out there, waiting to be made. But if you don't take your time and complete one project at a time, your work will suffer. Consistency and dedication are key. Also, be sure to work with a team that you can trust.
When Will the Documentary Be Completed?
If all goes according to plan, we'll aim to release the documentary by the end of the year!
Conclusion
Documentary films, such as this one, tug at the heart strings and make us all thankful for our health. Christian is pouring his heart and soul into this project. Needless to say, we're all eagerly anticipating the finished product.
For behind the scenes footage on the documentary and to keep up with Christian Massa follow him here