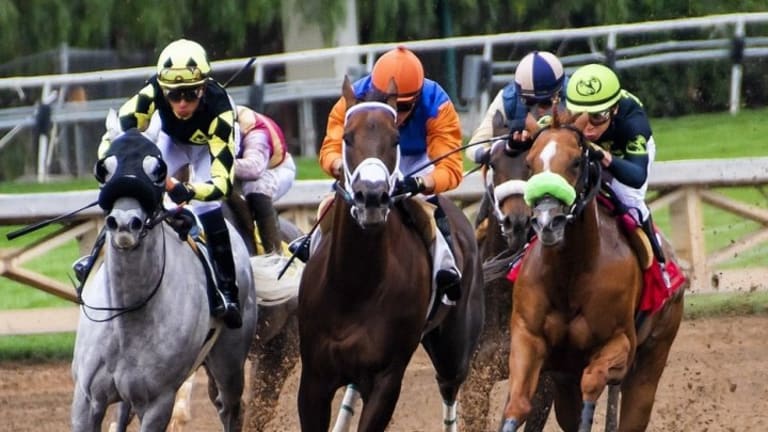 Omaha Beach, Spun to Run, Tax Tops Poll to Win the 2020 Pegasus World Cup
Jara Jones: Omaha Beach is one of the horses that earned so much popularity and has been eyed to win the Pegasus crown this year.
The 4th season of the Pegasus World Cup, a $3 million Grade 1 Stakes horse racing tournament, will take place in two weeks. This race of the toughest four-year-old or older Thoroughbreds will race in the dirt track at Gulfstream Park, Florida.
Pegasus World Cup odds would surely suggest an exciting year for every horse racing fan. Recent news reported that the Pegasus' owner, the Stronach Group, has released 17 official invitees to take part in the said racing showdown. Fans can expect famous Thoroughbreds, including Magic Wand, Next Shares, Sadler's Joy, Jubilee, Henley's Joy, Zulu Alpha, Admission Office, and the others in the World Cup Turf's list.
Among the 17 invitees, three names came out on top as the most potential candidates to win this year's tournament. One was an early favorite since last year, while the remaining two seemed like a shocking revelation to many fans. Let's take a look at these three.
Omaha Beach
Omaha Beach is one of the horses that earned so much popularity and has been eyed to win the Pegasus crown this year.
Omaha Beach is one of the horses that earned so much popularity and has been eyed to win the Pegasus crown this year. In 2019, this horse was able to secure four crowns, such as in Rebel Stakes. Aside from that, he also won other notable horse racing titles like the Malibu Stakes, Arkansas Derby, and the recently concluded Santa Anita Sprint Championship.
Omaha Beach was also hyped to win the U.S. Triple Crown winner last year. Unfortunately, he was not able to run at the Kentucky Derby. He experienced some health issues and was recommended to take a rest.
Although he missed his chance to pull off the U.S. Triple Crown, many are still foreseeing Omaha Beach as the winner of the 2020 Pegasus World Cup. In fact, he has the highest odds value today when it comes to betting.
For this year's tournament, Richard Mandella, Omaha Beach's trainer, mentioned that Omaha Beach is in the best form and gained more speed than what he showed last year. You won't get disappointed if you wager for Omaha in Pegasus, Madellam added.
Spun to Run
Spun To Run is taking the second-best vote to win the Pegasus crown this year, which was a surprise for many. Last year, he was not even considered as one of the possible invitees for the 2020 Pegasus until the first week of January.
His latest achievements made Stronach Group decide to consider him in Pegasus. He won in M.P. Ballezi Appreciation Mile before joining the Breeders' Cup Dirt Mile. He also took part in the Grade 1 Cigar Mile, where he challenged Maximum Security and almost beating the latter.
Spun to Run was trained by Juan Guerrero and owned by Robert Donaldson. He started his racing career in 2018, where he ran four times during fall and won the maiden races in Parc racing last year. After that, Spun to Run saddled in Haskell Invitational Stakes sponsored by TVG, where she showed impressive speed to win the claiming race category.
Tax
The final spot for the best candidate to win the Pegasus crown this year goes to Tax. He was less favored by many horse racing fans, too. The thing is he has a very colorful racing record and dirt track achievements that are worthy of showing off.
He was a runner-up for the Grade 3 Discovery Stakes held at Aqueduct. Also, he won the Withe Stakes in the same location and a second placer for Grade 2 Memorial Stakes. During the Kentucky Derby last year, however, he messed up the racing and ended up losing his chance of winning the Kentucky title. On the other hand, he came back strong in the Belmont Stakes, which he finished fourth, seventh in Travers Stakes, and a titleholder for Jim Dandy Stakes.
With these accomplishments, together with his admirable skills, made his odds value for this year's Pegasus to be overwhelming. In general, Tax racing form is in the best statistics, which can prompt him to be a possible winner for this year's tournament.
Takeaway
The 2020 Pegasus World Cup holds another thrilling season this year. The participants are all strong and vigorous, not to mention the top three horse racers, including Omaha Beach, Spun to Run, and Tax. More importantly, this said tournament's purse is a whopping three million U.S. dollar, in which 2% of it will go back to Thoroughbred aftercare. It's time for you to carefully lay your options of which horse racer deserves a victorious betting game.
Jara Jones
Sponsored