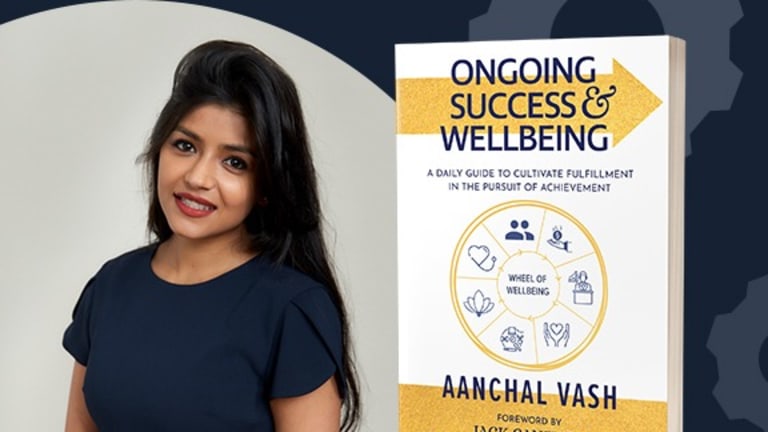 Motivational Speaker Aanchal Vash Reveals the Seven Areas of Life for Overall Wellbeing and Prosperity
After losing her twin brother to suicide, she founded the Canadian nonprofit, Reach Out Together Foundation, which provides mental health resources and training to students, young professionals, parents, and corporate leaders.
With all the motivational speakers and self-help books in existence, it's fair to say the wellness industry is now saturated. When somebody already lacks motivation, how will they convince themselves to go through the trouble of deciding which expert to follow? Especially when there are so many charlatans plaguing the market. Well, Aanchal Vash is here to help you finally receive the guidance you have been seeking for so long.
Aanchal is a three-time Amazon bestselling author, professional speaker, trainer, and entrepreneur. She created Vash Media Inc. over a decade ago and has been helping entrepreneurs, leaders, and industry experts build solid and profitable digital brands. Her success comes from her deep desire to serve others. She has discovered that when you dedicate your life to serving others, your life has a purpose. It's up to you to decide how you want to serve and who you want to serve. Her latest book, 'Ongoing Success and Wellbeing: A Daily Guide to Cultivate Fulfillment in the Pursuit of Achievement,' offers practical solutions to overcome troubling situation and discovering the foundation for successful and fulfilling life.
After losing her twin brother to suicide, she founded the Canadian nonprofit, Reach Out Together Foundation, which provides mental health resources and training to students, young professionals, parents, and corporate leaders. Aanchal has perfectly realized how important wellness is to success. In an era where mental health is still not readily discussed or addressed, she is on a mission to provide easy-to-use resources to improve mental health and create balanced wellness.
As a professional motivational speaker, she inspires audiences worldwide with tips for ongoing wellbeing and success that are balanced. Admired for her straightforward and easy-to-follow approach, Aanchal focuses on seven areas of life for personal development. If one area suffers, your holistic health gets impacted. If you are focussed on improving two or three areas but do not pay attention to the others, you may not be feeling fulfilled.
Physical Health
It's easy to take this for granted when you have it. Only when it's compromised does one realize the importance of physical health. But it's easier to take care of your body than treat it. Aanchal reinstates the connection between a healthy mind and a healthy body — reminding us to focus on both for a better life.
Mental Health
While the deterioration in mental health is not as apparent as physical health, it's undoubtedly as dangerous — if not more. Aanchal urges us to treat our body and our mind as a temple. After all, we are what we think. To quote Abhijit Naskar, "The world grows when the mind grows, the world falls when the mind falls."
Financial Health
Aanchal the importance of financial independence early on. Since then, she relentlessly sought success and made it her life's purpose to help others succeed as well. She teaches that financial independence is the key to ongoing wellness and success. Removing debt removes stress and opens opportunities for continued success.
Emotional Health
When we live with an attitude of gratitude for ourselves, our work, and support for others, we'll find it easier to stay emotionally healthy. Aanchal's success story, despite her struggles, is a testament to that. She is always able to find something to be grateful for in the darkest of times. That one light has been a beacon that has carried her through. Now, she teaches this resilience method to help others preserve and create balanced emotional health.
Work & Career
Aanchal's journey reverberates the African proverb, "If you want to go far, go together." She does what she loves. If you can't do that, then love what you do. And remember that we work so we can live, not the other way around.
Relationships
Our relationship with ourselves influences our relationships with others. We are all works in progress, so it helps to be kind to ourselves and each other. Aanchal is a celebrated visionary today, and she credits her success to her ability to value her relationships by focusing on the positive aspects. The relationships she has with friends and family are as strong as the relationship she's built with herself. You can't be a strong person for others if you can't be strong for yourself.
Spiritual
The stardust that forms us will eventually fall apart and never combine the same way again. It's humbling to remember that, and it can help widen the horizon beyond oneself. Having lived through one tragedy after another, Aanchal found her life's purpose to be a source of help and comfort to others and is proud that her work will continue to impact lives even after her. Having faith in a brighter future and a legacy gives everyday purpose.