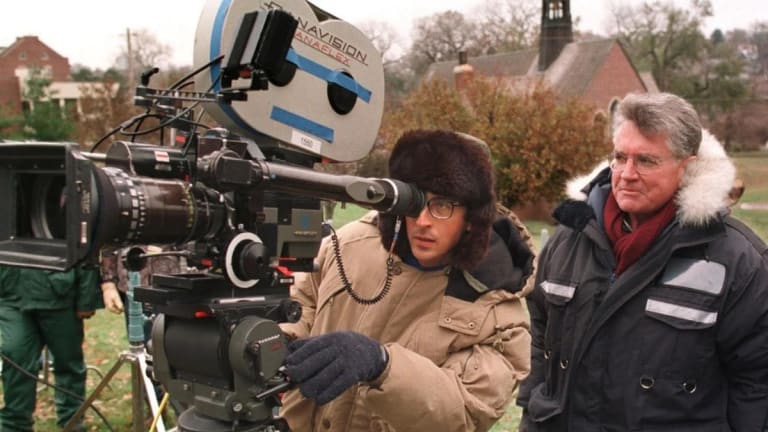 Alexander Payne Talks On-Set Rituals and Pandemic Obstacles
Filmmaker Alexander Payne takes a break from filming The Holdovers in Boston to discuss his on-set routine and how the pandemic has changed moviemaking.
Director Alexander Payne is currently filming The Holdovers in Massachusetts. The film marks the first time he's reunited with actor Paul Giamatti since their Oscar-winning work on 2004's Sideways. According to Payne, many things have changed since they made Sideways, primarily because of the COVID-19 pandemic. "We had been very much wanting to make a movie together again, and this role was tailor-made for Paul."
However, the more things change, the more they stay the same, and Payne admits he has some on-set rituals that have become a part of his daily routine. "During the pandemic, many film and television productions continued since it was considered an essential service," notes Payne. "Thankfully, the on-set protocols are kind of routine by now. They were so scary and new before the vaccine. A lot of film and television production continued, and I have reports from friends who said how time-consuming it was to get work done."
Alexander Payne on How the Pandemic Changed Movie Production
Alexander Payne is grateful to have a protocol to keep everyone on set safe during the continuing COVID-19 health crisis. "Now it's pretty ironed out," points out Payne. "I get tested three times a week. Everyone gets tested multiple times a week. They've got it down to a science." 
Filmmaker Alexander Payne takes a break from filming The Holdovers in Boston to discuss his on-set routine and how the pandemic has changed moviemaking.
He's also relieved the process has become streamlined and efficient. "I feared the testing was going to slow down the days of shooting, as it did at the very beginning of the pandemic. You could only have a specific amount of technicians on set at a certain time, whereas normally everyone is on set and clambering all over one another," says Payne. "It ended up being like the art department had it, and then the lighting guys had it, and then the sound department. So it happened in order, kind of, instead of everyone at once. But the vaccine has helped a lot. That's all I know."
Alexander Payne: Movies Should Be an Entire Experience
Streaming services like Hulu, Netflix, and Apple TV+ got a boost during the pandemic as lockdowns and public safety concerns kept people at home eager to consume entertaining content on their televisions and digital devices. "The streaming services have the room for smaller, more human, and idiosyncratic work. That's all great, but what is not great is if people don't want to go to movie theaters anymore," says Payne. "It remains to be seen, but that aspect of the movie industry could suffer and that would be a tragedy."
The filmmaker is hopeful cinemas will survive in the post-pandemic world and people will want to go out to see his movies on the big screen. "A movie is meant to be seen in a community with other people," says Alexander Payne. "The whole idea of cinema is not just to see what is on Netflix one minute, and it's gone the next day. It is all kind of too easily consumed and easily disposed of. Cinema isn't just about seeing a movie. It is about the presentation of it and the conversations around it, the reviews, the culture, including cinema magazines, critics, intellectuals, and nonintellectuals talking about what a movie is and letting it penetrate more deeply into our souls and into our culture. We must not lose cinema culture."
The Filmmaker's On-Set Routine
"I usually get to the set early, at least 30 minutes early so that I can walk around and make sure the sets look good," he explains. "I like to act out the scenes a little bit for myself so that I know what the actors are going to go through." Then he eats breakfast. "My only inviolable ritual in all of filmmaking is that I nap every day at lunchtime," says Payne.
The down-to-earth director isn't one to pull rank, except when it comes to his need for a nosh before his noon nap. "I sprint to the lunch line," says Payne. "The only director's prerogative I use is to take cuts and go to the front of the lunch line.
"I say, 'excuse me' and cut into the front of the line so that I can wolf down my food and then sprint to my trailer so that I can get to sleep," says Payne. "I usually nap anywhere between 20 minutes and 30 minutes," he shares.
It's working: Alexander Payne's little skip-and-snooze keeps him sharp on the set and has paid off at the box office and awards shows. He is a two-time Academy Award-winning filmmaker. His films — Citizen Ruth, Election, The Descendants, About Schmidt, Nebraska, Downsizing, and Sideways — have been nominated for 19 Oscars and eight Golden Globe Awards. In addition, Payne has personally won two Academy Awards for Best Writing (Adapted Screenplay): for Sideways in 2005 and The Descendants in 2012.
"There is an efficiency now to my work, which I'm enjoying," says Alexander Payne. He is expected to wrap up filming on The Holdovers in March.
Tiqua Jackson