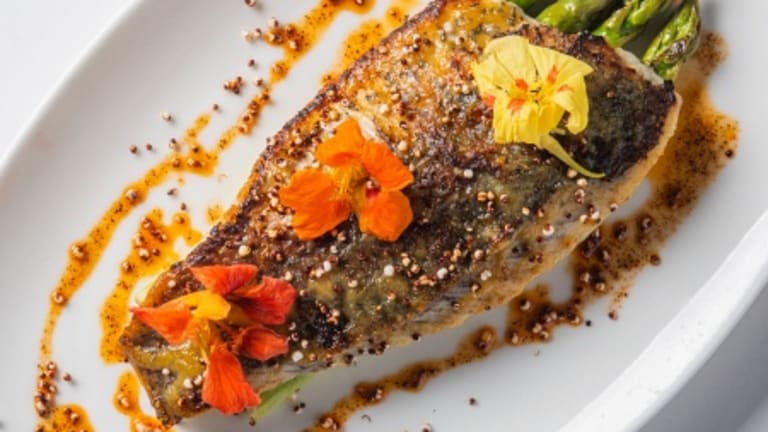 Baked Fish with Lemon Cream Sauce
Once baked, the fish juice blends with the other ingredients and transforms into a highly flavored sauce
Baked Fish that comes with a beautiful lemon cream sauce is a perfect recipe for a lazy Sunday dinner. A dish that is easy to prepare, delicious, and gives you the health benefits of seafood.
Your family will love this keto-friendly and gluten-free recipe. Toss some asparagus to complement the dish and add lemon wedges for those who want a tangy taste. Once baked, the fish juice blends with the other ingredients and transforms into a highly flavored sauce. Mop up the sauce with bread or scoop out over mash potato.
Best Fish to Use in the Dish
Almost any fish are bake-friendly, however, this recipe requires white fish. Take your pick from snapper, hake, tilapia, cod, bass, grouper, or haddock found in the best fish market in your locale.
Once baked, the fish juice blends with the other ingredients and transforms into a highly flavored sauce
A thickness of 2 cm (4/5 inches) will bake well. Any thicker will take longer to cook and stiffen the sauce too much. Cooking time takes about 10 – 15 minutes at 200ºC/390ºF pre-heated oven depending on the size and thickness of the fish fillet.
Ingredients
4 x 150- 180g / 5 - 6 oz. fish fillets, about 1.5cm / 1/2" thick, skinless and boneless
50 g / 4 tbsp. unsalted butter
1/4 cup heavy / thickened cream
1 - 2 garlic cloves, minced
1 tbsp. Dijon mustard
1 1/2 tbsp. lemon juice
Salt & pepper
1 1/2 tbsp. finely chopped shallots/scallions, white part only
Fresh parsley and lemon slices, to serve
Step-by-Step Guide
Warm up the oven to 200ºC/390ºF.
Arrange fish fillets in a single layer over a baking sheet on a baking dish, fillets shouldn't be packed closely together. Drizzle salt and pepper on both sides.
Combine butter, cream, garlic, lemon juice, mustard, salt, and pepper in a microwave bowl. Set for 2x30 sec bursts, stir in between until mixture is melted and smooth.
Toss the finely chopped shallots over fish fillets and pour sauce.
Bake for 10 to 15 minutes. If meat easily flakes with a fork, fish is cooked.
Dress with parsley and lemon wedges.
Important Points to Consider
Pat dry with paper towels thawed frozen fish. Liquid from the frozen fish will cause the sauce to thin a bit.
Substitute evaporated milk for cream for a healthier dish, but add 2 tsp. of mustard.
Shallots/scallions add something to the sauce, you can skip this if you don't want the taste.
If you want to thicken the sauce, remove the fish from the baking dish and return the pan to the oven. It will thicken quickly so watch closely to get the desired consistency.
Fish is rich in omega-3 acid, which helps prevent medical conditions like strokes and heart attacks.
Sidings to Compliment the Dish
Consider some side dishes to stimulate the appetite of your diners to compliment your main meal of baked fish with lemon cream sauce.
Cabbage salad
It is coleslaw sans the mayo seasoning.
Ingredients
Salad:
5 cups shredded green cabbage
2 cups shredded red cabbage
1 cup shredded carrot
Dressing
¼ cup cider vinegar
2 tbsps. vegetable oil
2 tbsps. white sugar, to taste
1 tsp. Dijon mustard
½ tsp. salt, to taste
Instructions
Combine and jiggle dressing ingredients in a jar.
Place salad ingredients in a mixing bowl and pour the dressing. Toss and refrigerate for about 20 minutes before serving.
Greek salad
Greek salad has a deliciously blended red wine vinegar dressing and no lettuce leaf.
Ingredients
Salad
1 English cucumber, cut lengthwise, seeded, and sliced ¼-inch thick
1 green bell pepper, chopped into 1-inch pieces
2 cups halved cherry tomatoes
5-ounce feta cheese, cut into ½ inch cubes
⅓ cup thinly sliced red onion
⅓ cup pitted Kalamata olives
⅓ cup fresh mint leaves
Dressing
¼ cup extra-virgin olive oil
 3 tablespoons red wine vinegar
garlic clove, minced
½ teaspoon dried oregano, more for sprinkling
¼ teaspoon Dijon mustard
¼ teaspoon sea salt
Freshly ground black pepper
Instructions
Whisk the dressing ingredients in a bowl.
Mix the salad ingredients in a large bowl. Drizzle with the dressing and gently toss the salad, add some oregano and mint leaves.
 A Fantastic Quick-fix Meal
Don't let the simple ingredients and preparation of baked fish in a lemon cream sauce fool you, coz this fantastic quick dish is so delicious. It's hard to believe that the infusion of flavors happens in one baking dish.
What's more the omega-3 acid in fish helps you with some health conditions.