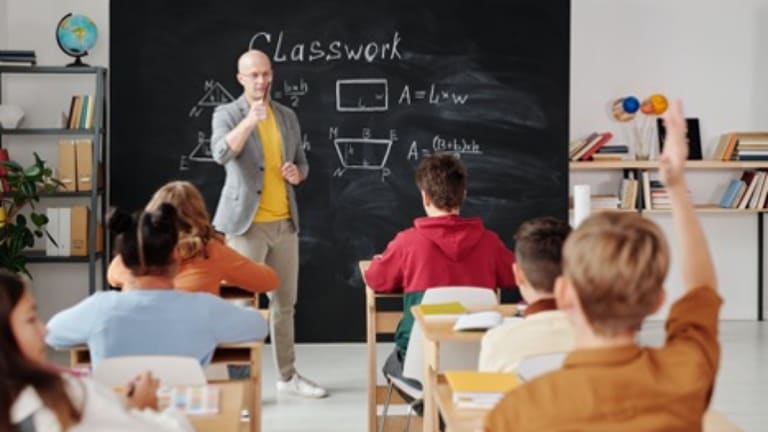 7 Tips to Become a Good School Teacher
Teaching students is only half of your job. The rest involves keeping abreast of new knowledge and seeking professional development opportunities.
How many of your teachers do you aspire to be? A few? Why? Only a fraction of the teaching population retains the qualities that students demand or admire. Such teachers go out of their way to make the classroom a space where students can freely voice their queries and opinions.
Teachers are considered the backbone of any society. They mold young minds with the power of education, which helps students to shape the future. Apart from formal education, teachers open students' eyes to new and intangible ways of looking at life. They offer guidance and inspire students to pursue their passion. In a nutshell, teachers change lives for the better.
Good teachers possess numerous qualities. If you are looking for ways to be a teacher who students look up to, or at least remember in good ways, consider adopting a few essential qualities mentioned below.
Never stop learning
Teaching students is only half of your job. The rest involves keeping abreast of new knowledge and seeking professional development opportunities. Subjects change over time. Thus, to keep up with the latest knowledge, you need to enhance your education or look for ways to enhance students' learning experience. For instance, you may attend teaching conferences, seek guidance from qualified educationists, get certifications in specific subjects, or pursue your master's degree.
Teaching students is only half of your job. The rest involves keeping abreast of new knowledge and seeking professional development opportunities.
Many specializations, such as curriculum and instruction, early childhood education, etc., are now being offered online. You can opt for a C & I Masters in Education online and learn to design and implement an informational curriculum for a diverse group of students. Moreover, this may open doors for you to become a teacher leader or a curriculum director in the future.
Be passionate about your job
Teaching is a demanding yet rewarding job. Those who feel a calling towards this profession never grow tired of it. But teachers mostly lose interest in teaching by repeating the same things. A lack of passion may have detrimental effects on your teaching quality and the quality of learning on the students' end.
Whenever you feel apathetic towards your subject, look for ways to make your class interactive and engaging. Simple things like changing your teaching style, presenting students with fascinating facts, or modifying your presentation may pique students' interest.
Develop a constructive classroom environment
A constructive classroom environment is instrumental in creating an effective learning environment. Follow the given guidelines for managing classroom challenges professionally:
In case of a class conflict or misbehavior, discipline the students promptly and thoughtfully. It is best to resolve such matters on time in the class and hold students accountable.
When students start to create problems out of boredom or lack of interest in the subject, assign leadership roles. This technique will help you engage troublemakers.
Encourage silent or introverted students to participate in class discussions or activities. Provide them with various avenues of participation and create a safe environment for individual opinions.
Spread positivity
Regardless of how many challenges you face in your personal life, how sleepy you are, how frustrated you may be, start your class with positive energy. Never let your emotions overshadow the whole learning environment. Leave your issues outside the class. Just like negative energy, positive energy is contagious and can spread among students.
Also, try to accentuate positivity in your class. Always praise students and support them in their struggles. When you are too stressed, try out some stress-relieving techniques instead of pouring your anger on students. This way, you will recuperate, and negative energy won't be able to bring you down.
Befriend your students
Try to become friends with your students while maintaining professionalism. Find ways to connect with them and acknowledge their interests. A little friendly interaction may help you discover their learning styles and other concerns about the course curriculum. This way, you will be able to cater to their individual needs. If possible, try to engage their parents as well. Parents will probably tell you the weak points of their children and what they struggle to learn.
Stay organized
Stay organized and manage your time well to keep up with the challenges you may face. Teachers have loads of work to finish in a stipulated time. If you let piles of work grow above your head, you are more likely to fall behind in addressing other things.
From creating lesson plans to delivering effective lectures, you already have a lot on your plate. So, you should plan ahead of time and pen down any new ideas that are less likely to pop up in your mind when you are too stressed and occupied. Keep track of all the necessary coursework beforehand so you may counter any unprecedented challenges in your classroom.
Self-reflect
The most fundamental tip to becoming an effective and influential teacher is doing self-reflection. Evaluate yourself as a teacher, think about what went well and where you failed as a teacher.
While evaluating, don't become too critical of yourself and take yourself as incompetent. Don't let negative automatic thoughts play with your mind and take over your behavior. Everybody experiences hard failures from time to time. Learn from your failures. Rather than blaming yourself for incompetency, utilize your time to strengthen your teaching skills and give your best in class.
Conclusion
Teaching is a profession that requires considerable patience and dedication. However, it is also among the most fulfilling jobs. Becoming a teacher the students admire won't happen overnight. But continuous learning, immense passion, spreading positivity, self-reflection, etc., are some ways that may help you become a better teacher. Embrace your job wholeheartedly no matter what circumstances you are going through. Mask your problems, take failure as a learning experience, encourage feedback from students, and bring positive energy into your class. These simple tips can go a long way in making you the teacher every student loves.