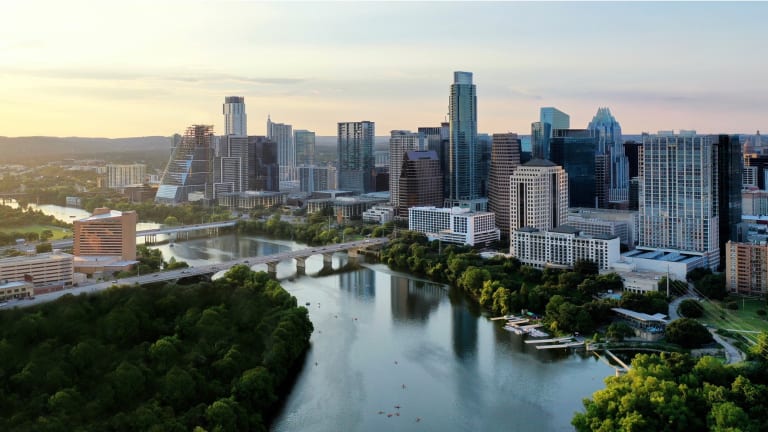 Brian Sheth Fights to End Homelessness in Austin, Texas
He's turned his attention to helping homeless people in his hometown, collaborating with the Cicero Institute to end the plight of those without permanent shelter.
The old adage, "With great power comes great responsibility," far predates its usage in the Spider-Man canon. No matter where he may have heard it, billionaire businessperson Brian Sheth obviously walks the walk. The Austin, Texas leader has an extensive history of philanthropy in public service and wildlife conservation. And now, he's turned his attention to helping homeless people in his hometown, collaborating with the Cicero Institute to end the plight of those without permanent shelter.
It's a Wild World
Sheth's founded two charities dedicated to wildlife conservation. The Sheth Sangreal Foundation has provided over $60 million to fund efforts to reforest land and protect endangered species in over 80 countries. The Global Wildlife Conservation, which has since merged with the Leonardo DiCaprio Foundation to form Re:wild, is another of Sheth's organizations. This program is dedicated to preserving the Earth's biodiversity by saving endangered species from extinction, generally through a combination of habitat restoration and breeding programs.
No less a luminary than famed primatologist and anthropologist Jane Goodall said, "In all my years as a conservationist, I have never met a supremely successful businessman who devotes more time and is as passionate as Brian about saving our planet."
The admiration is mutual. Says Sheth, "Jane's unyielding drive to leave a positive mark on the word each and every day has had a profound impact on my life and philanthropy."
Think Local (Causes)
In Austin, Sheth has started various initiatives to improve the lives of residents in need. He and his wife, Adria, donated $1 million to assist local organizations dealing with the COVID-19 pandemic. They also provided additional financial support to help residents cope with the unusually severe winter of 2021, which was a natural disaster in Texas.
"2021 has seen a number of challenges to our Austin community," he said about his assistance that year. "Watching our community support one another throughout the year, matching each challenge with renewed support for our neighbors, has been the most uplifting inspiration for our family."
The Sheth Sangreal Foundation also assists various public health causes in Austin and throughout the world by focusing on populations that are traditionally disenfranchised and underserved, recently donating $1 million to the Austin Area Urban League, which is dedicated to providing all Austin residents with an equitable quality of life.
The Cicero Institute
The Cicero Institute is based in Austin and is dedicated to leveraging the innovation of leading entrepreneurs and technologists to fix broken public service systems in the U.S. "The Cicero Institute applies the innovative energy of America's leading technologists and entrepreneurs to broken systems in the public sector to advance liberty and opportunity for all Americans," says its website.
This organization celebrates ideas and results and seeks to create a competitive spirit that reflects that of the private sector by promoting innovation and entrepreneurship in areas where they don't currently exist.
Sheth is working with fellow business and technology leader Joe Lonsdale on the Cicero Institute's initiatives. The pair have pledged their support to the Cicero Institute and its fight to end homelessness in Austin with both their time and financial resources.
Entrepreneur in Residence Program
The Cicero Institute seeks to create innovative solutions for homelessness with its Entrepreneur in Residence Program. Sheth and Lonsdale will join this program, which is currently searching for entrepreneurial mission-driven MBAs to establish a new nonprofit organization to look at the homeless population in Austin. They will also lead this organization in developing new strategies based on business principles. Together, members of the Entrepreneur in Residence program will engage Austin's top business leaders to benefit from their financial support and management skills. They will also work with government officials from the city of Austin and state of Texas.
The first steps in this process will consist of a qualitative and quantitative analysis of people living on the streets of Austin, including collaborating with existing homeless groups. The goals of this effort will be to assess these groups' ability to get families and individuals off the street, in addition to dealing with related factors like mental health and substance abuse.
Austin's existing nonprofit organizations and government agencies have already contributed much to the fight against homelessness. The Cicero Institute plans to provide the perspective of top business leaders, with the expectation they can provide additional help needed to develop lasting solutions for this problem. These leaders are mission-driven, creating an opportunity for the right individuals to build a new organization that can serve as a model for other cities in their programs. The Entrepreneur in Residence Program will also partner with documentary filmmakers to share and promote the innovative solutions it develops.
This is just the next charitable step for Brian Sheth. He says, "We're committed to the long-term support of our neighbors, many of whom aren't supported by traditional means."