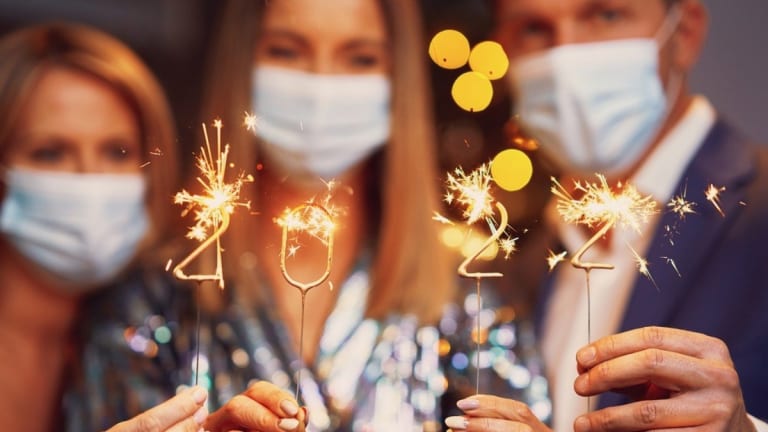 How COVID Will (or Won't) Impact the Business World in 2022
The question on every business owner's mind right now is, Will COVID continue to impact business as we used to know it?
As we head into a new year that seems at a glance to be two years past the start of the global COVID-19 pandemic, many are taking the time to look back at the changes first implemented in 2020 that have either been discontinued or become a new way of life. Although the pandemic first hit the world almost two years ago, unfortunately we are not collectively out of the fray yet, as variants of the virus continue to arise and certain lifestyle adaptations continue.
While we all know the various ways our personal and professional lives have been affected by additional health and safety precautions and concerns, the business world is taking the time to look towards the future while trying to determine how their businesses will continue to adjust to the necessary changes.
The question on every business owner's mind right now is, Will COVID continue to impact business as we used to know it?
The question on every business owner's mind right now is, Will COVID continue to impact business as we used to know it? While companies have adapted to the "new normal"–by transitioning to online, adjusting shipping options, sending employees to work remotely–and maybe even ended up better off for the changes made, the question still lingers whether businesses will ever go back to their original way of life. And surely another hot topic on CEO's minds is whether the new variants of COVID will actually set back businesses to even stricter structures like at the beginning of the pandemic, as some measures have been withdrawn in the last year.
In order to get an understanding of what is on their minds concerning whether COVID will continue to wreak havoc on the business world in 2022, we reached out to some of the top companies dominating the professional space right now to ask their opinions on how they think business will look moving forwards.
COVID-19 Has Changed Things–For the Good?
Amanda E. Johnson, the chief marketing officer of at home salon-grade nail products company Nailboo will be the first to admit that COVID has certainly made changes to the business world. But Johnson also believes that the adjustments are going to be lasting, and she points out how maybe that's actually a good thing.
"There's no denying it: Covid-19 has largely made a difference in the business world. The shift has been so immense that I don't think we will ever be completely abandoning the changes made in 2020 and 2021 to return to exactly as we were before. And I also do not necessarily think this is a bad thing. Although Covid has placed an enormous amount of strain on many companies, particularly small businesses, there have also been positive changes that were probably a long time coming. For example, Covid-19 has not just shifted the way we work, it's also completely upheaved the way we think about work. People now realize that flexibility can be a normal part of the professional environment. The more I talk to people, the more I hear that the ability to work from home or to adjust their hours around important personal situations has been a huge help," says Amanda E. Johnson, Chief Marketing Officer of Nailboo.
The senior brand and customer experience manager of responsibly made workwear company Xena Workwear also reminds us how COVID-19 has already made a significant impact on the professional working experience as we used to know it, but again, not all for bad; one important change Albright points out is the shift towards realizing the effect work has on peoples' mental health.
"The pandemic has forever changed from where we work. Physical positions are being converted to full-time remote and hybrid ones. As employees are starting to spend months working from their virtual offices, mental health is becoming a topic of concern. In the absence of sick days and a typical workday, businesses will need to embrace work-life boundaries and flexibility for their remote workforce. This will help increase employee satisfaction who are starting to prioritize their health, safety, and well-being in this new world.
Since so much more time is spent outside of work, workwear will also need to evolve. Workwear that can seamlessly transition from job to life and to everywhere in between will be in high demand. Uncomfortable high heels are out. Functional fashion is in," says Hayley Albright, Senior Brand and Customer Experience Manager of Xena Workwear.
Ryan Rockefeller, the co-founder and CEO of an accessible allergy company called Cleared, also has generally positive reviews for the changes from COVID that will continue in the years to come.
"A small shift I've noticed these past two years is that when I previously heard people talk about covid-19 in relation to their work life, it was all based around fear for how their positions would change and possibly even be in jeopardy. Then, when on-location workers were sent home in 2020, I heard a lot of uncertainty and disappointment. However, as we've progressed at the end of 2020 and in 2021, I think we've all gotten really good at adapting and making the unique work situations serve us well. Now I usually hear people talking about how they love the flexibility of their job–whether they're still remote, working a hybrid model, or even if they're back in person–because the ideas about work hour rigidity have largely faded. Employers now realize just how important it is for their workers to have a sense of flexibility in their days and weeks. And employees understand how–and where–they work best.These changes will continue into 2022 and for a long to come I hope," says Ryan Rockefeller, Co-founder and CEOof Cleared.
Another positive impact of the changes in the work environment are increased offerings for workers who need the assistance. Kashish Gupta, the founder and CEO of analytics company Hightouch points out some of the specific areas of assistance many companies are being more flexible about.
"Employers understand their workers better now that we've all lived through the worst part of the pandemic because they themselves also experienced the fear and uncertainty. As a result, many workplaces are offering increased benefits to their staff, such as flexible hours, additional sick leave, and financial assistance. These have not been normal times for workers, but they are becoming our new normal, so businesses understand the importance of adapting for the good of their employees," says Kashish Gupta, Founder and CEO of Hightouch.
The Changes Businesses Have Experienced Are Here to Stay
Although no one would argue that COVID-19 has not caused much pain and suffering in our world, some business leaders are able to see the positive changes that have come out of the new measures made when needing to adapt. In the same vein, the co-founder and CEO of healthcare supplement company Nugenix believes the major impacts of COVID-19 have already been implemented. Adcock is optimistic that with the knowledge of how to adapt rapidly already under business's belts, adjustments will be minimal and without difficulty in the year ahead.
"I do not think that Covid will impact the business world in 2022 because it already has. People have adjusted to the new work-life and environment, and a majority are not going back to the way it once was. We will continue to adjust based on what we need to do to keep the workflow, but Covid already impacted us in 2020 and 2021," says Brandon Adcock, Co-Founder and CEO of Nugenix.
Damola Adamolekun, the CEO of popular restaurant chain P.F. Chang's agrees that COVID-19 will continue to be a part of our lives in 2022, which now most workers can accept even after some pushback in 2020. Adamolekun believes overall the changes were always meant to happen, so now that we've adapted we can feel better continuing the way we need to in 2022.
"My life as a CEO has been entirely Covid. With all the volatility and the change, and the constant adapting, you know, rules changing by location, by municipality, by state, with all that volatility in the environment, it was critical that we simplify what we could within our business to kind of balance that to the extent that we could. If we're able to keep the gains that we've achieved on the digital side of the business, while also welcoming guests back into our restaurants, it is a real opportunity to drive overall unit volumes. There's basically two camps of thought in the restaurant business, some folks who saw this as a temporary issue that they needed to get through so they can get back to the way things were ... 'Let's figure out delivery for this period of time, so we can go back to not having to deal with it.' And there's folks who I think saw it as more of an acceleration of the way things were already going. And we just arrived at the future sooner. I think that's going to be a trend that you're gonna see not just next year, but going forward here, as we continue to live with Covid rather than defeat it," says Damola Adamolekun, CEO of P.F. Chang's.
The founder and CEO of polycystic ovarian syndrome virtual consultant business Allara agrees that the changes we have experienced in 2020 and 2021 will likely remain in place in 2022, but that the impacts should be minimal since businesses already understand how to be flexible.
"Many impacts of the pandemic on the business world are here to stay. E-commerce, for example, saw massive growth as a result of COVID, and many customers placed online orders for the first time. Now that they have grown accustomed to this level of convenience, many of them will continue to do business virtually. Businesses that are not amping up their online presence will be at a major disadvantage going forward," says Rachel Blank, Founder and CEO of Allara.
People not only think differently about how they operate as workers, but they also shop differently, as pointed out by the chiefs of the healthy soda brand Olipop. This in turn means businesses need to give themselves a digital retail space to keep up with the online shopping wave.
"I think one difference set in place by COVID-19 is the way people shop. Before the pandemic, there were certainly people who enjoyed online shopping, but it has never been as big as it is now. Today businesses must have online retail space in order to survive against their competitors. From now on eCommerce shopping is never going to die down because people realize the sheer ease and convenience of ordering online and either picking up in-store or shipping straight to their doors. In 2022, businesses are going to need to refine their online stores even more, and make sure they keep up with their competitors by offering more site accessibility and a broader shipping reach. It's actually a positive change for businesses that were previously confined to small geographical areas, since now they can reach customers anywhere in the world," says Steven Vigilante, Head of New Business Development of OLIPOP.
James Ville, the chief product officer of gun wrap company Gunskins points out the way remote work has also taken off, and will continue to be a professional way of life going forwards.
"After remote work became a manageable system in 2020 as people learned how to effectively work outside of their office spaces, remote work will now always continue as a new normal for workers. That's not to say no one will work in person anymore; we've already seen in 2021 that many are eager to get back to their offices and work buildings. However, companies will continue to employ remote workers, and fully and partially remote work will continue to be an option for employees moving forwards. Essentially, employees will get to determine what types of role they would like to apply for, whether remote or in person," says James Ville, Chief Product Officer of GunSkins.
A Closer Look At Specific Impacts
With all the talk on how COVID-19 is likely going to stick around in 2022, and even if not, it's newly implemented effects on the business world will, some CEOs are prepared to discuss the specific impacts they anticipate COVID will proceed to have on their businesses. One such hardship on shipping companies, such as Deutsche Post DHL Group, is the backlog on ocean freight that increases shipping time and decreases shipping ease.
"Air freight is some way from returning to full capacity. Ocean freight, the ocean market is going to take longer, the piers are working 24/7, the ports are working 24/7, but there's still a big backlog there. And everybody is pressing towards air cargo, air cargo capacity, airline capacity. And depending on what happens with omicron…based on what we saw before…that is going to put incredible pressure back on air travel," says Mike Parra, CEO of Deutsche Post DHL Group.
Similarly, Kevin Miller, the founder of KevinMiller.com discusses how COVID-19 has had a dramatic effect on supply chains, making it much more difficult for businesses to receive and sell their products.
"COVID has already impacted businesses in a variety of different ways over the last couple years. It will continue to impact businesses in 2022 especially from a supply chain perspective. Supply chains are restricted through the pandemic and it is difficult for companies to get the components they need to make the products they sell. I see this trend continuing through 2022," says Kevin Miller, Founder of KevinMiller.com.
The changes from COVID-19 have also adjusted the type of workers that are more in demand these days. For some companies, full-time workers are less desired than contingent workers who are paid less by getting paid only for the amount of work they do, differing from salaried workers. The shift is all due to needing to cut costs because of harsh financial impacts, as mentioned by the co-founder of water heater installation company HomeBreeze.
"Many companies are replacing gig workers with contingent workers out of necessity due to the financial impacts of Covid-19. Rather than having a whole team of full-time salaried employees, we are seeing many businesses, particularly small businesses, choosing to reduce costs by adjusting their employees' work models," says Christopher Ager, Co-Founder of HomeBreeze.
The general consensus amongst business leaders is that COVID-19's effects on the business world were extreme and necessary for company survival, so they will largely remain in place both due to their positive aspects of employee wellness and assistance as well as the essentiality of the measures to allow businesses to remain open while COVID strains continue to linger. As difficult as the years behind us have been, many CEOs are optimistic about the positive results of the business world's adaptations, such as increased flexibility for employees. Although we all need to prepare ourselves for COVID-19 to join us in 2022, the good news is that people are resilient, and the majority of adapting to a pandemic is behind us now.