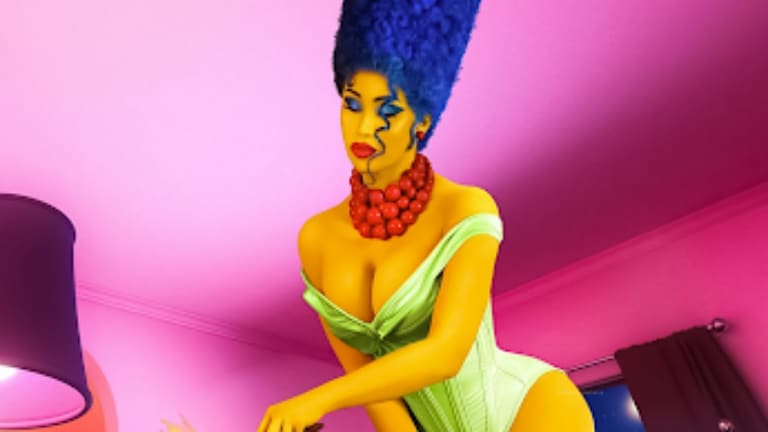 Cardi B's Marge Simpson Cosplay, Leaves Some Green With Envy
The Halloween costume was an outstanding success, with an eye watering 7 million likes in just 48 hours it clearly took the fancy of a lot of her fans.
Marge Simpson: long suffering wife, mother of 3, croaky voiced matriarch and moral guide to her family, sexy…sexy? That word doesn't fit, surely. Incredibly the yellow skinned and blue haired icon has been transformed by none other than the phenomenon that is Cardi B.
Donning Marge's enormous blue hair in the form of a wig, a strapless green dress in the creatively altered guise of a tight corset, and even turning herself yellow, Cardi B posted a set of images of herself in cosplay.
She shared the Halloween vibes to her instagram followers on 1st November with the caption "Ms.Marge Simpson💙❤️". It feels almost sacrilegious to associate Marge Simpson's wholesome appearance with a sexy look but somehow Cardi pulls it off magnificently — what a wonderful girl!
Traditional…with a Twist
The Halloween costume was an outstanding success, with an eye watering 7 million likes in just 48 hours it clearly took the fancy of a lot of her fans. It deserves to as it is a remarkably well done copy of the original, with Cardi B inserting her own twist to make the look fully her own. The change from a maxi dress to a tight corset that fully shows off the amazing effects of her waist trainer routine was particularly noticeable. Cardi has been an advocate for waist trainer regimes for years now and the results are certainly hard to argue with here.
Showing off her intricately patterned tattoos the now yellow skinned Cardi B is shown in a variety of poses in the set of 6 pictures: cleaning, holding her hair up as she pulls a fierce expression and even strutting towards the camera in a short video that really highlights her figure.
Mugler Inspired
The triple platinum winning artist later posted another set of 4 Marge Simpson photos in a Thierry Mugler inspired dress. The fashion design was based on the fan art of artist AleXsandro Palombo.
The Thierry Mugler dress is a sleek black and white floor length dress with a cheeky cutout above the buttocks to give what some might term "butt cleavage". The striking image solidifies Cardi as the number one Marge Simpson in all the land, even above another female rapper who had the same idea.
Singer Lizzo posted a Marge Simpson inspired look 2 days earlier. To be fair, the Juice singer did not have the extra help of Cardi's incredible corset to really supercharge the outfit. And though some would buy the best waist trainer for weight loss, Cardi B's costume gives it a different twist
A New Album Coming
The post is adding even more excitement to the imminent arrival of her highly anticipated 2nd album. Her first project was 4 years ago in 2018. That first album, "Invasion of Privacy" is seen in one of the images. Perhaps that was a hint of what is to come.
Not having released an album for four years hasn't seemed to stop the influence of the Bronx, New York born rapper. She recently became the 6th highest selling female artist in the USA.
She recently tweeted "My son so fire [fire emoji] [red heart emoji] ….I can't wait to get business finish and have my third," suggesting that the album is just on the horizon.
The majority of the more than forty six thousand comments seemed to be positive which shows that Cardi B is more than a force to be reckoned with, even if some might feel envious of her stunning shape. All the more workout inspiration and waist trainer motivation to the rest of us mere mortals trying to measure up to such creative costumes.
No comment yet on if the death of Takeoff, one-third of the Migos and family by way of marriage, will affect her album release plans going forward.
Alex Gaughan