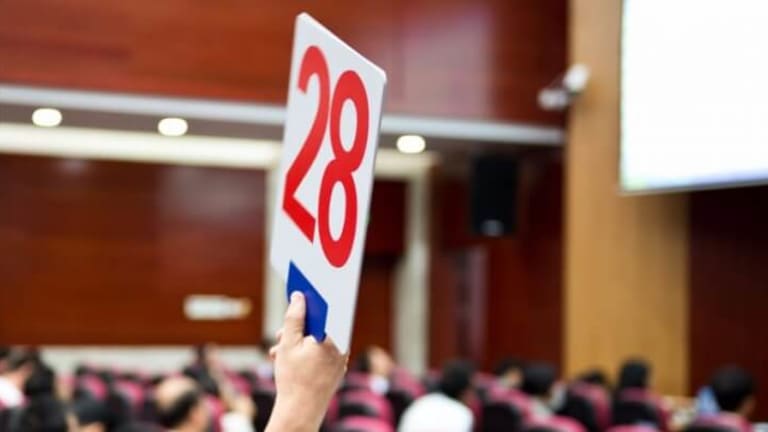 Top 10 Items That Sold Well at Charity Auctions in 2018
Cynthia Madison: Signed sports memorabilia were incredibly popular in charity auctions in 2018. Anything that has been signed by sports celebrities seemed to win the hearts of donators and philanthropists.
Charity auctions are usually referred to as silent auctions. They take place without an auctioneer and the bids are placed on sheets of paper instead. While these are a common occurrence for non-profits that want to raise money, other than using fundraising events like Giving Tuesday, they are somewhat difficult to organize. Regardless, it's all about the auctioned objects as many found out, some categories outperforming others in terms of value. Looking at the data for 2018, the following categories seemed to perform the best.
#1 Signed Sports Memorabilia
Signed sports memorabilia were incredibly popular in charity auctions in 2018. Anything that has been signed by sports celebrities seemed to win the hearts of donators and philanthropists. Throughout the time, Babe Ruth signed memorabilia has been incredibly popular in charity auctions. From the 1919 Yankee contract that he signed, to his signed Jersey, affluent sports enthusiasts seem to be keen to put their money on such items. Also, NASCAR experiences and memorabilia were incredibly popular in charitable auctions in 2018.
#2. Behind-the-Scene Tours
Another well-performing type of experience with high rates of success in charity auctions last year were behind-the-scenes tours. Behind-the-scene tours can vary, depending on what type of experience they offer. This can refer to shadowing the director of a movie set, getting a tour of your favourite chocolate factory of visiting your favourite baseball team during their training sessions.
The winning behind-the-scenes tour in 2018 was Emilia Clarke's idea of raising money for the UK's Royal College of Nursing. By partnering with Omaze, Emilia Clarke decided that anybody who donated at least $10, had a chance to win a tour of the GoT set together with a friend of theirs. The trick was, the more you donated, the more entries you had in the competition. The entire promotion/donation was made public through a funny video Emilia recorded.
#3. Movie Props
Items that were designed specifically for movie sets seem to also outperform other types of objects in charity auctions in 2018. The most popular cinematic artefacts that raised the bar in auctions 2018 were found in a Prop Store auction. Stephen Lane, the chief executive of Prop Store (the auction organizer) donated the money raised to the NSPCC. The auction sold Stormtrooper Helmets, the Han Solo's "The Empire Strikes Back" jacket, a lightsaber used by Hayden Christensen in "The Revenge of the Sith" and more. The amounts raised were enormous and affluent movie enthusiasts in search for current auction deals were more than thrilled to have their money donated to the NSPCC.
#4. Creative Artwork
Creative artwork is another highly-desired type of item that performed incredibly well in auctions in 2018. Many creative artists have partnered with charities and various causes in 2018 and donated their work for charity auctions. The process is relatively simple: artists donate their artwork, collectors receive a full write off and charitable organizations resell the art and keep the auction price as a donation.
#5. Antiques
European and North-American antique dealers seem to have a soft spot for non-profits and many of them chose to donate items from their collections in 2018 to numerous organizations of this type. While some chose to donate their work to museums and help them grow their collections and exhibitions (see the Metropolitan Museum of Arts), other organizations choose to raise the bidding money for more noble causes. Goodwill raised money for its cause through an antique and jewellery auction in February 2018. The money raised went to the organization's Community Employment Centres across Centraland Coastal Virginia that help the unemployed to search for jobs, offer them certifications and training and job placement services.
#6. Reading from a Popular Children's Author
Very popular among schools and libraries, many authors chose to read from popular books they or others wrote in 2018. The money raised went to various charities and non-profit organizations. Organizing such events and auctioning tickets to them has become a trend in 2018. Many schools and libraries choose to place their bids since they can help children get out of their daily school routines while helping a noble cause. Even Robin Williams donated once his own time for this type of prize since authors were unable or unwilling to come. Having a big name attached to the auction will always sell better, but in the end, it's the cause.
#7. Musical Instruments
We have all seen how well musical instruments performed in auctions last year and how high the bids for such items generally are. Music for Relief, the charitable organization founded by Linkin Park following the 2004 Indian Ocean tsunami, organizes yearly music auctions where musical instruments are put up for auction and the money is donated to victims of natural disasters. Over the last 13 years, Music for Relief successfully raised $9 million for the people affected by severe natural disasters, among those the Hurricane Katrina and the earthquakes in Haiti and Japan but also the California Wildfire in 2018.
#8. Military Decorations
The Army and Navy Academy organized in March 2018 a Dinner and Auction and the money raised was used to enable academic enhancement of the cadets, campus renovations and technology upgrades. Most of the money that was bid in the auction were bid on military decorations that many veterans and military staff chose to donate for the cause.
#9. Gift Baskets
Another popular auction item in 2018 were gift baskets. From spa day gift baskets to coffee-themed gift baskets, these worked sensationally well in auctions in 2018. Generally, people donate these gift baskets to these auctions to help raise money for different causes. The REINS Organization has a yearly event where gifts of all kinds are welcome and all donations made are tax-deductible. The REINS organization helps children and adults with disabilities by offering them therapeutic riding sessions.
#10. Travel Packages
The Gift for Life Foundation organizes yearly a travel package auction with travel packages gifted by different big names in the travel and accommodation industry. Last year, on December 13th 2018, some of the most sought-after travel pancakes in the auction were the following:
8 Days and 7 Nights in Tuscany for four. The package was auctioned for almost $5,000 and the money was used to aid the research and therapy development for AIDS.
8 Days and 7 Nights in Belize for eight. Given the fact that the destination is one of the most popular in the Caribbean, there is no wonder that the package was so popular among bidders.
Cynthia Madison
Sponsored