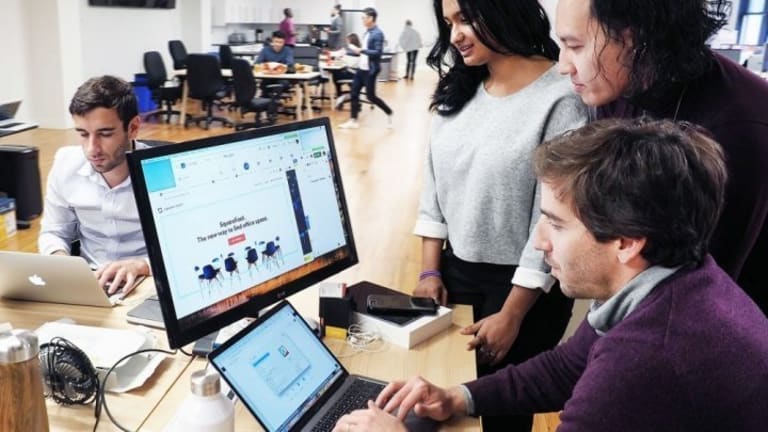 Why Coworking Isn't Just a Fad, It's a Force Changing Commercial Real Estate
Executives should be seriously considering every so often what would be the best approach to keep their businesses growing and must make changes accordingly.
Inside of any industry, to stay relevant, you must be resourceful. As I envision the future of commercial real estate, and plan for the next stage of growth for my company, SquareFoot, I land on flexible office spaces. Many of our clients find comfort and the right fit in coworking spaces, and they can get back to work to grow their businesses. We take that responsibility seriously, and we lay out for them all of the options and opportunities that await them. It's amazing to consider that until recent years there were only a few players in this market, and today there are countless places to choose from, all specializing in one area or another, with different amenities and offerings.
Executives should be seriously considering every so often what would be the best approach to keep their businesses growing and must make changes accordingly.
From speaking with satisfied past and present clients, I've learned that a portion of them have outgrown their spaces. What was once a viable and valuable option for them over time can turn into something that defines a time of their company's past. It's in keeping with the old adage of 'What got you here won't get you there.' Executives should be seriously considering every so often what would be the best approach to keep their businesses growing and must make changes accordingly. Office space selection is one of the areas to add to that list.
So we decided last year, to accommodate this growing need, to launch FLEX by SquareFoot, a first-of-its-kind solution to give companies the office space they want with the lease term they want. For too long, these organizations would identify the right next spot for them to call home, only to discover during the negotiations that they would be required to sign a 10-year lease. Doing so could be damaging to their businesses, as they would need to plan for upgrading or downsizing their businesses, and projections that far in advance would be impossible to commit to. So they wound up having to walk away from the spaces they really wanted. With FLEX, we've created a better path forward, to unlock the potential for 18-month, or 24-month, or 36-month leases and the like.
This decision didn't come easily for us, as it requires us at SquareFoot to take on these longer leases in hopes of dividing them up for worthy clients. But this is the trend that the industry is heading, with more small companies looking for increased flexibility and for landlords to be more understanding of their unique needs. The popularity of and proliferation of coworking over the past decade is partially what led us to make the decision we did. In many conversations we have with clients, the topic of lease flexibility is becoming a given. They want to make sure that they're covered in case something unexpected arises with their businesses, and they're willing to pay a premium for it. Coworking has established itself as a disruptor to the traditional way of thinking about office buildings, and we want to make sure that everyone gets the tailored option that suits them and their teams.
When I hear people say that coworking is a fad, and at risk of being discontinued, I argue that they are being short-sighted and are discounting key players in the market. It's not a surprise that this reality hasn't surfaced as much, or as loudly, as before. We've all witnessed how many more small companies are emerging on the scene, and how much easier it is to get started than ever before. To say that coworking is a fad is also a condemnation, in my opinion, of the startup community that has grown and prospered in many major cities across the country. It stands to reason that we'll need to have office spaces available for those who are just starting out or are budget-conscious or are finding their footing. Not every company is a big one ready to accept the responsibility of a long-term lease. Rather, we should nurse those companies to help them hatch.
When our clients choose coworking options, we are happy to work with and to find the right one for them. We root for them and we hope that some years later they outgrow that space and require something else that can cater to their needs at the time. Now, thanks to FLEX, we can offer them more than the traditional model and process that they can get anywhere. They will continue to be innovators in all that they do, thinking differently and looking for a broker who can provide them with the flexibility they've come to expect. It's our investment in them, and it mirrors our belief that coworking is more than a roundabout idea, it's an extension of what they stand for.
Jonathan Wasserstrum
Jonathan Wasserstrum, Squarefoot CEO has worked for over a decade in the commercial real estate space.