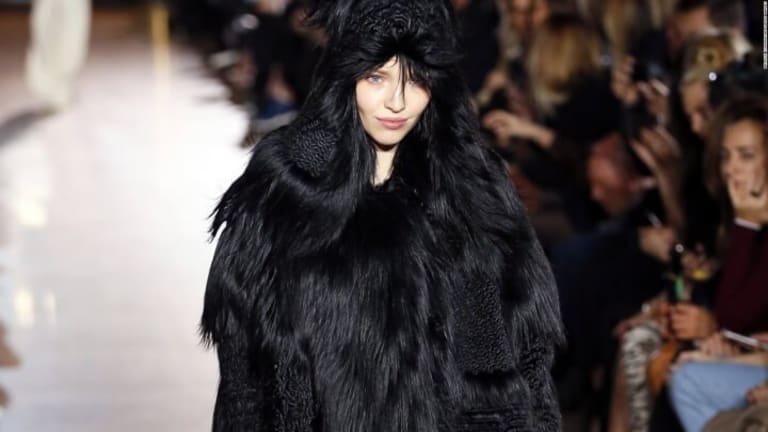 Fashion Brands That Support a Cruelty-Free Industry
Cynthia Madison: The times are quickly changing, and fashion houses have understood that they have an important role in stopping fur farming.
Fashion brands have finally started to understand that it does them no good, if they keep associating their names with animal cruelty. It is true that some luxury brands have reached their success because they have brought on the market some extraordinary fur products, or leather items, but now when they have so many alternatives to replace the fur and leather with materials that do no harm to animals, they have no reason to continue ripping their textiles from the animals backs.
The times are quickly changing, and fashion houses have understood that they have an important role in stopping fur farming.
If you were a fashion designer, would you like to know that the fur you have used to create one of your jackets comes from the back of an animal that spent their short life in a cage, that did not see the light of the day for a single hour, that was constantly overfed to grow in size to provide a greater amount of fur? And this is not all, they are simply tortured, they are electrocuted and strangled to offer the fashion industry the face of a jacket. Because for making an entire jacket, not one, but more than three or four animals are killed, depending on their breed.
But the times are quickly changing, and fashion houses have understood that they have an important role in stopping fur farming. The future of fashion is vegan, and if you do not know, what vegan fashion means, then you should know that the most sustainable form of fashion is the one that uses only PU fabrics and polyester.
Here we offer you the official list of the companies that decided to support a cruelty free fashion industry.
Stella McCartney
People should not be surprised to find Stella's name on this list, she has vegetarian parents, and she was thought since young childhood that she has an important role in protecting animals. She declared that "Fur is the most unnecessary thing in the world," and "Those animals are not eaten, if they try to pretend that the fur industry products are by-products they are not. Those animals are bred to be turned into coats." She designs clothing items that look like they were made out of fur, but she established a label 'Fur-Free-Fur' that will be featured by every faux fur item, to let people know that this brand protects animal rights. She uses only responsible materials to create her clothes, and she does not use leather and fur for any of her products. She brings on the fashion scene totes faux clothing items to show both designers and buyers that they can be as fluffy and soft as natural fur.
Calvin Klein
Calvin Klein decided to keep fur away from his collections since 1994, and he managed to keep his word. When he shared with the world his decision, he stated, "my own reflections on the humane treatment of animals and the fur segment of our business simply did not fit with our corporate philosophy any longer." He is one of the most successful designers in the industry, and he can be proud that he has a clean conscience when it comes to protecting the rights of animals. He masters the art of making faux fur products so well, often people are tricked and they wonder if the designer has forgotten about his past decision. They can be sure he has not, and he will be an animal-friendly designer his entire life.
Michael Kors
In December 2017, the fashion house Michael Kors decided to stop the production of fur made products. The no-fur policy will also include the Jimmy Choo brand, acquired by the UK fashion house in July 2017. Michael Kors was famous for his rabbit and coyote fur products, but when the designer announced that he will ban fur from his collections he also declared "Due to technological advances in fabrications, we now have the ability to create a luxe aesthetic using non-animal fur." The UK brand considers that it is a normal step to make in the present fashion industry when the technology provides so many alternatives, as good looking as natural products.
Tommy Hilfiger
You may be surprised to find out that Pamela Anderson has a role in Tommy Hilfiger's decision to give up on fur. When he attended her wedding in 2007, he met with Dan Matthews, the vice-president of PETA, who convinced him that using fur does a lot of harm to animals and it is great cruelty. He immediately banned fur from his collections. He still designs models that feature fur, only that the material used to create them is faux fur, but many people cannot tell the difference, because it is indistinguishable from the real one.
The same you can say about the clothing items launched by Isabel Marant. Her latest collections fresh from Paris included flowing blouses made from Cupro, a vegan plant-based fibre that it is identical with silk.
Giorgio Armani
The Humane Society International considers that the Armani's decision to ban fur from their collections is the most powerful message the fashion industry received. When the fashion house made the decision the news went global, and it made other famous brands question their values. Armani considers that the fashion industry is nowadays facing a technological progress they have to accept. They declared, "to have valid alternatives that render the use of cruel practices unnecessary as regards animals."
Ralph Lauren
Ralph Lauren does not create all-fur products, but for some of his creations he is using fur details. In 2006, he decided that the company would no longer use fur to embellish any of their products. The Polo Ralph Lauren Corporation stated "Fur has never been an integral part of our design strategy as we had only used it on a limited basis as an accent in some collections," "We are publicly announcing this decision because the use of fur has been under review internally and we feel that the time is right to take this action." PETA considers that Ralph Lauren's decision to remove fur details from their collection is a great victory for the animal cruelty-free campaign. Their example will inspire, and step-by-step all fashion designers will ban fur and leather.
Cynthia Madison
Sponsored