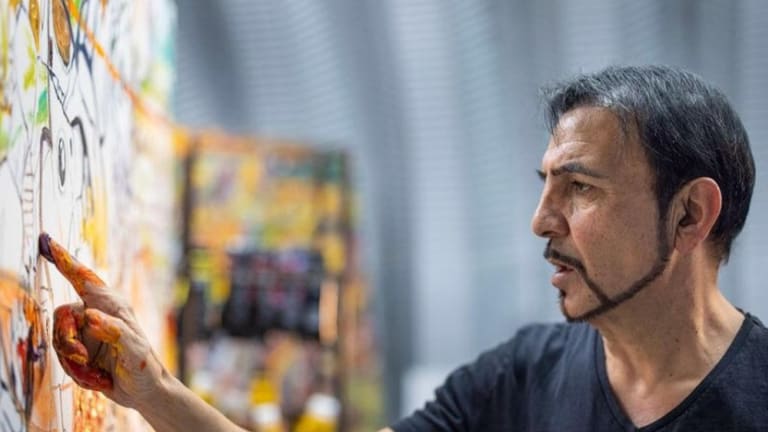 Cryptorealism: Revolutionary Technique; Multifaceted Mode; Wondrous Way of Seeing
Cryptorealism conveys at first glance the impression of being an abstract-tachist painting, however at its core has a clear meaning and message.
Los Angeles-based contemporary artist, Davood Roostaei, continues to make waves in the art world with his revolutionary style of painting–Cryptorealism. Cryptorealism, in the words of German writer Helmut Orpel, "endeavors to solve the mysteries of this world and to make them intelligible to us". Indeed, Roostaei aims to shine a light of meaning on ordinary life through his work, asking us to look beyond what is readily perceptible and to imagine the broader possibilities that lie before us.
Born in Iran in 1959, Roostaei took an early interest in painting and went on to develop his artistic talents at the Faculty of Fine Arts in Tehran, finding early success with art tours across various eastern countries in 1981. His keen political eye and unique ability to convey his perspectives through his art landed the artist in prison for two years during the Iranian Revolution for graffiti art which the Khomeini regime deemed subversive. This period of civil injustice would shape the artist's life both personally and artistically. 
In 1984, after his release, Roostaei sought asylum in Germany, where he continued his art studies, at the Kunst für Hochschule in Cologne and later at the University of Fine Arts of Hamburg. It is there that he was able to master his artistic techniques, ranging from those of the Old Masters – including the restoration and creation of frescoes, to Impressionism, and Surrealism. His career flourished and he became widely renowned in Germany, earning the acclaim of art critics and collectors alike.
Roostaei soon realized he needed a new technique and a new form of expression to illustrate all he had seen and experienced. Preferring a more visceral connection with his work, Roostaei abandoned the use of a paintbrush in 1986, freeing himself from both intellectual and technical conventions, and enabling him to express his true self–though he did not stop there. He went on to create his own style of painting in 1987, which would later be coined Cryptorealism in 1990. Cryptorealism is an expression of hidden meaning, revealed through layered imagery, which requires active participation by the observer. 
According to the German art historian and critic, Hanns Theodor Flemming, "Cryptorealism conveys at first glance the impression of being an abstract-tachist painting, however at its core has a clear meaning and message. It is an art form of enigmatic expression having realistic motifs taken from a wide range of themes from antiquity to the present and future". Roostaei has a unique ability to weave together various topics and timelines in a cohesive manner to provide commentary on myriad subject matters from historical events and figures to popular imagery. In observing his oeuvre, the recurring notion of the matador and the bull becomes increasingly apparent. The bull-matador dyad has become the particular language with which the artist tells of his own battles in the arena of life, the battle against time being one of the most prominent.
Roostaei believes that art should have a sacred status and raise us to a higher moral and spiritual plane. He is committed to the human cause and aims to convey his message of fraternity and tolerance in his works. He not only illustrates and challenges notions of historical and present societal injustices but seeks to rectify them in both his art and his deeds, donating a portion of the proceeds from his work to a range of worthy causes globally. For instance, in the year 2000 he donated the proceeds of one of his paintings titled, " Light And Shadow", purchased by Hamburg City Hall for $300,000 to an orphanage house in the city.
Cryptorealism, derived from the Greek "cryptos", meaning hidden, secretive; implies a fine sense of perception from the viewer. Indeed, to fully appreciate the meaning of a Cryptorealisitic painting, one is compelled to consider alternative perspectives, as well as the notion that there is more than what meets the eye. Roostaei believes that art should have an immediate impact on the viewer but also evoke one's imagination and emotions. According to the American art historian and critic, Albert Boime, "Roostaei paints compositions from eccentric angles and viewpoints and often depicts forms that metamorphose in a twinkling of an eye. His work consistently discloses disguised and reversible imagery that sends the viewer on an optical steeplechase. Roostaei's energetic spatial fields fairly explode with dense imagery and spattered paint, combining a kind of Jackson Pollock approach with the Old Masters and popular imagery." The technical and intellectual complexity in Roostaei's works make them easily recognizable and endlessly enjoyable.
In order to grasp Roostaei's artistic works one would be best to look at them from an adequate distance so the energy and intensity of the colours can be properly analyzed. His works are immensely compact, and the eye needs some time to adjust and comprehend all the detail hidden on the canvas, though one rarely feels finished deciphering them. Roostaei strives to produce a pictorial reality which can be understood as a sort of parallel to the outward reality. Roostaei's unique perspectives are reflected in his work and encourage the viewer to consider all that is not readily perceptible, both in art and in life. A collection of his recent works are currently being exhibited at Vancouver Fine Art Gallery in Canada.