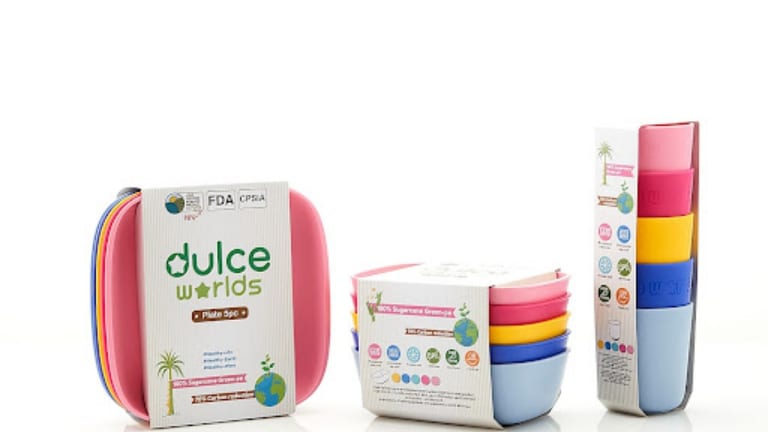 How Dulce Worlds Reduce Their Environmental Impact with Eco-Friendly Children's Tableware
Dulce bowls are made from 100% sugarcane green-pe, without mixing any petroleum plastics.
Dulce Worlds has made it their goal to ensure their children's tableware products are good for kids and good for the planet! Their fun, colourful children's products have plenty of uses-all achieved without damaging the natural world. How have Dulce Worlds accomplished a tableware/dinnerware set that's beneficial for little ones and their environment?
Safe, Child-Friendly Materials
Dulce Worlds makes kids dinnerware products that parents can buy with complete peace of mind. No more worrying about harmful residues and substances like BPA! Dulce dinnerware is sourced from bio-based materials and is entirely non-toxic. This means they're totally free from things like BPA, Lead, Phthalates and Cadmium. Even better, their fun colour pigments are approved as 100% BPA-free!
High-Quality Products
Dulce Worlds partnered with a trusted factory that has over 20 years of experience developing LG products in Korea, which are now producing their 100% sugarcane-based dinnerware sets. This means that their sustainable dinnerware is safe, unbreakable and long-lasting - perfect for kids! Their amazing quality meets all the demands your little ones require; they're ideal for toddlers' and kids' cereal, breakfast, lunch, dinner and any snacks in between!
All-Natural Materials
Dulce bowls are made from 100% sugarcane green-pe, without mixing any petroleum plastics. True, using sustainable materials costs more, but Dulce Worlds' never comprise your children's or the planet's safety. That means they'll always choose value over price, providing your kids with the best quality dinnerware and saving the environment.
What is Sugarcane Green-pe?
Sugarcane Green-pe is a byproduct of sugarcane processing. It's an eco-friendly, renewable, recyclable and sustainable alternative to fossil-based polythene. It's 100% safe for kids to use and eat from! You can rest assured that you're getting a product that is environmentally friendly, sustainably sourced and uses only natural ingredients!
Sugarcane green-pe is made with Brazilian sugarcane as a source of material, which is instead of the harmful petroleum-based polyethylenes. Seeing as it's made from the fibrous residue left over after refining sugar, there is no chance of it decreasing food availability or causing environmental harm. It's an amazing material that can be recycled endlessly!
Sustainably Sourced
Dulce Worlds is proud to say that their dinnerware is responsibly sourced! Their tableware is made with sugarcane-based materials, which are renewable and sustainable. Sugarcane Green-pe not only minimizes environmental impact but also helps to preserve the earth's resources.
Multi-use products
All Dulce children's dinnerware is microwave, freezer and dishwasher safe. Because it's completely non-toxic, Dulce products don't let off harmful substances when exposed to heat. This means your food is always 100% safe. It also means that Dulce products are ideal for every day for kids and adults alike!
Durable and Storable
Finding durable tableware for kids can be a real nightmare. Children are so accident-prone, bowls and plates seem to break all the time! However, Dulce Worlds' dinnerware is so durable that it wouldn't break even after falling from a moving car! This makes it the best option for any child. Not only that, their children's dinnerware is compact, stackable and storable. This makes it the ideal choice for parents who want to make their lives easier, avoid mess, and save kitchen space.
Eco-friendly kids tableware is a great way to teach your children about being environmentally conscious. With so many eco-friendly materials and products available, it's easier than ever to make small changes that can have a big impact! When you choose Dulce Worlds, you're making a statement for the environment and helping to create a better future for our planet and its children.