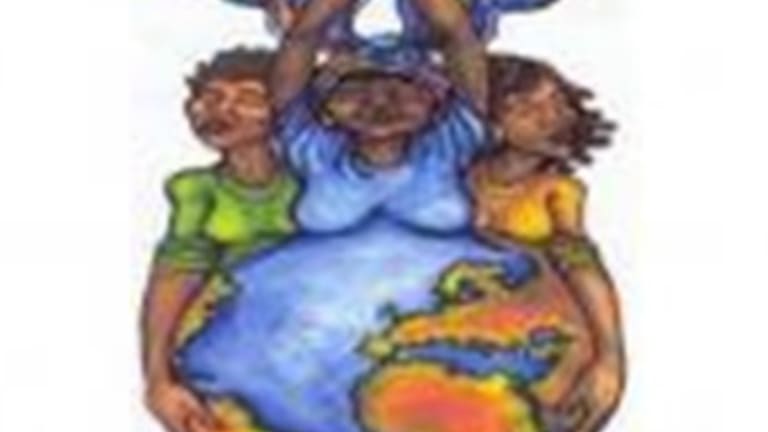 Earth Mama Healing Aims to Educate and Inspire Entire Communities
Latina and Black women suffered both higher levels of pandemic-related unemployment and an increase in being disconnected from school and employment.
Growing up as a young woman of color in the United States brings a unique set of challenges and particular disadvantages — both of which have only been exacerbated by the pandemic. Last year, a report from the Institute For Women's Policy Research found that, in 2020, young women between the ages of 16 to 24 "lost more than a third of jobs between February and April," as the pandemic forced many businesses to shut their doors.
Compared with young white women, Latina and Black women suffered both higher levels of pandemic-related unemployment and an increase in being disconnected from school and employment. These disparities came in addition to the already-present systemic issues that put women of color at a disadvantage from birth, including housing discrimination, a lack of top educational opportunities, and institutional racism.

A Better Path
Living with these challenging facts of life routinely leave young women of color more vulnerable than their white counterparts. This inspired California-based social campaigner RoLanda 'Mama Ro' Allaha Wilkins to establish Earth Mama Healing, an organization with a mission to create "emotionally strong, spiritually connected, and socially smart girls and women." They do this through working with vulnerable youth and families, with practitioners in the US, Canada, Honduras, Haiti, and Cuba. Youth empowerment opportunities are organized in the shape of support programs including 'Nurtured Girls', 'Empowered Women Institute', 'Girls Dream Academy', and 'Mother Love' — all of which have individual purposes with a specific focus on health and wellness.

Reaching Milestones and Meeting Goals
Wilkins has assisted countless young and vulnerable youth by empowering them to strive for their personal and educational goals. For eight years and counting, she has taken young women between the ages of 14 and 18 across the United States and Canada for 30 days on the Quality of Life Road Trip. According to Wilkins, the trip is a formative journey through 26 states and 22 cities where attendees can participate in activities that are designed to help girls understand the lifestyles and contributions of women of African descent. This work is captured through the Earth Mama Network, which produces podcasts and live broadcasts that spotlight Black lifestyles and African-American world views. Participants in the programs have spoken of feeling like completely new people upon reaching its conclusion, feeling empowered in their choices to pursue top schools, professional opportunities, and their own interpersonal growth.

Impacting the Community
Wilkins is a firm believer that, for those wanting to change the world, one should start small and focus on making as big and positive of an impact as possible. In addition to empowering young women spiritually and socially, Wilkins produces annual celebrations to honor those doing good in the local community. These include the Harriet Tubman Community Youth Leadership Award, Grandma Hands Community Tribute, and Black Excellence Awards, to name a few.
Along with these celebratory events, Wilkins also produces annual summits like 'Growing Wiser, Stronger and More Informed', to empower youth of African descent to know more about social issues, while simultaneously challenging them to change the direction of the world by developing and implementing their own positive solutions and campaigns. Another program, 'What It Means to be 18,' aims to inform youth about the legal, civil, and political obligations they will face upon turning 18. Meanwhile, 'SistaTreats' takes more of a holistic approach in the form of retreats and workshops aimed at caring for and nurturing the human mind, body, and spirit.
At the heart of Earth Mama Healing is the belief that, sometimes, all it takes is a little bit of a push for people to see their own potential. In the words of Dr. Mae Jemison, the first African-American female astronaut, "Never be limited by other people's limited imaginations."
Find out more about Earth Mama Healing here.