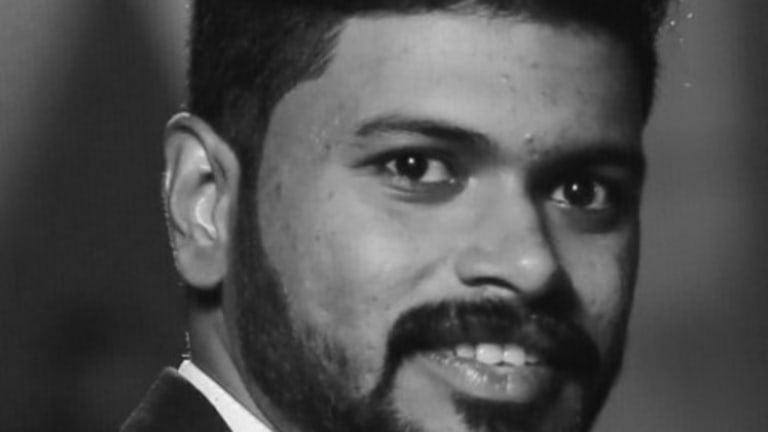 Education and perseverance - the stepping stones to success
When an opportunity to work at Larsen and Toubro Infotech came knocking on his door, he knew his time has come.
The thirsty crow is probably the one bedtime story each one of us have listened to as a young kid. The story inspires us to never give up on our problems and to come up with innovative, inventive and imaginative solutions like the crow devised, to quench his thirst.
While most of us dozed off to sleep after listening to these bedtime stories, people like Mani implemented its learnings, giving their lives a complete 180-degree turn.
"Education is the most powerful weapon for changing the world"- Nelson Mandela.
Mani Manavalan was born in a small village in Tamil Nadu, into poverty. To support their family of four, his father worked as a truck driver trying really hard to make ends meet. Diligent, industrious, and ambitious Mani who fancied books more than toys, knowledge more than entertainment, and excellence over mediocrity, knew from the beginning that only wisdom, education, and grit can help him break away the shackles of poverty and take him to unimaginable heights.
When an opportunity to work at Larsen and Toubro Infotech came knocking on his door, he knew his time has come.
Displaying his scholarly ability, he graduated from high school with flying colors, bagged several academic awards, while also getting featured in one of the leading newspapers in Tamil Nadu covering his exceptional educational achievements. As an Electronics and Communication engineer, he not only scored extraordinarily well but also gained hands-on experience in learning real-time problem solving using advanced engineering techniques. Soon after completing his undergraduate studies, young and talented Mani, landed a job as a software engineer at a start-up - Lucid Software Ltd. The stars aligned as he found a niche for himself, an entry into the fast-evolving industry under the aegis of seasoned and resourceful professionals. After honing his skills, learning from the veterans, he grasped the opportunity to work, as a Senior Programmer, at Accenture Services Ltd., as quickly as it came.
When an opportunity to work at Larsen and Toubro Infotech came knocking on his door, he knew his time has come. And from there on, there was no looking back. For this, extremely dexterous global citizen, whose work made him move back and forth to countries like Sweden, Netherlands, Germany, UAE, Saudi Arabia, and the USA, not even the sky was the limit. Working long hours, holding significant positions, deploying his skills to his company's benefit was everything he manifested for his life to be. A people person, a remarkable team leader, a passionate professional, and an inspiring colleague, Mani has always gelled well with people at his workplace, and his notable spirit, hard work, and dedication have earned him several awards and accolades.
In 2018, as a Technology Architect at Cognizant Technology Solutions, Mani niched down his expertise to API transformation and API economy, deploying several API-management tools and bundled software technologies to assist his clients with their digital transformation. Currently working as a Senior API and Integration Architect at Capgemini America, he helps business' financial clients using API first strategy and transformation.
Mani is an astute professional, a knowledgeable scholar, a voracious reader of relevant literature, a co-author to several research papers, an optimistic soul, and an affectionate son. Learning is a constant for him, an everyday thing. While he likes to keep himself updated with the latest developments in his niche, he tries to find practical solutions to real-life problems using Robotics, machine learning, and AI. In one of his research papers titled "Reinforcement Learning in Robotics", he studied the impact of reinforcement learning in Robotics to suggest the valid tools and techniques to redesign several valuable designs for robotics. In another paper titled, "A Single Long Short-Term Memory Network Can Predict Rainfall-Runoff at Multiple Timescales", he conducted extensive research on rainfall runoffs using Long Short term memory network to predict intense flooding to be able to save lives and make a positive difference in the society.
Mani is the epitome of diligence, integrity, and values. He has clearly shown the world that nothing can come your way if you are determined to reach your goal. His story speaks out loud that self-belief, determination, and hard work leads to success, possibly not immediately but definitely.
Follow Mani Manavalan on Linkedin