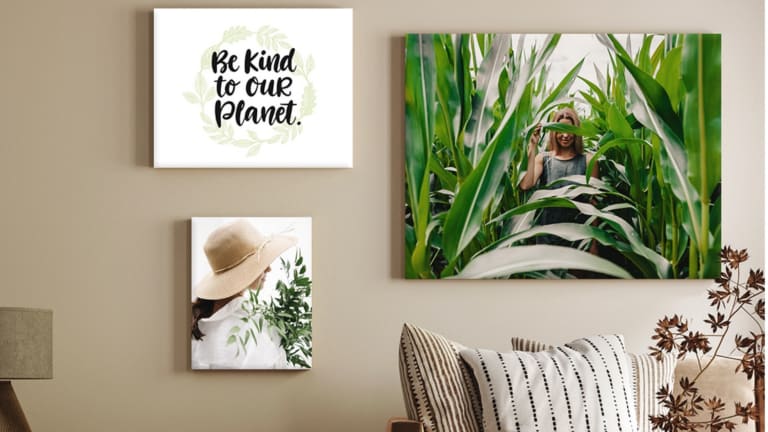 The Journey Towards Environmentally Friendly Canvas Prints
Canvas prints remain something of a niche product – but taking into account their sustainability score, there's every chance they'll become the next big hit of interior decor.
Printing your vacation snaps from that last big trip may sound exciting – but should you use up resources on getting physical copies of something you already own in a digital form? These are the kinds of questions more and more people are asking as they start to consider the environmental impact of what they buy.
If you do want to invest in photo reproductions, canvas prints are an excellent example of sustainable photo wall art – provided you choose a respected provider. In cooperation with CanvasDiscount.com, we've rounded up everything you need to know about photos on canvas and their ecological impact.
Why Canvas Prints?
Canvas prints – photo reproductions on canvas, often wrapped on a stretcher frame – have been around for decades. And according to the CanvasDiscount.com experts, canvas prints are today seen as a standard-bearer of sustainable printing. Made using carefully sourced wood and solvent-free inks, responsibly made canvas prints set the standard for environmentally friendly wall art.
However, sustainability standards do vary in the industry. So there are a few different aspects to look at if you want a canvas with conscience, and one of them is the production mode.
Canvas Printed on Demand – the New Standard for Wall Decor
Generally, wall art prints fall into one of the two categories – they're either sold ready-printed or produced on demand. And while popping into a local store and getting a couple of mass-produced prints may sound easy and appealing, it's not the best decision from an ecological perspective, as mass production often means over-production.
But the good news is that the printing industry has a huge advantage here – providers can offer prints on-demand, meaning they produce only the number ordered. This is the operating principle of CanvasDiscount.com – the company offers custom-made photo products and starts production only after customers place their order. This way, even the largest printing providers (and CanvasDiscount.com is certainly large, having sold over 10,000,000 canvas prints across the US) can cut out surplus stock and minimize the environmental impact of their products.
Usually when you buy a canvas print you'll get more than just a printed square of canvas fabric – most providers offer pre-stretched canvas prints, meaning they'll come ready-wrapped on a sturdy inner frame. And this frame is usually made from wood such as spruce or pine – a clear advantage over certain print formats which can't usually be produced using natural materials.
It's worth checking what the provider says about the timber they use in these inner frames – it should come from responsibly managed forests and ideally should be certified for sustainable production.
Smart Combination of Natural & Man-Made
Canvas isn't an invention of the modern age – the material has been around for centuries and has been widely used in various industries. But the canvas used in digital printing today isn't quite the same as it was 200 years ago – these days, print providers tend to work with man-made materials, often polyester. And if that word makes you suspicious, worry not – printing on synthetic fibers actually has its benefits.
Polyester material is resistant to daily wear and tear as well as moisture and heat. This means that it lasts longer than natural canvas fabric – for example, CanvasDiscount.com say that with a minimum of care their canvas prints should stay in great condition for up to 75 years. Yes, that's right – you can print a photo just once and it will last for decades.
What's more, polyester canvas prints don't usually require additional lamination, which reduces the overall volume of materials which need to be used.
Canvas Prints – Safe for the Environment, Safe for People
Not so long ago, solvent inks were widely used in printing – and while they made photo reproduction remarkably durable and achieved superb color vibrancy, solvent inks were not without their faults. Some of their components – so-called volatile organic compounds – can cause pollution and even health problems.
These days, solvent-based inks have fallen out of favor, and eco-friendly alternatives such as latex inks are standard in the industry. Hypoallergenic and environmentally safe, latex inks deliver remarkable saturation and print stability and are 100% safe for use in any living space – you can even decorate a newborn's room with canvas prints without needing to worry about adverse effects.
Final Words on Canvas Prints
Canvas prints remain something of a niche product – but taking into account their sustainability score, there's every chance they'll become the next big hit of interior decor. In a world where environmental concerns grow more urgent every year, responsibly made canvas prints are the ideal solution for those who want to decorate with care.