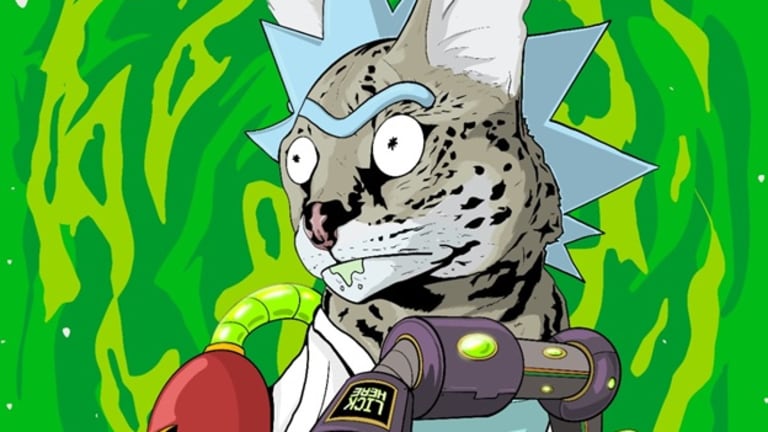 Forget about the Moon, This New NFT Is Heading Straight Out of the Galaxy
StrykerTheCat has stolen our hearts along with the chicken we were going to make for dinner. (This cat eats whole chickens.)
He's captured the hearts of almost 10 million social media followers. Big deal, he's just a cat... Except this cat is touching the lives of so many and building an incredible community.
They receive messages about Stryker helping people get through the daily grind. One of his proudest moments was when a mom shared that Stryker's videos are helping her autistic child to talk and connect.
Crazy, right? Well, that's only the beginning. We all know cat videos and cat memes dominate the web because who doesn't like seeing their favorite feline get into some shenanigans?
StrykerTheCat is taking things to the next level. It's not enough anymore for him to bring joy to the millions and give everyone a good laugh or a smile. He wants to build a real community that will have a huge ripple effect in the real world.
Selling out to corporate advertising seemed disingenuous to Stryker's nature. After all he's a Savannah Cat, used to being wild and free and not falling into line. (You should see his owners trying to get him inside when he's swimming in the pool.)
With the help of an artist who has been a huge fan of Stryker for years, they decided to launch their very own limited StrykerTheCat NFTs.
NFTs can be pretty complex and confusing if you're new to the crypto space. The main thing to know is that they're digital art with a certificate of authenticity.
Their long-term goal is multifaceted with an emphasis on helping cat rescues around the country. Marrying that goal with the community aspect of NFTs, their mission has the potential to do a lot of good bringing more awareness to all of the cats needing forever homes, especially some of the more exotic ones that end up in cages like Stryker when he was a kitten.
Savannah cats aren't the easiest to take care of; they haven't been domesticated like most cats we see. Too often, they're left unwanted and stuck in cages—the absolute last place for them.
A portion of the proceeds from Stryker's launch will be donated to Zoological in an effort to help more people willing and able to take on the amazing challenge of becoming a forever home for cats like this while also spreading the word of what this fantastic foundation does.
On October 29, Stryker will launch 8,888 exclusive NFTs. NFTs can be pretty complex and confusing if you're new to the crypto space. The main thing to know is that they're digital art with a certificate of authenticity.
Think of coveted rookie sports cards, the ultra rare holographic Pokemon cards, and art like a Picasso or Banksy. For the first time ever, we're able to attach ownership to an image and allow people to collect and trade them.
What this means is we can directly support artists and causes we love and care about (like helping cats find homes, especially the rare and exotic ones like Stryker).
The incredible part is that NFTs are so new that it can be like buying a Picasso before anyone knew he was going to be famous.
Sure, someone could take a screenshot of the image but that's like taking a picture of the Mona Lisa or buying a print of Starry Night by Van Gogh. It's not the same.
The main thing here is we're able to remove the big tech giants from the equation. We can now support artists and creators directly so they have full control over projects while building a community of people who want to support them without having to worry about being deplatformed or accounts suddenly being shut down for no reason.
This NFT launch is only the first in an ongoing effort to create a bigger impact. Using Stryker's social media fame and following, they'll be looking to collaborate with other artists and influencers to release even bigger projects.
But there will never be anything like the first release and on October 28, 8,888 NFTs will be available (likely for a very short time). If you want more information on the project and their mission check out stryker ft.io.
Make sure to check out the social links, including TikTok and Instagram to see Stryker stealing chickens, lounging in the pool, and all of his other adventures.
For more on the Zoological Wildlife Foundation in Miami, FL you can visit their website at https://zoologicalwildlifefoundation.com.