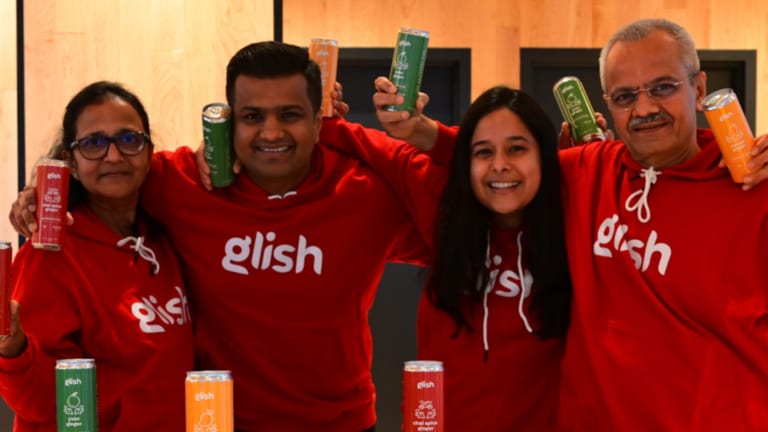 How This LA Family Started a Unique Ginger-Based Beverage Company
Meeting the nutritional demands and personal preferences of an intergenerational household was challenging.
The pandemic brought isolation, uncertainty, and anxiety into homes worldwide, but for one family, it also delivered inspiration. The Shah family put their talents together and emerged from the lockdown with Glish — an all-new ginger-based beverage.
"The months of quarantine showed my wife and me that the world needs a fun, guilt-free beverage everyone can drink together," says Rushabh Shah. "Glish is a sparkling beverage made for everyone in your family, by everyone in our family."

A global pandemic calls for a drink
Rushabh and Ashita Shah are Indian-American immigrants who live in San Francisco. With the rest of the world, they watched in disbelief as country after country called upon citizens to remain in their homes in an effort to halt the spread of Covid-19. "We were fortunate to be able to stay with my parents during the lockdown," Rushabh explains. "Meals were a bonding time for us, but there was a problem. We quickly discovered that while we could all eat the same meals, we couldn't agree on what to drink."
Meeting the nutritional demands and personal preferences of an intergenerational household was challenging. "Healthy beverage options were limited during the lockdown," remembers Rushabh. "We couldn't find a drink that worked for the kids and grandparents. My parents couldn't drink kombucha or a prebiotic soda, and the kids didn't like sparkling water. We wanted a drink we could all have together — a beverage that was simple without compromising on taste."
As it happens, Ashita Shah has a background in food chemistry. So, she confronted the challenge head-on, mulling over dozens of possible ingredients and flavor profiles. Even with her degree in food science, concocting a simple beverage the entire family appreciated was no easy task. After weeks of trial and error, she finally hit on the key ingredients of Glish — a healthy, non-alcoholic beverage with a taste everyone enjoyed.

Glish's magic combination of ingredients is no secret
Amidst isles of sodas and energy drinks with lists of unreadable ingredients, Glish keeps it simple. Their drinks are all-natural, vegan, non-GMO, caffeine-free, and gluten-free.
Ashita selected ginger as the root ingredient for the Glish lineup. Naturally-pressed ginger juice packs a punchy flavor along with powerful benefits. Historians trace ginger's popularity back 5,000 years to ancient India and China. Throughout the ages, people have praised the spice for both its culinary and medicinal merits. According to Johns Hopkins Medicine, ginger helps the immune systems fight bacteria and viruses, calms nausea, soothes sore muscles, delivers antioxidants, and relieves indigestion.
Glish is available in three tasty flavors: chai-spice ginger, yuzu ginger, and mango ginger. All three beverages are infused with the purest and most natural form of ginger, ensuring its antioxidant properties, immunity boost, gut support, and anti-inflammatory benefits are as potent as possible.
Aside from the not-so-secret key ingredient, Glish contains organic cane sugar, ginger juice, lemon juice concentrate, and all-natural flavors. The Shah family believes that the simplicity of quality ingredients in perfect balance is the magic that makes Glish sparkle. In addition, every flavor is free of artificial ingredients and contains just six to eight grams of sugar.
"Each flavor is a delight," says Ashita. "When served ice cold, the clean ingredients leave you feeling lively and refreshed."

Turning an idea into a business
Coming up with a great taste and winning idea is only half of Glish's story, however. "Transitioning an idea into a commercial business has been the greatest challenge of my life," Rushabh recalls. "As an entrepreneur, you have to be bolder and more outgoing than you ever have been."
To source the best manufacturers and retailers for Glish, Rushabh scoured the internet and pounded the pavement, networking with store and restaurant managers in ever-widening circles. Through it all, he maintained his focus on the company's mission and aligned all of his decisions with the family-centered, healthy, guilt-free lifestyle behind the beverage.
Glish's mission is to bring people together to cherish the moments of their lives while enjoying a refreshing sparkling beverage," he explains. "We want to share a lifestyle that is truly guilt-free and fun. Glish brought our family closer together during the trying times of the pandemic. We hope it can do the same for others at dinner tables around the world."