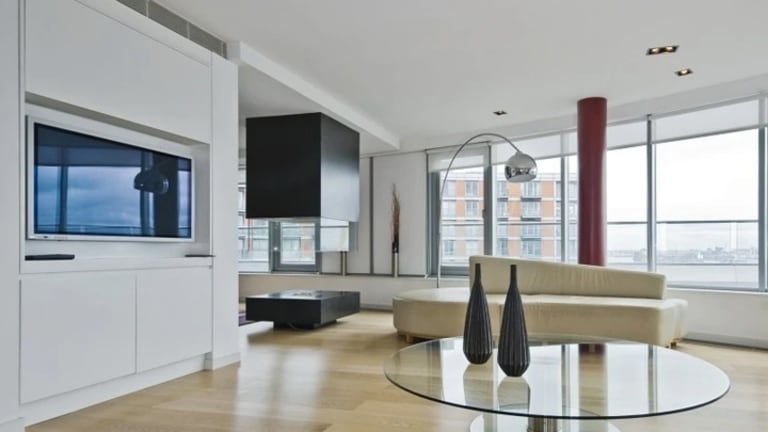 Save Space in the Room Hiding the TV
If you have a nice cabinet, you can use it as a "house" for your new TV-set.
TV is an indispensable item in every household. However, modern TV-sets are huge indeed, and it is not always possible to accommodate this advanced item and still keep enough space. However, there are several solutions to this issue.
Hide your TV in a Cabinet
If you have a nice cabinet, you can use it as a "house" for your new TV-set. Of course, the cabinet shall be big enough to accommodate the device.
If you have a nice cabinet, you can use it as a "house" for your new TV-set.
Now, let us start with the project.
For your hidden TV lift mechanism, you need either a lift system. Choose one that complies with the following requirements:
It shall be able to lift and lower your TV. The weight capacity shall be sufficient. Consider though that it is not enough to measure the weight of the TV and based on it, to choose a lift system. Here, you are dealing with a dynamic weight. Use a special formula to calculate it or ask a specialist to help.
The stroke length shall be long enough. It means that the system shall be able to hide the TV completely and to lift it enough to watch it conveniently.
Noise generation level matters for some people. If you are among them, consider choosing a more silent actuator system.
Once the lift system is chosen and has arrived, continue with the project.
In the top of the cabinet, make am opening. It shall be long and wide to make the TV pass. If it is too big, consider installing a cap on hinges. The cap will close and hide the opening when you don't use your TV.
Fix the lift system in the cabinet. Install the TV and test it. It shall pass through the opening without touching its edges. If there are issues, consider either fixing the opening or reinstalling the lift system.
Once everything works as expected, fix the TV on the lift. That's it, you can use your device.
A Ceiling Installation Might Be the Only Viable Option
If there is no suitable cabinet or you want to have a maximum of free space, consider a ceiling installation. It will allow you to hide the TV completely above the ceiling when it is not in use.
It is recommended though to hire a specialist to perform this installation type. Even if you can fix it on your own, you still need somebody to arrange and hide the cables for security reasons. It might be needed to hide the cables in the wall; thus, additional drilling is needed.
A wall installation is easier than a ceiling installation. In this case, you install a system on the wall to move your TV up and down. This installation type is pretty easy if you have the needed tools. You can handle it on your own. For cable arrangement, we recommend purchasing a special cable management snake. It will keep your cables ordered, the look isn't compromised, and it complies with all the safety requirements.
Now, you don't need to think twice before purchasing a TV. You will always find a place for your favorite device.