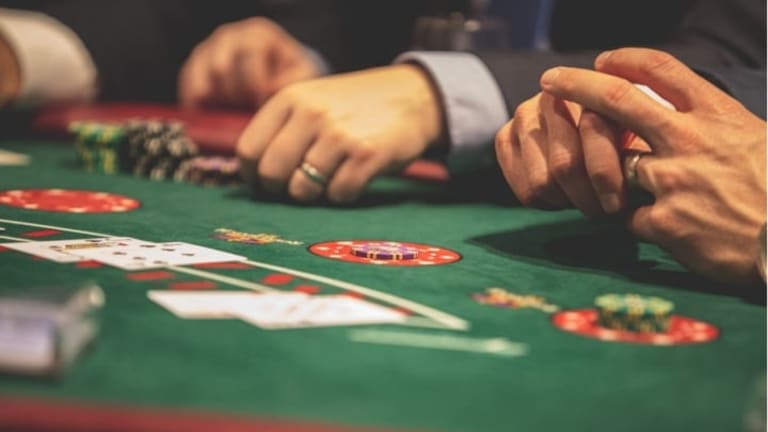 How Do Blackjack Tournaments Work?
Each player in a blackjack tournament has the same amount of chips at the beginning. The tournament's aim is to acquire as many chips as feasible at the end of a round.
A Blackjack tournament is a large event typically held at a land-based casino or online casino between multiple players.
Generally, such blackjack tournaments run for 2 to 3 days. After signing up, participants must pay an entry fee to compete in the tournament. Yet, there are a few that are free to enter. These are usually by invite, though. There are a variety of tournaments readily accessible, each with its own set of regulations and rewards. As a result, we always suggest reviewing the tournament's regulations and small print before paying the registration money.
When playing online blackjack tournaments, players aren't up against the casino like in regular blackjack. Rather, players fight against one another for the reward while also competing against other gamblers at the blackjack table. Each player in a blackjack tournament has the same amount of chips at the beginning. The tournament's aim is to acquire as many chips as feasible at the end of a round.
Several blackjack enthusiasts appreciate the variation of pace that blackjack tournaments provide, and they may also be a cost-effective method to master the game because you simply pay an entrance fee and then get to play with a large number of chips and witness a large number of hands.
What Are the Various Types of Blackjack Tournaments?
There are a variety of events to choose from. Here are a few examples:
Traditional Elimination
These elimination blackjack tournaments are by far the most renowned of all tournaments. Players generally compete against each other at the blackjack table in such kinds of tournaments. At each table, the victors progress while the losers are knocked out. You may typically purchase a buyback ticket and rejoin the game in various competitions.
Non-Elimination
Non-Elimination Tournaments pit participants against one another to earn the maximum number of chips throughout the course of the tournament. There is usually a scoreboard on which the credentials of the tournament's top finishers are shown. Since everyone would know how much money they need to overcome the leaders, it will be easier for them to strategise.
Sit 'N' Go
Most often, online casinos that provide great blackjack odds hold Sit' N' Go blackjack tournaments. In most cases, they will keep going as long as six people are seated at the table.
Scheduled
There is a defined beginning and finishing time for these tournaments. To take part, you must pay your admission fee in advance. It's also critical that you arrive on time for the tournament. The number of your chip count after the round reflects how good you did in comparison to your opponents.
Guaranteed
These are events with a guaranteed prize fund, regardless of the number of players who enter. If you discover a guaranteed blackjack tournament with fewer participants than the casino project, you can place yourself in an overlapping position. Due to the low number of participants, you have a greater stake in the prize money than your entrance price indicates.
Satellite
Instead of receiving a monetary prize, the winners of these events receive entry into larger tournaments. These are sometimes known as "qualifiers." Many players enjoy these because they allow them to compete for a large prize that they would not otherwise be able to afford.
Summary
For many years, land-based and online casinos have hosted blackjack tournaments. Blackjack enthusiasts admire them for a number of factors. Even so, they participate regularly since they are entertaining and provide a significant reward pool.