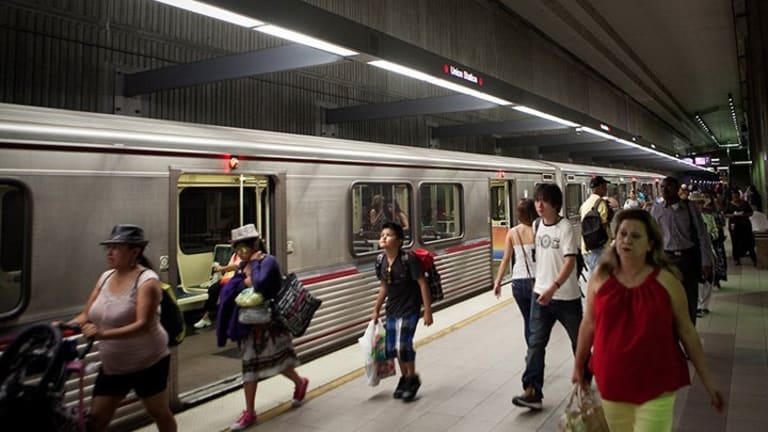 How Safe Is the LA Metro?
Subway derailments, collisions, worker accidents and issues such as bad brakes have contributed to injuries and deaths in the LA Metro's history.
The Los Angeles Metro Rail is an important transportation system that consists of six lines: two subway lines and four light rails. Every day, thousands of people depend on the LA Metro to get them to their destinations in Southern California. While most of these riders get where they are going without incident, some suffer serious injuries in transit. Metro accidents can involve premises hazards on a subway, derailment, crashes or criminal acts. If you suffer an injury while using the LA Metro, the government may owe you compensation for your damages.
The Risk of LA Metro Accidents
The LA Metro started in the early 1970s, with the first subway opening in 1973. The light rail line in LA followed years later, in 1990. Subway and light rail accidents throughout the years have taken dozens of lives in Los Angeles. Subway derailments, collisions, worker accidents and issues such as bad brakes have contributed to injuries and deaths in the LA Metro's history.
It is the LA Metro's responsibility to hire reasonably safe conductors and other employees, as well as to properly train them. Negligence in the hiring or training processes could increase the risk of conductor-related accidents. It is also the LA Metro's responsibility to maintain its subways and rails to minimize the odds of accidents. Ignoring maintenance requirements to save time or money could lead to related collisions.
Unsafe Subways and Stations in LA
A subway collision is not the only risk you should worry about as an LA Metro passenger. Dangerous premises could also pose a threat to your personal health or safety. If the authority in charge of LA Metro maintenance is negligent, it could lead to property-related defects such as slip and fall hazards, collapsing structures, hazardous substances, broken escalators or inadequate lighting at the rail station. Premises risks could cause personal injuries or even deaths. The owner of the LA Metro may be liable for injuries related to preventable premises defects.
Crime at LA Metro Stations
Crime is also a significant concern as an LA Metro passenger. Violent incidents such as robberies and assaults occur often at metro stations and on subways. Some victims have died from their injuries, including one man who passed away from his wounds after a violent stabbing on the Gold Line.
On the same day, a different victim suffered a blow to the head from one suspect while another stole his phone. The Gold Line death was the LA Metro's first homicide in three years. The city subsequently assigned more police officers to the LA Metro, but crimes still occur often enough to give many patrons pause before purchasing tickets.
Bringing a Claim Against the Government in California
Sometimes a negligent conductor may be to blame for an LA Metro accident, while in other cases improper subway car or railway maintenance could cause a collision. Either way, the entity that owns the LA Metro could be responsible for damages. The Los Angeles County Metropolitan Transportation Authority (MTA) owns the LA Metro. This entity is a government agency.
According to Bentley & More, LLP, a law firm based in Orange County, If you suffer an injury because of the LA Metro's negligence, you must bring your claim against the government. Under the California Tort Claims Act, these lawsuits come with special rules and requirements. You or your lawyer must file an initial notice of a claim within six months of your LA Metro accident, for example, rather than abiding by California's typical two-year statute of limitations on personal injury claims.
The government agency you intend to hold responsible will need to receive your notice before you may proceed with your lawsuit. The Tort Claims Act enables you to hold a government entity such as the LA MTA liable for certain damages if the entity caused or contributed to your injuries through some act of negligence. If your lawyer can prove accountability, you may receive payment from the LA MTA for your medical expenses, loss of income, and pain and suffering.
Sponsored